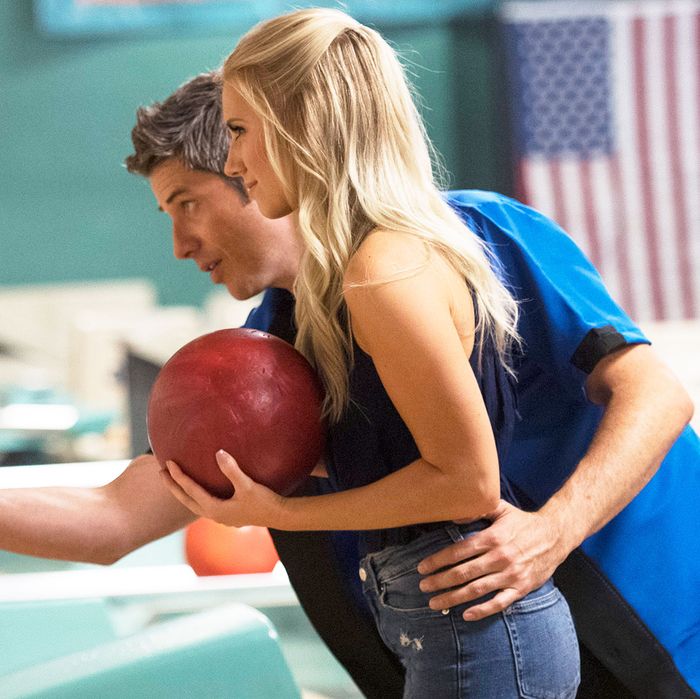 Has there ever been a Bachelor couple with as much pure, unadulterated passion as Arie Luyendyk Jr. and Lauren B.? The smoldering looks! The carnal touching! The innuendo-filled conversations! We just couldn't look away as their romance blossomed from city to city. But on Monday night, will Arie choose Lauren for lifelong wedded bliss when The Bachelor concludes its season? We'll have to wait a few more hours to find out, but until then, let's take a trip down memory lane to relive the duo's, uh, sexiest moments.
After a few Lauren-less episodes, their love began hot and heavy.
Who could forget this romantic Parisian rendezvous?
Or the fromage that got their libidos going?
A wink so smooth, Lauren doesn't even know how to react.
Such stimulating conversation!
But enough about that — we're off to a gelato date in bellisimo Italy.
Lauren knows the way to a man's heart is through his stomach.
Things Arie loves: (1) That. (2) Lauren saying she's falling in love.
You couldn't ask for a better first impression with the family.
Arie is dripping with confidence.
Look at these lovebirds!