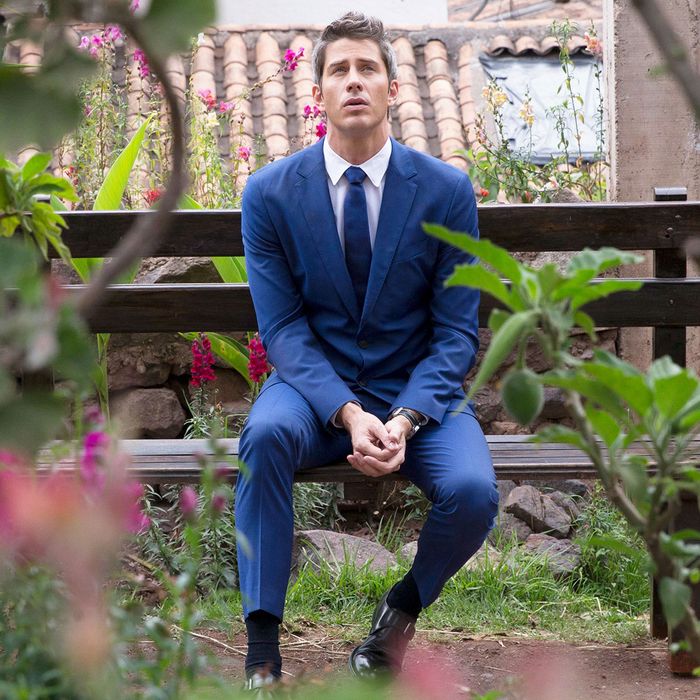 Arie Luyendyk Jr.
Photo: Paul Hebert/ABC
"I know this isn't going to be a popular decision, but it's worth it to me."
So ended the latest season of The Bachelor, in a twist so juicy that it made Jason Mesnick's journey look easy. After getting down on one knee and proposing to Becca M. in a beautiful Peruvian compound — complete with fluffy farm animals! — Arie Luyendyk Jr. decided to reverse course a few months later, ultimately choosing Lauren B. instead. In a long, prerecorded sit-down with his now ex-fiancée that The Bachelor toted as the first "unedited" footage in the franchise's history, Luyendyk Jr. explained that he still had feelings for the other woman — and he just had to go for it.
"The reality of it is that, being with you, although it's been everything that I wanted, I'm still thinking of her. And I think you sense that. I think, for me, the more I hung out with you, the more I was losing the possibility of reconciling things with Lauren," Luyendyk Jr. said when he met up with Becca in Los Angeles a few months ago. "This is obviously a shock for you and you've always said, 'Guide your heart and figure out where you're heart is.' I've got to follow my heart … I want to take the risk and see if there's a possibility with her."
To that, Arie was met with only a few words: "Are you fucking kidding me?" Becca was plenty composed given the circumstances, especially with Arie coming back multiple times to try to discuss things she had no interest discussing. "I hope you find what you want," she told him. "Clearly not me … this was just a really shitty thing on your part … don't touch me."
Becca reiterated a few times about how she "can't imagine" her life without Arie, eventually making him leave their temporary L.A. abode. (But not before he awkwardly sat next to her for a solid few minutes, waiting for some kind of affirmation. This guy.) Fast-forward to The Bachelor's live show with Chris Harrison, where he was joined by Becca for a few moments to discuss the unpleasant footage that was shown. "It's brutal. When it all happened, I feel I blacked out and so much was going through my mind," she explained. "To watch it back now, of course I had feelings for him and I loved him. It's a hard heartbreak … I grieved the loss of that relationship."
What happens next? We'll have to wait until Tuesday night, when Arie, Becca, and Lauren will come together for yet another live TV interview to discuss their feelings and emotions. What fun.