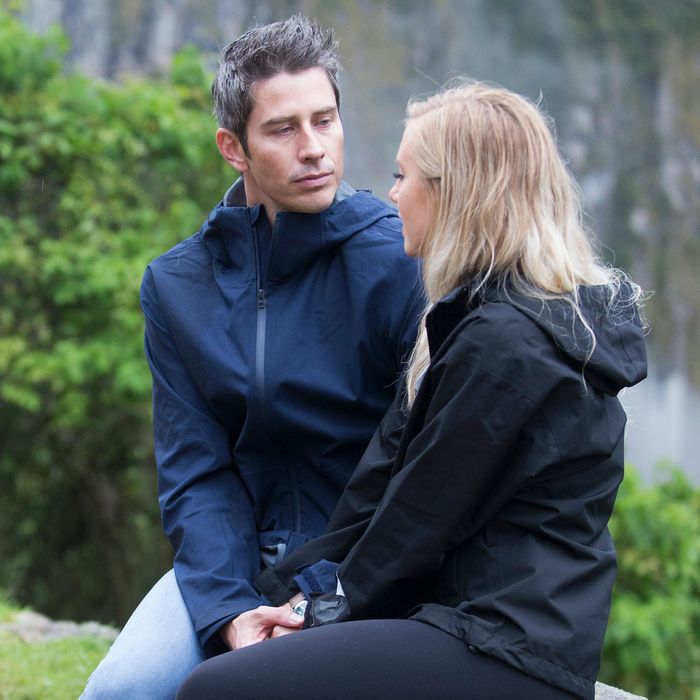 By now, extraterrestrial civilizations in the farthest reaches of the Milky Way have surely heard about how Arie Luyendyk Jr. cast aside Bachelor winner Becca Kufrin to pursue runner-up (and new fiancée) Lauren Burnham. But here's a surprising detail: When Arie first tried reaching out to Lauren after filming, he had to slide into her DMs because producers couldn't give him her phone number. That seems … arbitrary? Unnecessary? Controlling? The Bachelor has been on the air for 16 years now — yes, it is almost old enough to be an unsettlingly young contestant on The Bachelor — and quite a few of the franchise's rules have aged poorly. Here are the 11 Bachelor[ette] quirks that seem stranger than ever in 2018.
No internet, no phone, no TV
This is how the most delicious of reality-TV sausage is made: Contestants are cut off from the outside world, so there's nothing to occupy them but the drama unfolding between contestants. In more recent seasons, books were permitted — and Bibles have long been allowed in the mansion — but not magazines. (For what it's worth, Bachelor and Bachelor in Paradise alum Lacy Faddoul told Women's Health that many contestants come prepared with vibrators.) Besides Netflix withdrawal, losing access to the internet raises plenty of practical concerns. "I had to set up auto bill pay and give my parents my deposit slips and access to email passwords," Bachelorette alum J.J. Lane told MarketWatch last year.
If you break up within two years, you lose the ring
Quite a scam, Neil Lane! The would-be Bachelor bride is obligated to forfeit the three- or four-karat Neil Lane sparkler provided by ABC if the couple splits within two years of the season finale. But given the franchise's lackluster record of matchmaking in the long run, couples who actually stay together for 24 months are few and far between. Diamonds aren't forever.
You can't skip any dates
Show applicants must affirm that that they are "willing and able to participate in physical activities such as: skydiving, snow skiing, ice skating, parasailing, water skiing, rollerblading, and the like." Or, you know, zombie paintball, skiing in bikinis on a public thoroughfare in San Francisco, and being suckered into outings that exploit your childhood trauma surrounding bumper cars or dogs, with said trauma gleefully portrayed in dramatic reenactments. (Both of those things happened to one woman this season. Hope all is well with you, Annaliese.)
If you're a contestant, you don't get paid
The stars of The Bachelor and The Bachelorette typically take home fees upwards of $100,000, but the lowercase-b bachelors and bachelorettes competing for their hearts make exactly zero dollars. Appearing on these shows constitutes a sizable financial investment, given that contestants have to leave their jobs for six weeks to participate (with very little notice), and furnish their own wardrobe of rose-ceremony-ready formalwear and group-date-ready athleisure. "I had re-mortgaged my house and I spent something like $8,000 on clothing," wrote former Bachelorette Jillian Harris on her blog. It was rumored that Olivia Caridi spent $40,000 on her attire for Ben Higgins's season, a claim that she's denied. Money can't buy you love.
You can bring two suitcases, max
Speaking of all those gowns, contestants are expected to cram everything into just a couple pieces of luggage. As Bachelorette Andi Dorfman writes in It's Not Okay: Turning Heartbreak Into Happily Never After, the expected wardrobe consists of "clothing for both cold and warm weather, athletic wear, bathing suits, heels, tennis shoes, sandals, cocktail, long, and casual dresses, and heavy coats." On the bright side, this rule seems relatively easy to break: Bachelor alum Jaclyn Swartz told Refinery29 she brought six suitcases to the mansion.
You belong to ABC for the next 12 months
Stars' contracts extend for a year after the show, which means, as former Bachelor (and Dancing With the Stars alum) Chris Soules put it, the production will "have a say in almost everything you do afterwards." After ex-Bachelor Nick Viall signed on for DWTS in 2017, ex-Bachelorette Kaitlyn Bristowe blasted show creator Mike Fleiss for informing her she wasn't "allowed" to join the ABC dance competition even though she too had received an offer.
You can't say the P-word
The P-word being "process." As former Bachelor Sean Lowe told Glamour, "Any time you call it a 'process,' they will make you retape it and say 'journey.'" Sounds like a tough pr— uh, journey.
You can't actually eat on dinner dates
Another revelation from Sean Lowe: "Nobody eats, and that's primarily because nobody wants to watch you eat and the mikes will pick up the chewing." So that's why the elaborate meals served on the show usually go conspicuously untouched!
The fantasy suite may (or may not) have condoms
The overnight dates may be the show's officially sanctioned Sex Sleepover, but are they Safe Sex Sleepovers? Bachelor winner Courtney Robertson reported that there was no protection provided for her night in the fantasy suite with Ben Flajnik, but during his season, Chris Soules recalled that producers would leave a bowl on the nightstand full of condoms and other items like lube.
The mansion isn't air-conditioned
Sorry, AC is too noisy for sound-editing purposes. To make matters worse, as the two-dozen-plus contestants grow increasingly sweaty under the lights, they have a total of four showers to share in the house. We wouldn't tolerate that human-to-bathroom ratio from a cut-rate Airbnb, let alone a luxurious, sprawling manse.
Reality-TV veterans need not apply
Per the official eligibility requirements, Bachelor[ette] hopefuls who have previously appeared on "any primetime reality show" must disclose their history to producers, who may reject them on the basis of this information. This seems like an increasingly silly requirement as Bachelor[ette] alumni are farmed out en masse to populate spinoffs like Bachelor in Paradise and Bachelor Winter Games, as well as plucked to serve as the titular Bachelors and Bachelorettes themselves.
One hopeless romantic who managed to clear this anti-reality hurdle is Bryan "Not Peter" Abasalo, a.k.a. the future Mr. Rachel Lindsay. Please take 63 seconds to watch the opening credits to UPN's 2004 Miami-set dating show The Player. It's worth it.