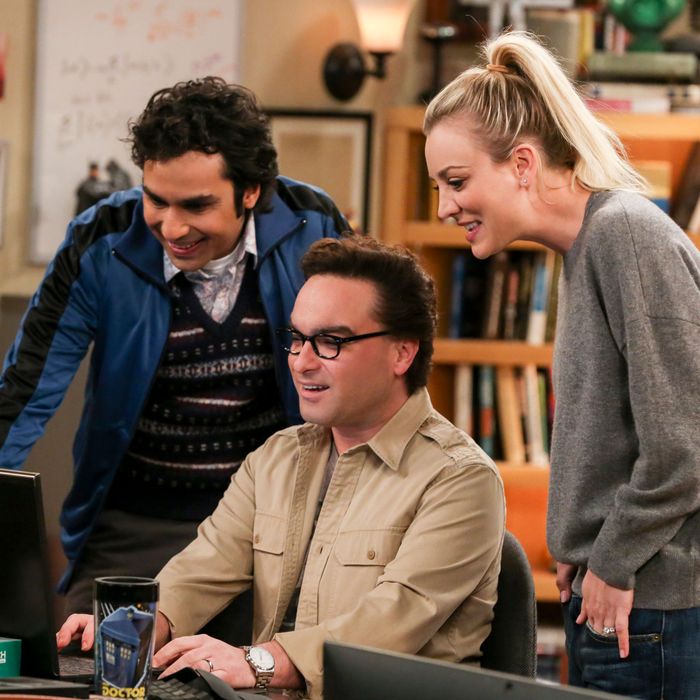 Photo: Michael Yarish/CBS
In case your save-the-date card got lost in the mail, here it is, the day Amy Farrah Fowler will wed Sheldon Lee Cooper: May 12, 2018.
A peek at the old calendar will show that day is a Saturday, but in TV land, it's a safe bet that the nuptials are likely to unfold on a Thursday night, one that might also coincide with The Big Bang Theory season 11 finale. (CBS has not yet confirmed the season ender's airdate.)
So, bride and groom: check. Wedding date: check. Wedding venue: not so fast, thanks to one Barry Kripke. John Ross Bowie's rascally rhotacizing researcher and constant thorn in the side of Sheldon & Co. strikes once again, just when Amy and Sheldon find the perfect location in which to say "I do."
The Caltech Athenaeum, the university's dining club, registers with both halves of Shamy as wedding-appropriate. For Amy, because it's elegant and appropriately sized. For Sheldon, because Albert Einstein was a member of the club, and just as importantly, because its proximity to his office means he can use his favorite bathroom during the festivities. (You know, the one in which he has placed a sticker over the automatic flush sensor, lest it startle him.)
All that's left, then, is to officially reserve the spot for May 12, and that's where Kripke once again proves to be the human buzzkill: He's already saved the day for his birthday blowout, and the fact that his plan tanks Sheldon and Amy's dream-wedding scenario only ensures that the weasel is already well on his way to a very happy birthday.
But it's up to Leonard to pull off a "save the date" of his own. Leonard is in the doghouse with Sheldon, because when Shamy go to visit the Athenaeum, they spot Leonard and Penny enjoying a fancy lunch … at the club in which Leonard has been a member for several years, all the while telling Sheldon the Athenaeum was so exclusive that they were both 400th on the waiting list of those desperate to get invited.
No big excuses: Leonard flat out lied to Sheldon, and he apparently hasn't been at all contrite about fibbing and keeping his club membership a secret until now. Is it the universal dislike of Kripke that has him finally feeling a case of the sorrys, or does Leonard genuinely feel bad that Sheldon and Amy may miss out on the perfect wedding venue because Leonard failed to disclose he had club access? A little bit of both, perhaps, which leads Leonard and Sheldon to agree to scrub out the chemical-laden tanks in Kripke's lab — a type of work, Barry points out, that human resources will no longer allow him to shirk off onto grad students — in exchange for Kripke agreeing to cancel his reservation at the Athenaeum.
But wait, there's more. Sheldon and Leonard are happy to tell Amy they've secured the club for the wedding, and she's happy to hear it, until they reveal the rest of Kripke's demands. He wants to come to the wedding as a guest, with a date, whom the Coopers will pay for if said date has an hourly rate. Also, Barry wants to croon "Volare," which proves to be the deal-breaker. Amy immediately suggests alternatives like the planetarium to host the wedding, so, again, though we know the wedding is set for May 12, the location is yet to be determined.
Also up in the air, in the rare B-story that gets almost as much play as the Sheldon-centric main story: Which Wolowitz parent will quit his or her job to stay home with the kids full-time? Both Howard and Bernadette want to, but they also both have reasons for wanting to spend their days among other adults in the workplace. Plus, the intense sleep deprivation sparked by having two crib-dwelling youngsters in the homestead doesn't render either of them capable of making a final decision on the matter.
Sure, it's not the freshest of plots, but on this International Women's Day, it's good to see Bernie and Howard — the mama's boy who doesn't always express the most modern viewpoints — seriously considering both complicated options.
THEOR-EMS
• While changing his newborn son, Howard is surprised to learn the boy can pee straight up, i.e., right into Howard's eye. Apparently, no one gifted the Wolowitzes with a set of Pee-pee Teepees.
• Sheldon is pleased with his very romantic wedding date, because math: "The month squared equals the square of the sum of the members of the set of prime factors of the day." he says. (Amy: "Yes, it's like that Shakespeare sonnet, 'Shall I compare thee to a day that's also a really weird math problem?'")
• P.S. I checked the equation so you don't have to remember prime factorization from elementary school … Sheldon's math works out.