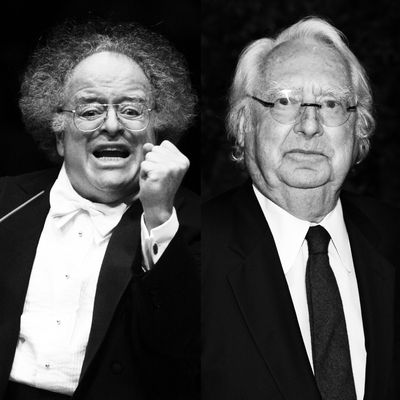 Levine, Meier, Dutoit: Let 'em go. But make room for their successors.
Photo: Hiroyuki Ito/Getty Images; Charles Eshelman/FilmMagic
Celebrity architects and conductors fascinate for similar reasons. Both rely on institutionalized ventriloquism, where the master's ideas are expressed by minions. They are solo figures in collaborative worlds, embracing complexity, managing teams, and taking credit for others' work. And in both professions, the priestly nimbus has lately been besmirched.
James Levine and Charles Dutoit, two of classical music's most lavishly praised maestros, and Richard Meier, the wizard of white-steel-and-clear-glass buildings, have all ended their careers in ignominy after multiple allegations of sexual harassment. In each case, a revered elder appears to have leveraged his talents into mystique, and mystique into power, which he then abused in the usual tawdry ways. Sexual coercion happens in every field and at every level of society, and yet Levine, Dutoit, and Meier could indulge themselves as they wished because they spent decades nestled in a comfortable bubble of fame, their nastiness buffered by rarefied reputations.
The fall of Levine led music critic and editor Zachary Woolfe to wonder in the Times whether it was time to scrap maestro worship altogether. The "male-centered, star-driven structure," he wrote, "saps coffers, repels gender equity and leaves ensembles at a loss when a charmed leader disappears, unexpectedly or not." The architecture critic Alexandra Lange tweeted that replacing the word maestro with starchitect would yield virtually the same article.
The idea of genius, and the personality cult that flows from it, simultaneously energizes and distorts the worlds of classical music and architecture. Renowned conductors are paid orders of magnitude more than the musicians who make the sounds. Gustavo Dudamel has become the public face of the Los Angeles Philharmonic, just as Riccardo Muti has to the Chicago Symphony. Michael Tilson Thomas has announced his imminent (by classical-music standards) departure from the San Francisco Symphony, making the orchestra's identity suddenly shaky. These men sell tickets, woo donors, give interviews, and shape their ensembles' musical personalities.
Yet the mythology is an awkward fit for this mix-and-match age. A conductor can lead three different orchestras on three separate continents in the course of a week, so musicians are accustomed to seeing a rotating cast of maestros pop on the podium. Music directors no longer have untrammeled power to hire, fire, or humiliate. And in the end, conducting is a reproductive profession, not a creative one: Dudamel's version of Mahler's Fifth differs from Tilson Thomas's in frequently elusive nuance, but it's still Mahler's creation. In truth, very few expert listeners could identify a particular interpretation in a blindfold test.
In architecture, the path from napkin sketch to ribbon-cutting is so tortuous and crowded that it can be difficult to keep track of precisely who created what. Yet developers cultivate the designer's brand and use it to give luster to their own. Journalists use one man's name as shorthand: the phrase "designed by Frank Gehry" stands in for an unwieldy credit roll of collaborators, consultants, contractors, and technical specialists.
Autocracy is an unfashionable yet enduring system in the arts. These days, few artistic leaders will cop to their own star status. Levine's successor at the Metropolitan Opera, Yannick Nézèt-Séguin, dresses in T-shirts and sneakers and affects a just-one-of-the-guys bonhomie. Even Daniel Libeskind, author of some of the world's most extravagantly idiosyncratic buildings, announces on the firm's website: "Our Studio is a collaboration."
Still, I find myself unwilling to jettison the concept of genius in either field. Numinous conductors and architects are neither charlatans nor motivational coaches; they are leaders, and leadership depends on power. True collaboration is as important as it is rare, but the exercise of power still has its place. It's a tool that persuades students and veterans alike to internalize a common aesthetic, and to take shared risks. It can raise a building from a facility into an artwork, or an hour of music from amiable blandness to emotional full immersion.
The patriarchal cult of genius has largely kept women from the apex of renown in architecture and classical music, but maybe we shouldn't eliminate it just now that they have a shot. A sizable cohort of women conductors is finally emerging, brimming with talent and fortified with experience. At some point, one or two or several will start taking over the world's most prestigious orchestras. Is this the moment to strip away the glamour and money that goes with the job? And the same goes for architecture. Zaha Hadid, who died in 2016, was the only woman who parlayed her vision and personality into a global brand. It seems unfair to eliminate her position now that she's gone.
It's been thrilling to watch the #MeToo movement take a crowbar to ossified establishments and rewrite the principles of power. In this, activists are emulating artists, discarding old rules and creating them afresh. One of the questions for the movement's next chapter will be how to honor great talents without indulging their worst instincts, how to give them freedom to create but not license to damage others. We are starting to learn that some artistic institutions devolved into the artistic equivalent of Hamsterdam in The Wire: enforcement-free havens for a privileged few addicted to their own troubled glory. Somehow, opera companies, orchestras, schools, and architecture firms will have to clean themselves up without becoming sterile.