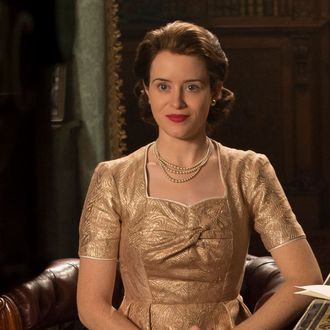 Claire Foy.
Photo: Alex Bailey / Netflix
At last, the royal decree we've been waiting for. Claire Foy, who found herself at the center of an international news storm when it was revealed she made less money as Queen Elizabeth II than her co-star, Matt Smith as Prince Philip, for their two seasons of work on The Crown, has finally decided to comment on the financial gaffe. And while she didn't discuss her specific feelings about being paid less for a bigger role, Foy was happy to admit she sees why people took an interest in the revelation. "I'm surprised because I'm at the center of it, and anything that I'm at the center of like that is very very odd, and feels very very out of ordinary," Foy told EW. "But I'm not [surprised about the interest in the story] in the sense that it was a female-led drama. I'm not surprised that people saw [the story] and went, 'Oh, that's a bit odd.' But I know that Matt feels the same that I do, that it's odd to find yourself at the center [of a story] that you didn't particularly ask for."
Foy's pay gap media blitz began earlier this month, when one of The Crown's producers, Suzanne Mackie, admitted during a panel discussion that Smith was paid more than her — owing to his greater prominence at the time thanks to Doctor Who. "Going forward, no one gets paid more than the Queen," Mackie clarified. The public outcry on Foy's behalf soon became so overwhelming, though, that Left Bank, The Crown's production company, was soon forced to issue a statement apologizing to Foy and Smith for instigating a "media storm" through "no fault of their own." The company also added that the show's actors were never aware of who got paid what, and as such "cannot be held personally responsible for the pay of their colleagues."
Smith has yet to comment on the pay gap, but if Foy's comments are any indication, don't be surprised if he doesn't.