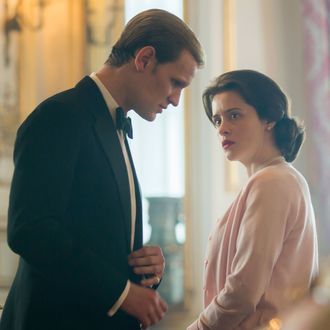 Matt Smith and Claire Foy.
Photo: Robert Viglasky/Netflix
After receiving a wave of scrutiny and backlash for the recent revelation that Claire Foy, the lead of The Crown as Queen Elizabeth II, was paid less than Matt Smith, the key supporting character of Prince Philip, the producers behind the Netflix period drama are offering a public apology to the actors. "We want to apologize to both Claire Foy and to Matt Smith, brilliant actors and friends, who have found themselves at the center of a media storm this week through no fault of their own," a statement from Left Bank, The Crown's production company, read. "Claire and Matt are incredibly gifted actors who, along with the wider cast on The Crown have worked tirelessly to bring our characters to life with compassion and integrity." The company added that the actors were not aware of who got paid what, and as such "cannot be held personally responsible for the pay of their colleagues."
The confirmed pay gap came to light last week when, during a panel discussion about The Crown in Jerusalem, one of the show's producers admitted Foy's salary was less than Smith's for both seasons they starred on the show. The reasoning at the time being that Smith was a more prominent international figure given his work on Doctor Who. "Going forward, no one gets paid more than the Queen," the producer clarified. Get that money, Olivia Colman!