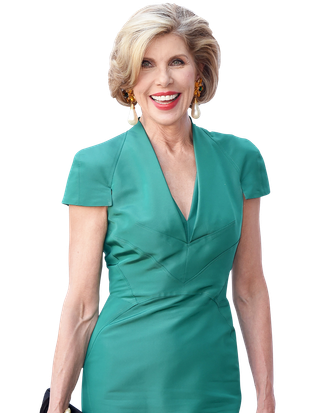 Christine Baranski.
Photo: Getty Images
When Diane Lockhart returns for the second season of The Good Fight, she's not the buttoned-up lawyer she once was. She's still powerful, but thanks to the pressures of living under the Trump administration, and a nasty series of deaths of local Chicago lawyers, she's started to spin out of control. In the first few episodes of season two, Diane experiments with sex, drugs (in the form of micro-dosing psilocybin), and a new addiction to cable TV. Ahead of the season premiere, Vulture caught up with Christine Baranski to discuss playing the suddenly freewheeling lawyer, working with her new co-star Audra McDonald, and meeting the younger version of herself in the Mamma Mia! sequel.
How did you react when you learned Diane would try out micro-dosing this year?
I could understand it. I thought, Well, she's come to a point where she just needs a let-up in her consciousness, and several scotches or a whole bottle of red wine isn't going to do it. She doesn't want unconsciousness in that drunken sense, she wants to have a heightened consciousness that's just a bit of a relief. I consider it a bit of a respite for her, not some dereliction.
Tennessee Williams said the secret to happiness is insensitivity. She's reached that tipping point as a sensitive, intelligent person living in this crazy world, where she simply can't process anymore. So, she's seeking alternative relief — micro-dosing, throwing caution to the wind, and sleeping with a bartender. We don't know this Diane, but people are capable of that when they're pushed to a certain place.
She also gets addicted to watching cable news.
I must tell you, I'm not a television person and I never used to watch morning news. To me, it was such a terrible way to start the day. I've taken to watching cable news in the morning because I like to hear the news analysis and I like to hear what's breaking news, because honestly, I want to bear witness to this crazy time that we're living in. I watch it in the morning and when I get home from work I watch it at night, and very often there's a TV in my dressing room and I take to watching it on breaks, because this Mueller investigation and what is going on in the world is truly jaw-dropping.
Do you have your own ways of coping?
Fortunately, I have my work, and because we address a lot of this in work and in the characters, through the character of Diane, it's cathartic. Plus, I love having the community that I do at work, which is a simply great group of people. I love the consistency of work. I don't know what I'd do if I was an out-of-work actor, just watching cable news all day. I'd go raving mad.
This season, the show brings on Audra McDonald, who is Alicia's old rival and becomes Diane's ally slash rival. What's it like working with her?
She is just one of the great ladies. I was thrilled when they said she was coming onto the show. She's powerful, she's strong, she's a superb actress, she's a divine colleague. She's prepared and she's easy-going and she's everything you would want in a company. I mean, I look forward to the story lines that they can tell. It started off with her [character] seeking out my company — there we were getting drunk and laughing together at a bar — and I just thought it was great to get off on that footing. We sort of have a falling out, but I expect a lot of dynamic shifts in that relationship. It's two really powerful women, you know?
You're also in Mamma Mia!: Here We Go Again, and Jessica Keenan Wynn plays a younger version of your character. Did you give her any advice on how to play a younger you?
No, because all three of the young actresses really studied our work. When I saw her in the wig and the two of us were face-to-face, there was such a resemblance. When we smile, she has that big, toothy smile like I do, and a very hearty laugh, which I do. So, I knew she didn't need any advice. I wouldn't even begin to know how to tell somebody to play me, you know that I mean? That's an odd thing to stand back and say, "Well, here is what quote-unquote I'm like."
Is it as fun as it seems to shoot those Mamma Mia! movies?
The first one was just the best experience ever. Yet there we were, ten years later, on an island in Croatia and we were all having so much fun — what I call too much fun. There was a couple of days of shooting where we were all together, Meryl was on the set and Cher, and we all just sat around with coffee mugs and talked. It was just an out-of-body experience because I remember Cher from when I was growing up in Buffalo and she was the coolest woman in the world, you know? I never thought I'd be in a movie with her.
What kinds of stories does Cher tell over coffee?
She's very open about her early years, how they weren't a success at first and they didn't really quite know what they were doing. They didn't know what hit them when they got famous. She's really very self-effacing and open about it.
Another great thing about The Good Fight is the continuing excellence of Diane's costumes. Do you have a favorite one?
This season, I have a lot of favorites. I mean, it's one fantastic jacket after another, I must tell you. The blouses … I call myself "legal Barbie." Dan Lawson is the utterly brilliant costume designer on the show. He's always dressing me up in these outfits with the great shoes and the great jewelry and the bags. Half the fun of doing this show is dressing up for it.
There's one moment in the second episode where she has this gorgeous gray coat, and I gasped as soon as I saw it.
I know! They used to do that when I was on Cybill. They just couldn't wait to see what I was going to wear next, and I was lucky enough for another CBS show to have the same thing. I play a clothes horse, you know? I say Diane is like what Angela Merkel would be, if Angela Merkel could wear couture and stilettos. She's very feminine. She doesn't need to wear pantsuits and show up looking like a guy in order to assert herself, which I always thought was great.