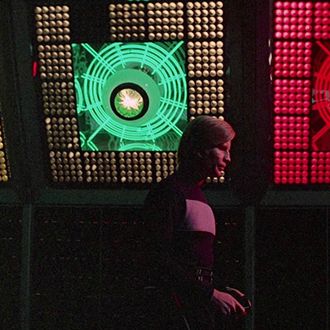 Photo: Metro-Goldwyn-Mayer Studios Inc.
That must be the look of … of being a remake. The 1976 movie Logan's Run has informed any number of futuristic film dystopias, so it makes sense that Hollywood would eventually go running back for more. According to The Hollywood Reporter, The Hunger Games: Mockingjay Part 1 and 2 writer Peter Craig has been hired to script a remake of the Michael Anderson sci-fi cult film. X-Men: Dark Phoenix director Simon Kinberg, meanwhile, was attached to the film in 2015.
The original movie follows Michael York's police officer Logan 5 as he discovers the dark truth behind his society's total lack of old people. Warner Bros. has had Logan's Run in the works for quite a while now, and Ryan Gosling was at one point attached to star in a Nicolas Winding Refn-helmed version. Unfortunately, Gosling has since turned thirty, undergone Carrousel and been ceremoniously removed from society to do whatever it is people over 30 do. Oh — wait. He's starring in a Neil Armstrong biopic. That's way nicer than what we were imagining.