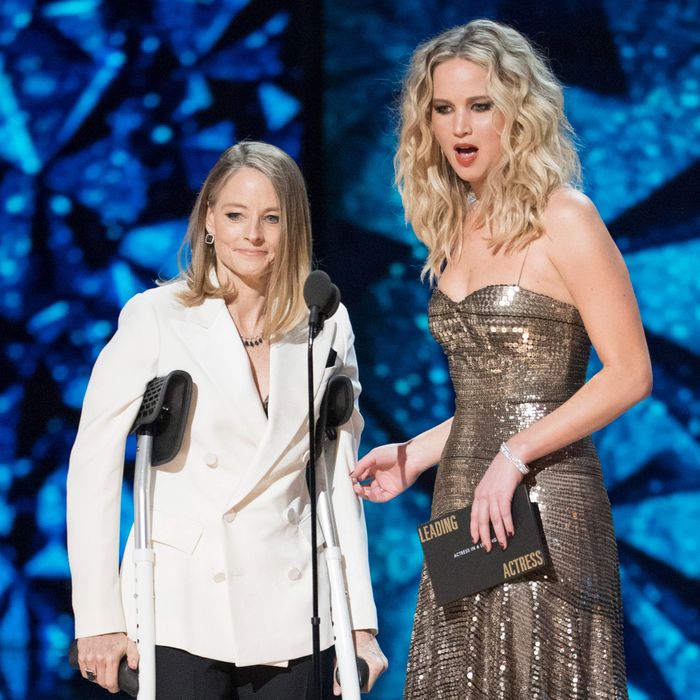 Jodie Foster and Jennifer Lawrence.
Photo: Getty Images
The art of presenter pairings at awards shows has long been a delicate, suggestive, and pretty deeply heteronormative art. Sometimes the producers opt to send out two well-known co-stars of a recent or upcoming tentpole: Let's have Tobey Maguire and Kirsten Dunst present the visual effects award, because Spider-Man was a popular movie that also had visual effects and maybe this will keep the thumb-suckers at home from changing the channel! Other times, it's a perverse form of semi-random fantasy matchmaking: Let's force Benedict Cumberbatch and Naomi Watts to hold hands and see what happens, because why not? The man and woman in question are then forced through scripted, often flirtatious-adjacent dialogue; the result can be unintentionally hilarious, unintentionally illuminating, or just plain uncomfortable.
Does anyone ever look comfortable in these pair-ups? I would imagine most people would just prefer to present on their own, a privilege only afforded to men and a very select all-timers club of women (your Audrey Hepburns, your Elizabeth Taylors, etc.) for the first few decades of the awards. Which seems reasonable — it's not like there's that much to do. Or, as the show's producers seemingly discovered just last night, why not let women present together, maybe even women who — gasp — actually know and like each other in real life?
It's not like it's never happened before (and, occasionally, gloriously so.) But the degree to which the Academy leaned into gal pals last night might have been the greatest and most lasting gift the telecast left us with. The giddiness started early, with Laura Dern and Greta Gerwig presenting Best Documentary, beaming and clutching each other's hands like they'd just been either baptized or married, and Dern smiling at the Best Director nominee with a warm, ad-libbed "Congratulations, buddy." Then, Tiffany Haddish and Maya Rudolph, apparently fast friends since Maya's husband Paul Thomas Anderson reached out to the Girls Trip breakout star, walked onstage, heels in hand, and launched into a leisurely, please-never-let-it-stop comedy set before presenting the short film awards.
What was striking in the reactions to these pairings, aside from the usual "MOMS" tweets, is that the highest show of approval was to declare that the two women onstage should work together. Gerwig's casting of Dern in her next film seemed like a foregone conclusion; Haddish and Rudolph were declared next year's Oscars hosts more or less unanimously by Twitter. By the time Frances McDormand took the stage to accept her Best Actress award, and used her time to implore the people with power in the room to "ask us about our projects," the internet was already printing out their treatments.
Famous bro pairings have long been a staple of the awards, and the levity between men has always felt like it's supposed to provide some kind of palate cleanser for the stiffness of the rest of the show, a reassurance that Hollywood can be fun, that while actresses starve themselves to fit into dresses and get scrutinized head to toe on the red carpet, the guys don't have to take any of this nearly as seriously if they don't want to. This year we got to see so many more women relaxed onstage, because they weren't performing in some weird debutante-ball escort pantomime, because they were allowed to make their own jokes, because they could be onstage with women they'd actually worked with and trusted. The latter was the case with Jennifer Lawrence and Jodie Foster, who had a brief but touching moment during their presentation of Best Actress, in which Lawrence thanked Foster for giving her one of her first acting jobs.
Foster and Lawrence had the spot that, traditionally, would have been occupied by Casey Affleck, had he not excused himself from this year's ceremony after the fallout from his sexual-harassment case (which didn't stop him from accepting his Best Actor award last year). But even aside from accusations against Affleck, the image of a woman being handed an award by a man didn't feel like something anyone was particularly interested in last night. Nor did anyone feel like having 2017 Best Actress winner Emma Stone hand an award to alleged abuser and slur-slinger Gary Oldman. That duty fell to Jane Fonda and Helen Mirren, two women who are his senior, who delivered some platitudes about changing times before asserting that "we will always be mesmerized by the power of a great performance." What a better way to soften the revelation that the majority of the Academy was mesmerized enough by Oldman to overlook his abuse allegations, than with the dazzling glamour of Fonda and Mirren?
Sisterhood was doing a lot of work last night, much of it healing, some of it concealing. But what seems unlikely to change anytime soon is the notable separation of men and women on stages like this, while Hollywood sorts out its often malignant, and deeply influential, attitudes toward gender. The Oscars may be Hollywood's prom, but hopefully we can lessen the awkward hand-holding and forced proximity and see more women celebrating and hanging out with their actual friends and collaborators, both past and (fingers crossed for that Dern-Gerwig vehicle) future.