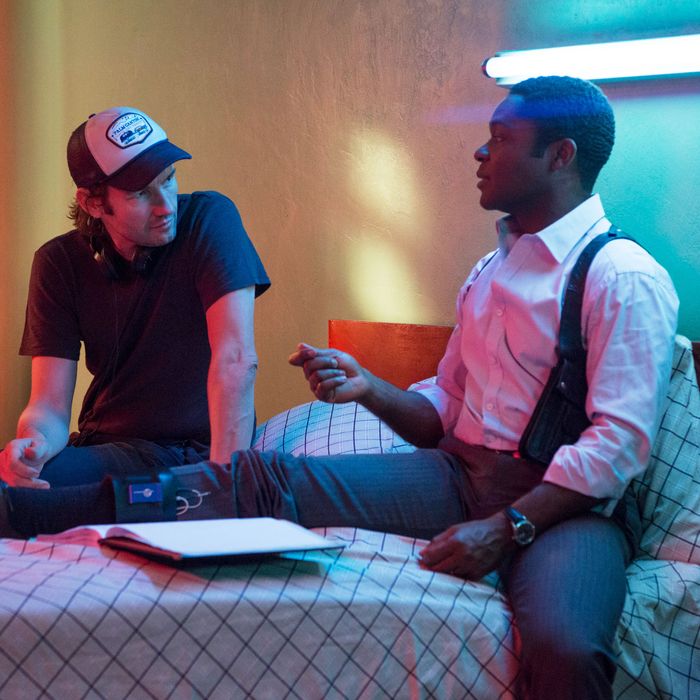 Director Nash Edgerton and David Oyelowo on the set of
Gringo
Photo: Gunther Campine/Gunther Campine
It's fair to say that Nash Edgerton, director of the rollicking R-rated corporate satire/action-comedy Gringo (which arrives in theaters today), took perhaps the least traveled of all roads to becoming a filmmaker: He never intended to become a filmmaker at all. Determined to break into moviedom as a stuntman, the Sydney, Australia, native seized on the idea of making a "show reel" of himself performing stunts, and enlisted his younger brother Joel Edgerton — then attending drama school — to act out the scenes alongside him.
"I was doing these things for me to get work as a stuntman and for my brother to get work as an actor," Nash says. "But having to shoot them, edit them, do sound, I was learning how to do various things. And it progressed! We were showing somebody and he was like, 'That's a great short film.' We're like, 'What's a short film?'"
Edgerton went on to become one of Hollywood's foremost stuntmen, performing action set pieces in three Star Wars prequels, the Matrix trilogy, Zero Dark Thirty (as Joel's stunt double), and Superman Returns, among a long list of films. But he also continued to shoot award-winning shorts and directed his first feature, the Aussie-set neo-noir thriller The Square, in 2008. So when the Gringo script crossed Edgerton's desk — the story follows a hapless middle manager (David Oyelowo) sent to Mexico by his domineering bosses (Joel Edgerton and Charlize Theron) who then fakes his own kidnapping, triggering a cascade of disasters — he jumped at the chance to show his chops at directing high-octane situation comedy. "Stunt work is very much problem-solving," the director, 45, says. "You're asked to create a piece of illusion or danger. But make it repeatable and safe. It's like doing a magic trick. Filmmaking is the same thing — on a much bigger scale."
Edgerton is hardly the only stuntman these days to hurtle the below-the-line divide and come to occupy Hollywood's most vaunted real estate: the director's chair. Chad Stahelski and David Leitch, two of the most sought-after action-movie directors working today, coordinated stunts and choreographed fight sequences on such popcorn offerings as X-Men Origins: Wolverine, 300, Captain America: Civil War, and Ninja Assassin. But in 2014, the duo — who co-founded and operate 87Eleven Action Design, a Los Angeles–based fight-choreography studio/gym-cum–production company — rebooted their careers by co-directing (in Leitch's case, uncredited) the $20 million Keanu Reeves revenge thriller John Wick. A sleeper hit, it grossed a surprisingly robust $88 million at the box office and has now spawned a trilogy of films. (The third installment is scheduled to reach multiplex screens next year.)
Since then, Leitch directed Theron in last year's '80s-set assassin action flick Atomic Blonde and is now in postproduction on the untitled Deadpool sequel. Stahelski, for his part, was recently announced as the director of Sandman Slim, the first adaptation of best-selling author Richard Kadrey's nine-book fantasy series (that could evolve into a franchise) as well as a reboot of the swords-and-immortals thriller Highlander for Lionsgate.
"As a stunt guy, you become a mini-director," Leitch told Men's Journal. "You're talking to actors about performance. The way you present a stunt is tied into the way you photograph it, so you're hanging out with the cinematographer. You learn tricks to make action look more dynamic — having the fight come toward you or shooting on a longer lens to compress the speed."
Of course, you can't talk about stuntmen turned directors without mentioning Ric Roman Waugh, whose career as a stuntman spans such action-packed films as The Crow, Gone in Sixty Seconds, and Jean-Claude Van Damme's Hard Target. He made the transition to directing in 2001 with the thriller In the Shadows — which, in an appropriately meta-narrative twist, follows a hit man (Mathew Modine) sent to murder a Hollywood stunt coordinator (James Caan). He then went on to direct Dwayne Johnson in Snitch (2013) and helmed last year's gritty prison drama Shot Caller starring Nikolaj Coster-Waldau. But to hear Waugh tell it, the road between functioning as a stunt coordinator and a director was paved by hundreds of hours of observing more accomplished directors ply their trade.
"I was really lucky to work with a couple of different filmmakers who were very supportive and generous to me beyond my work in stunts," Waugh explains via email from the set of Angel Has Fallen, the second sequel to the 2013 Gerard Butler action hit Olympus Has Fallen. "People like Tony Scott — especially Tony — really helped me form my way of directing. He taught me how to treat people with respect on set, how to demand that respect back. How to lead the charge the right way and really to be bold and confident with your own voice."
Hollywood studio executives are notoriously resistant to allowing functionaries from one part of the movie-making ecosystem — say, sound designers, editors, or gaffers — make the leap to becoming full-fledged filmmakers; actors such as Ben Affleck and Clint Eastwood or cinematographers turned directors like Jan de Bont, Zhang Yimou, and Haskell Wexler being notable exceptions. But in the '80s, Hal Needham blazed the trail for today's stuntman-filmmakers, moving from performing stunts on films including How the West Was Won and The French Connection to directing such Burt Reynolds–starring, pedal-to-the-metal classics as Smokey and the Bandit and Cannonball Run.
If there is a single uniting factor in today's stuntmen turned filmmakers' work, it's a kind of determined realism, a tendency to capture the action on-camera — as opposed to relying on computer-generated imagery and special effects. In Edgerton's case, observing the Wachowski siblings' work on the first Matrix movie inspired him to strenuously avoid adding postproduction gimmickry to his films.
"There was a sequence in particular when Neo is trying to save Morpheus. He's on a helicopter and is shooting outside the building. Morpheus is being held in a chair by the agents. It's raining," the filmmaker recalls. "He jumps out of the building, Neo catches him and they get dragged by the helicopter on this wire. I was involved in that sequence, rigging it. What impressed me most is that it's all made up of practical shots. There's CG but only to join shots together. It was all practical elements, shot over several days and in different places. It works and it feels visceral because of the practical elements. The human eye can always tell. If there's too much CG, it's like plastic surgery — you go, 'There's something wrong with that.'"
And as a former stunt professional, Edgerton — currently in postproduction on a mini-series called Mr. Inbetween for FX Australia — is determined to avoid cliché. "As much as I love doing stunts, I'm not into doing them just for the sake of doing stunts," he says. "It's not like, 'I want the car to jump as far as possible!' It's got to serve the story."