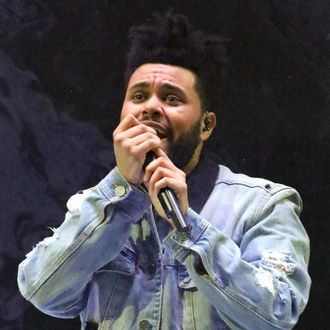 Get ready to feel some things.
Photo: Slexander Tamargo/Getty Images
Breakups are rough. An ex's quick rebound back to their other ex after a breakup is rougher. Which is how we presumably arrived at this moment, in which the Weeknd has (vaguely) announced that he's dropping a surprise album tonight. It's titled after his many feelings: My Dear Melancholy, with a comma at the end. My dear melancholy, what??? Go ahead, Abel, pour your heart out; let the sweet catharsis consume you. The Weeknd has shared the apparent cover for the project with no context other than "tonight," however a journalist in London spotted a billboard promoting the album's release (also, Travis Scott previously blabbed about its existence). The poster says "available now," which really likely means midnight, but true gloom haunts everywhere, all the time.