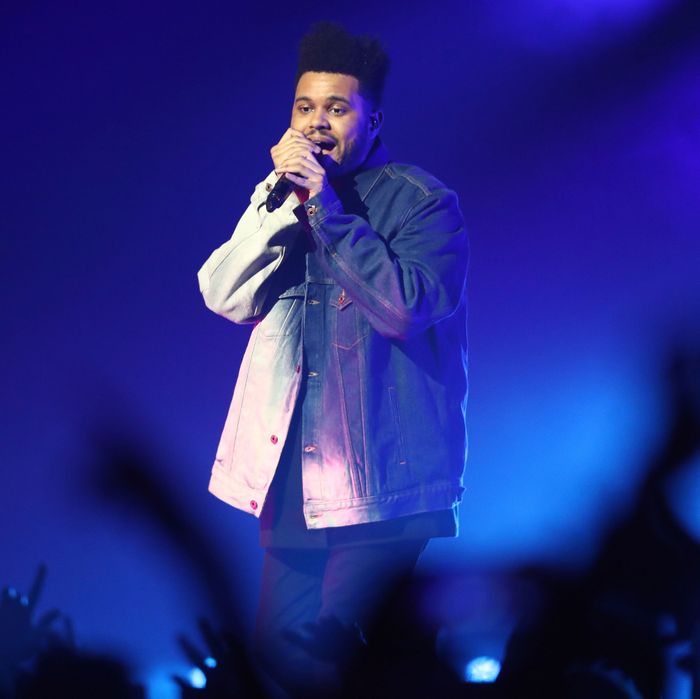 How long until the Weeknd replaces Drake entirely?
Photo: Phil Walter/Getty Images
The Weeknd and Drake have something of a shared history. Both young black men raised in the Toronto area, their trajectories crossed when the latter had just become a major-label star and the former, born Abel Tesfaye, remained a shadowy alias pouring out his soul into free mixtapes. Drake's star power helped pull the Weeknd into the spotlight: a co-sign from an OVO blog post led to collaborations where the more established artist was given the run of the underground recluse's sonic vault. The Weeknd received writing credits for roughly a quarter of Drake's Take Care; Drake would guest star on the Weeknd's Thursday mixtape. Was it a fair exchange? Hard to say. But it's certain that they made each other's best collections better.
The chumminess didn't last. The Weeknd refused to sign with Drake's label, and though they teamed up for a track on the Weeknd's major-label debut Kiss Land, it proved to be the last time they would work together. Rumors of enmity between the two highlighted the fact that Toronto now had two stars with distinct styles and separate entourages, and while one continued to shine brightly, the other was flaring up with greater intensity. Stung by Kiss Land's underwhelming chart performance, the Weeknd swung sharply into the pop lane and found new life. Two hugely successful albums later, he's reached the same level of prominence as the man who first introduced him to stardom. With little left to begrudge, the Starboy and the Boy patched things up.
Popularity, on the scale they had achieved, has a way of softening harsh tones, so it wasn't surprising to see the Weeknd, originally known for novelty and extremism, shifting toward a more mundane and mellow attitude, particularly on his latest album, 2016's Starboy. The Weeknd was still singing songs about dying for love, but he was also singing about middle-tier relationship issues like attention-seeking and poor communication — the same issues that Drake had long staked out for himself. So it's not a shock to hear that the best track on the Weeknd's new surprise EP My Dear Melancholy, "Wasted Times," lands firmly in the ballpark built by Aubrey Graham: He's hung up on an ex, badly, and wondering what she's up to now.
There's always a twist to Weeknd collections, though. He isn't just pining over one former lover on this song: Unceremoniously used and dumped, he longs for the affections of yet another vanished flame.
Wasted times

I spent with someone else

She wasn't even half of you

Reminiscing how you felt

And even though

You put my life through hell

I can't seem to forget 'bout you

I want you to myself.
Assuming that an angel-voiced celebrity worth millions can still be a poor guy, can't the poor guy catch a break? Getting jilted hard makes him miss being screwed over by someone else. "Who do you belong to now?" he asks, among other questions, in the chorus, and gets no answer.
All that lonesome entitlement adds up to a very familiar sadness: You can easily imagine "Wasted Times" as a reference track for a Drake song; in fact, both the song's co-producer Frank Dukes and co-writer Starrah have worked with Drake in the past. But what the Weeknd has always had over Drake is a voice that can carry feelings heavier than mere wistfulness, and it turns out that that makes all the difference. He doesn't just passively inform you that he's not doing well, he sounds actively pained, and between the precise, cold, yet tender beat assembled by Dukes and Skrillex and the terse poetry he and Starrah stitched together, a song emerges that better catches more of the listener's feelings than most Drake songs. The agonized spirit of Tesfaye's mixtapes, the dark, airiness of Kiss Land, and the pop concision he mastered during Beauty Behind the Madness and Starboy have come together to form something new, unguarded, and beautiful. Drake and Abel's messages may be similar, but they part ways on delivery, and delivery is a message all its own.
It will be interesting to see how Drake and the Weeknd play out the rest of 2018. The comma cutting out MDM's title hints strongly at a forthcoming album sharing the EP's narrative; meanwhile, Drake's been sending smoke signals about his own new LP. Comparisons between the two are inevitable; so, too, given their history, is competition. Yet if songs on the level of "Wasted Times" keep coming, there may not be any struggle worth speaking of. In 2011, Abel Tesfaye was an outfit Drake could wear to his advantage. But the question now isn't whether the Weeknd found his place thanks to Drake; it's how soon it will be before he replaces Drake entirely.