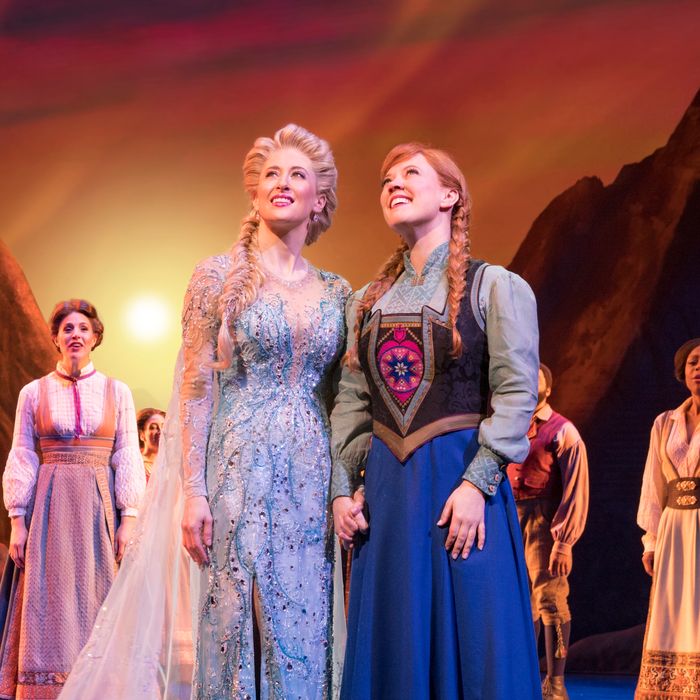 From
Frozen
, at the St. James.
Photo: Deen van Meer/© Deen van Meer 2018
If Elsa is responsible for this spring equinox blizzard, I'd like to petition to send her back to Arendelle.
No, I take it back. The poor snow queen has faced enough persecution — let her enjoy her trip to New York. It's probably going to be a lengthy one. Just a few months ago The Lion King celebrated two decades on Broadway (seriously, how many "Circles of Life" is that?), and now Disney is premiering its latest theatrical extravaganza, the stage adaptation of the highest-grossing animated film of all time, that near-inescapable tale of Nordic adventure, cryokinetic magic, and the bonds of sisterhood — the 2013 megahit Frozen.
Even on a Tuesday night with relatively few preteens visible in the audience, the vibe in the St. James Theatre was a heady one. Five years ago, Frozen produced something akin to Beatlemania, especially surrounding one of its heroines, the ostracized enchantress Elsa, and her character-defining empowerment ballad, "Let It Go." The criminally catchy song won an Oscar for husband-and-wife team Kristen Anderson-Lopez and Robert Lopez, the music-and-lyrics duo who have created almost a dozen new songs for the musical's stage incarnation, as well as inciting a full-fledged Frozen phenomenon. It was only a matter of time before Elsa sashayed onto a Broadway stage, and now she's here, along with her spunky sister Anna, the talking snowman Olaf, the lovable mountain man Kristoff, his trusty reindeer Sven, and the rest of the gang from Arendelle (Frozen's picturesque, fairy-tale take on a mid-19th-century Norwegian kingdom).
The results are a wintry mix. There's much to revel in: The ensemble is bright and buoyant, with the regal Caissie Levy belting her heart out as Elsa and the adorable Patti Murin charming the lederhosen off everyone as Anna. The stage is a lush Scandinavian paradise, a vibrant winter wonderland brought to sumptuous life by director Michael Grandage, set-and-costume designer Christopher Oram, and Mickey Mouse's bottomless coffers. There are real thrills and chills in many of the musical's magical moments, and at least one of its 11 new songs is a genuine delight.
There's also a general feeling of padding to the show. Frozen, the movie, runs about 90 minutes. The stage musical is two hours and 20 minutes long, and the material has been stretched to get it there. The majority of Lopez and Anderson-Lopez's new songs are, while serviceable and sweet, a bit generic, and the decision to take the digital route for much of Elsa's ice magic — animations and projections swirling across various screens and surfaces — is both understandable and at times underwhelming. When Grandage and special-effects designer Jeremy Chernick alight on palpable, physical gestures to create the story's enchantments, whooshes of exhilaration ripple through the audience like one of Elsa's icy blasts. When they let screens and pixels do the work for them, the show, for all its visual splendor, starts to veer away from true theater magic and perilously close to Disney-resort territory.
For the few who might have successfully avoided all things Elsa over the last five years, a brief recap: Frozen's book (by Jennifer Lee, who co-directed the movie and wrote its screenplay) is drawn very loosely from events in Hans Christian Andersen's fable "The Snow Queen." (Like, very loosely.) It tells the story of two princess sisters, Elsa and Anna, who were best buddies as kids but whose relationship has gotten chillier in the wake of a childhood trauma — Elsa, who can conjure up and control ice and snow, accidentally zaps her sister during one of their after-bedtime magical snowball fights. Though Anna is cured (and her memories of her sister's powers wiped), Elsa's parents shut up the palace gates, slap gloves on their precocious older daughter, and warn her to keep her powers to herself. "Conceal, don't feel, don't let it show," becomes the little sorceress's mantra. Of course, as Disney parents do, the king and queen soon die tragically, leaving their daughters to grow up alone and setting the stage for a catastrophic reemergence of Elsa's repressed powers on the very day she's supposed to be crowned Arendelle's queen.
Frozen has two young actresses in rotation for both Young Anna and Young Elsa. I saw Mattea Conforti as the feisty redhead and Ayla Schwartz as her suffering sister (though you might see Audrey Bennett and Brooklyn Nelson), and both were mini-dynamos. Conforti especially shines: She's got to carry much of the weight in the show's opening scenes, not to mention powering the first musical number with major-movie-recognition, "Do You Want to Build a Snowman?" It's one of those songs that sits right on the fence between clever-cute and treacly-trite, but the irresistible Conforti nails it. Her vivacity gets the play rolling, and when she passes the baton to Murin, that spirit remains infectious. Murin is a wonderful Anna, one of those exuberant, endearingly awkward latter-day Disney heroines that started up somewhere around Mulan, less Sleeping Beauty than Ugly Betty (not that anyone's ugly in Frozen. Anywhere. Ever).
In a way, the role of Anna is a tough one. You've got to drive the entire plot of the show, handle not one but two potential romances, sing a bunch of songs, keep a stiff upper lip, and save your persecuted sister, who — after fleeing Arendelle when a stress-induced magical outburst on coronation day causes an unstoppable blizzard and convinces the townspeople she's some kind of witch — manages to accidentally magic-blast you a second time, lodging a deadly shard of ice in your heart (oh, so now you've got to save yourself too). And you've got to do it all without receiving anything even close to the wild cries of superfandom Elsa gets for delivering Frozen's showstopper. You've got to do it all without a "Let It Go."
It's true that "Love Is an Open Door," the jubilant meet-cute song that Anna sings with the handsome Prince Hans (John Riddle doing his best in a flashy but thankless part), has its own bouncy earworm quality, and Murin sounds great singing it. But part of the difficulty of Frozen is that its major song is so famous, and so legitimately solid, that it almost feels like its own show. You can sense the audience waiting for it, and we've got to wait a while: After all, there's no way a song like that is going to be anything other than the first-act closer. This creates structural issues, because "Let It Go" — the defiant anthem to release and freedom that Elsa sings once she's escaped Arendelle and established herself in a mountain ice palace of her own making — occurs about half an hour into the movie of Frozen. The film follows a three-act structure (set up, adventure, denouement), with "Let It Go" occurring at the end of the establishing act. The play's got to break down into two acts, which means that Act One often feels inflated on its way to its rabidly anticipated climax.
Of course, when that climax does come, it delivers. Levy has an enormously strong, richly emotional voice — and (though I might be committing musical-theater treason here) a clearer, more classical one than Idina Menzel, who originated the role of Elsa. She releases into "Let It Go" as if she's Lady Gaga at Madison Square Garden, and the response in the audience is comparable. There are screams, cheers, tears — this is what we came for, and the effect is genuinely electric. It's also in moments like the song's soft, minor-key opening that Grandage and his visual-effects team make some of their best discoveries. All the projected, animated ice magic in the world might be (and is) impressive, but somehow it pales in comparison to watching Levy strip her glove off and … let it go, only to have it fly miraculously away, no visible strings attached.
It's akin to the magic of watching Andrew Pirozzi (who must need about five massages a week) cantering around the stage inside Sven, the gorgeous reindeer puppet designed by Michael Curry. Less dopey and infinitely more mesmerizing than his movie counterpart, this Sven feels like an elegant, naturalistic nod to the innovations of The Lion King: a real human body creating something fantastic, something beyond human. (This probably just means that I'm older than 6, but I prefer Sven to Frozen's higher-billed puppet, the snowman Olaf, who — while cheerfully played and well manipulated by Greg Hildreth — strikes me as one of Disney's more flimsy sidekicks.)
When Frozen's enchantments are fleshy, textural, really there, the play truly starts to sparkle. And once it's gotten through its first act, over the necessary Everest of its chart-topping hit, it starts to breathe too. Act Two feels fresher, freer, more released than Act One — with a heaping helping of sublime silliness to start it off. Of all the new songs created for the stage musical, none can hope to compare with "Hygge," a spectacularly daffy ode to the untranslatable word of the title (it rhymes with the last two syllables in "Beluga" and refers to the Scandinavian commitment to fuzzy, friendly wintertime coziness). Delivered with clownish conviviality and a Swedish Chef accent by the excellent Kevin Del Aguila as the mountain outpost trader Oaken, "Hygge" offers a kind of tonal antidote to "Let It Go" — which is both a great song and an emo one. By contrast, "Hygge" lets choreographer Rob Ashford give us a kick-line of euphoric, almost-nude sauna-bathers, a cartoonish ski crash, and more happy-go-lucky beer stein-ography than "Be Our Guest." It's a hilarious number, and a smart one: After "Hygge," we're primed to have fun for the rest of the show.
Like the snowy mountains Anna and Kristoff (the intrepid, appealing Jelani Alladin) have to scale in order to save the day, Frozen has its ups and downs. But powered as it is by gale-force blasts of earnest exuberance, a host of solid, sunny performances, and a surfeit of stunning visuals, it confidently throws its fuzzy hat in the ring for a long and lively life on Broadway and, of course, beyond. It may not be brilliant, but it's certainly hygge.