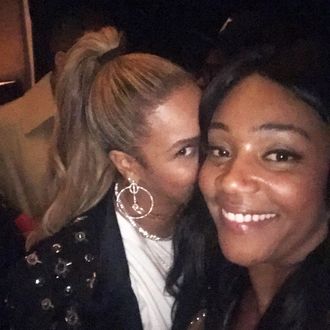 Photo: Instagram/Tiffany Haddish
Ever since Tiffany Haddish told Vulture the story behind her iconic selfie with Beyoncé, the actress has been semi-quiet about what went down at the afterparty of Jay-Z's concert in Inglewood last December. After the interview published, Bey released a new song that simply said everyone who parties with her will need to sign an NDA from now on. Haddish then tweeted: "But also know this I will fight for Beyoncé. I Love that woman she is a Gift from God." Yes — same — obviously. In a new profile in GQ, Haddish gives a few more details:
"There was this actress there," continues Haddish, keeping her voice low, "that's just, like, doing the mostest." One of the most things she did? "She bit Beyoncé in the face."




Haddish declines to name the actress.




("I absolutely cannot comment on any of this, as I have no knowledge," said Beyoncé's representative, Yvette Noel-Schure, when GQ sought confirmation from the singer.)




"So Beyoncé stormed away," Haddish says, "went up to Jay-Z, and was like, 'Jay! Come here! This bitch—' and snatched him. They went to the back of the room. I was like, 'What just happened?' And Beyoncé's friend walked up and was like, 'Can you believe this bitch just bit Beyoncé?' "




"And so then…," she continues, "a lot of things happened."
To be clear: An actress (!) bit (!!) Beyoncé Giselle Knowles-Carter (!!!). And Tiffany Haddish, as we know, was not going to just let that happen. Not on her watch! The GQ profile continues:
According to Haddish, she and the actress continued to cross paths throughout the night, culminating in a brief standoff. The actress, at one point, told Haddish to stop dancing, which — good luck making that happen.




"And then Beyoncé and Jay-Z walked by me, and I tapped Beyoncé."




Haddish says she told Beyoncé, "I'm going to beat somebody ass at your party. I just want to let you know that." Beyoncé asked her not to— told her to "have fun" instead. (Haddish leveraged this moment into a selfie with Beyoncé.)




"Near the end of the party," says Haddish, describing her final run-in with Mrs. Carter sometime later, "Beyoncé's at the bar, so I said to Beyoncé, 'Did she really bite you?' She was like, 'Yeah.' I was like, 'She gonna get her ass beat tonight.' She was like, 'Tiffany, no. Don't do that. That bitch is on drugs. She not even drunk. The bitch is on drugs. She not like that all the time. Just chill.' "
When Haddish first hinted at after-party drama, our friends at The Cut suggested two names to consider: Sara Foster and Sanaa Lathan. Shonda Rhimes, we need another Shondaland crossover to properly treat (the wound), solve, and adjudicate this offense.