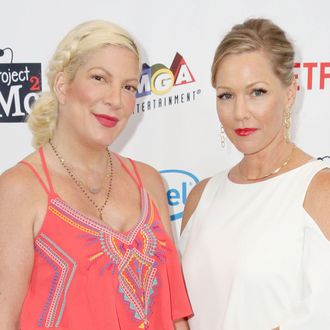 Beverly Hills, that's where they want to be (again).
Photo: Rachel Murray/Getty Images for MGA Entertainment
It was only a matter of time before someone tried to bring back 90210 (again). According to People, Tori Spelling and Jennie Garth, a.k.a. Donna and Kelly from Beverly Hills, 90210, are working on a new show together that's loosely based on the classic teen drama but which will somehow also feature the actresses playing "exaggerated versions of themselves." Spelling and Garth's show is in early development with CBS Televisions Studios, which produced 90210, and doesn't have a network attached. Spelling shared a photo from her visit to the CBS lot in Burbank on Instagram yesterday.
Don't call it a comeback; maybe it call it "like The Comeback."