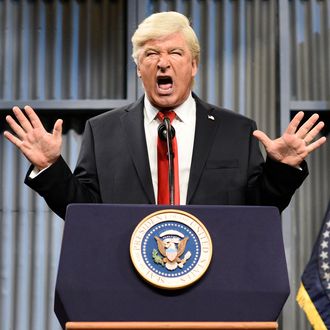 Alec Baldwin as Donald Trump.
Photo: NBC/Will Heath/NBC
Just in time for the next episode of SNL, Donald Trump seems to be catching up on his television. Yesterday, Alec Baldwin said it was "agony" to play the sitting president on Saturday Night Live in an interview with The Hollywood Reporter, and today, after Baldwin's comment was picked up by various news outlets, Trump hit back in a tweet. "Alec Baldwin, whose dying mediocre career was saved by his terrible impersonation of me on SNL, now says playing me was agony," Trump wrote. "Alec, it was agony for those who were forced to watch. Bring back Darrell Hammond, funnier and a far greater talent!"
Baldwin has already responded via his foundation's Twitter account. "Agony though it may be, I'd like to hang in there for the impeachment hearings, the resignation speech, the farewell helicopter ride to Mara-A-Lago," he said. "You know. The Good Stuff. That we've all been waiting for." He also added a joke about Trump's presumably tweet-filled presidential library, and suggested that Melania had been trying to get tickets to SNL. For further updates, tune into the next episode of SNL or just continue to follow the political news in this country in general, as they are now one and the same.