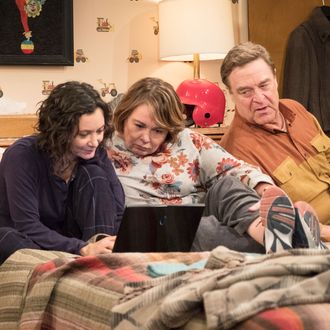 Roseanne.
Photo: Adam Rose/ABC
The morning after Trump's election, ABC held a meeting that redirected the course of its programming strategy. According to the New York Times, the network's executives decided that their diverse lineup, which included shows like Fresh Off the Boat, Grey's Anatomy, Designated Survivor, and The Middle that depict characters on different sides of class and race divides, wasn't economically diverse enough. "We had spent a lot of time looking for diverse voices in terms of people of color and people from different religions and even people with a different perspective on gender," ABC president Channing Dungey said. "But we had not been thinking nearly enough about economic diversity and some of the other cultural divisions within our own country." She said this led to the revival of Roseanne, which recently premiered to huge ratings and won the attention of the president, and American Idol, which Disney and ABC TV group president Ben Sherwood referred to as "about the American dream." Dungey said Idol is about "a girl with a cowboy hat and a boy with a banjo and people people from small towns where music has saved their lives in different ways."
ABC has been open about its change of direction since December of 2016, when Dungey told reporters, "in recent history we haven't paid enough attention to some of the true realities of what life is like for everyday Americans in our dramas." While ABC has added notable shows targeting the working class — or at least the white working class — since then, it also canceled outspoken Republican Tim Allen's sitcom Last Man Standing in May 2017.