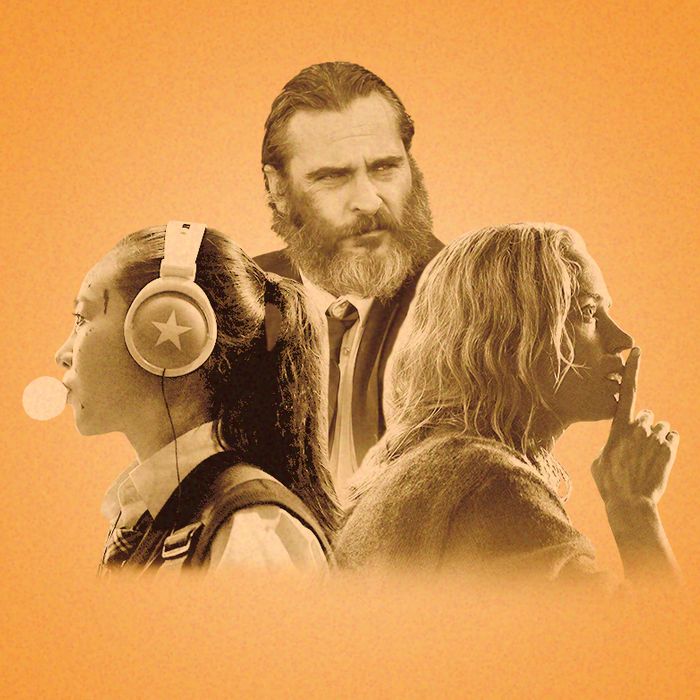 Photo-Illustration: Maya Robinson/Vulture
Horror isn't just for Halloween junkies anymore — you can now count on premium-quality suspense cinema arriving throughout the year. Coming this spring, you'll get a spree killer and a modern-day Travis Bickle out of Austria, zombies and sadistic teens from Taiwan, a collection of scary stories hailing from Britain, packs of monsters waiting to terrorize that nice married couple Emily Blunt and John Krasinski here in the States, and much more. Below are Vulture's eight most-anticipated horror releases of the season, with a list of all the others suspense movies coming out over the next few months. Put them in your datebooks.
Cold Hell, March 15 (Shudder Exclusive)
If you can handle stark violence, this revenge white-knuckler will tap into whatever reserves of #MeToo-related rage you've got inside you. Özge (Violetta Schurawlow) is a Turkish taxi driver living in Austria who trains in Thai boxing after hours to exercise the fury she builds up dealing with racists, xenophobes, drunks, womanizers, and all the men in her life who let her down in every conceivable way. After witnessing a hideous murder by a serial killer targeting Muslim prostitutes, she becomes his target, but Özge's life of internalized trauma makes it unclear who is the predator in Cold Hell and who is the prey.
Unsane, March 23
Steven Soderbergh's latest stars Claire Foy as Sawyer Valentini, a woman who has had to relocate her life to a new state to try and shake a stalker. Feelingly lonely and paranoid, Sawyer seeks out counseling to help her cope with the daily fear that's become her normal state of mind, but after signing a shady consent form she ends up under a forced period of observation at the medical facility she was just trying to check out. Things get worse when she starts seeing her stalker in the clinic, and doesn't know if he's actually found her, or if he's a product of her mounting anxiety.
Mon Mon Mon Monsters, March 29 (Shudder Exclusive)
Mon Mon was the closing picture at this year's Hong Kong International Film Festival, and it is the second movie from Taiwan's Giddens Ko. The story focuses on a clique of bullies who move from terrorizing their fellow teens to terrorizing something otherworldly when they find and manage to trap a flesh-eating monster. In a film without a character that provides a surefire moral compass, it's up to the audience to decide how complicit they are in the blood-letting and the brutal high-school politics at hand.
The Endless, April 6
The writing and directing team of Justin Benson and Aaron Moorhead deliver their most original and most ambitious effort yet with their third feature, The Endless. The filmmakers also star this time out as Justin and Aaron, brothers who fled the "death cult" they were raised in and have since been living a drab life in Los Angeles. After receiving a video message from the commune, the men return to their old lives and try to unpack the mysteries of Camp Arcadia. Moorhead and Benson have become masters of genre blending, and once again deliver a sci-fi-dappled indie horror mystery with a well-realized emotional relationship at its core. Pro tip: Watch their earlier movies before you try and solve The Endless.
A Quiet Place, April 6
John Krasinski directs and stars in this thriller, which co-stars his wife, Emily Blunt, about a family trying to survive in a world filled with monsters that hunt based on sound. So you can live a happy little life, as long as you live it in complete silence. The movie premiered at SXSW in Austin, Texas, and advance reviews have been outstanding (as in perfect). A Quiet Place looks to be the most thrilling big-scares horror event of the season.
You Were Never Really Here, April 6
In Lynne Ramsay's first feature since 2011's We Need to Talk About Kevin, she delivers a violent rumination on trauma. Joaquin Phoenix's Joe is a war veteran with an extremely troubled childhood who tracks down missing girls for a living and dispatches their captors with his weapon of choice, a ball-peen hammer. The case of Nina (Ekaterina Samsonov) throws Joe off his routine, though, and forces him to take on high-powered criminals while also dealing with his own demons.
Ghost Stories, April 20
This film adaptation of the successful British stage play by Andy Nyman and Jeremy Dyson might be the most conventional horror film on the list, but it's by no means ordinary. A professor and supernatural mythbuster named Phillip Goodman (Nyman) has a run- in with a hero of his who was supposed to have died years before, and the encounter leads Goodman to three unsolved hauntings. Structured as an anthology, each story plays out for the audience as it is recounted to the professor, and it's a celebration of old-fashioned horror shocks and scares — featuring Martin Freeman!
Revenge, May 11
French director Coralie Fargeat's debut was one of the most celebrated genre pictures on the festival circuit last year, and it is a supersaturated, sometimes-fantastical twist on the well-trodden rape-revenge subgenre. Matilda Anna Ingrid Lutz is Jen, a mistress on holiday with her rich and handsome paramour, Richard (Kevin Janssens). Isolated in the desert, their romantic getaway is interrupted by a pair of Richard's buddies who arrive early for a planned hunting trip. When one of the men rapes Jen, Richard leads them in their attempt to dispose of her, but her near-death catalyzes a brutal cat-and-mouse game that stretches across hours and many miles of dry, deadly terrain. It's also got the most high-anxiety nude scene you're likely to see this year.
March 16
Demon House
March 23
Pyewacket
April 13
Truth or Dare
Marrowbone
Wildling
April 26
Downrange
May 18
Slender Man
Cargo
Anders Manor