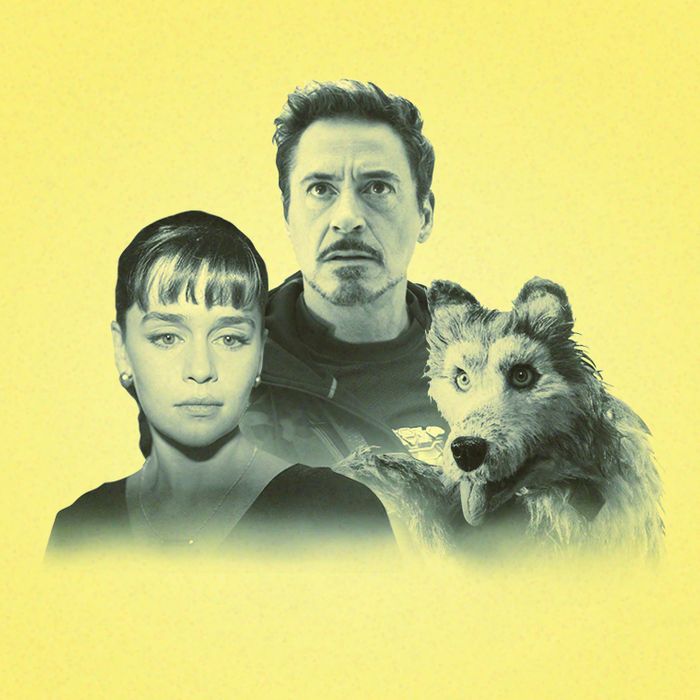 Photo-Illustration: Maya Robinson/Vulture and Photos by LucasFilms, Marvel and Fox Searchlight
Despite appearances to the contrary, spring has nearly sprung, and with it, a slew of charming offbeat indies and pricey imaginariums. On our must-see docket this year: a suburban teen's coming out (Love, Simon), a young rapper's origin story (Roxanne Roxanne), Steven Spielberg's return to fantastical world-building (Ready Player One), and an upstart band of nobodies called The Avengers. What's more: Not only are we getting Joaquin Phoenix pulling double-duty — as a rogue veteran rescuing victims of sex trafficking (You Were Never Really Here) and as Jesus (Mary Magdalene, opposite Rooney Mara) — but also a shot-on-an-iPhone psychological horror-thriller from Steven Soderbergh, and a rom-com starring Sharon Stone. Here's what to keep on your radar between warming weather and fistfuls of Zyrtec.
Love, Simon (March 16)
Ignore the aggressively cheeky marketing campaign: Love, Simon gives queer teens a version of a John Hughes high school rom-com. High schooler Simon falls into a You've Got Mail-esque romance with Blue, an anonymous boy from his school. They're both navigating gay identity and coming out to their friends and family. Come for Josh Duhamel trying to guess what Grindr is; stay for Jennifer Garner's quasi-Michael Stuhlbarg-in-Call Me by Your Name parental monologue.
Isle of Dogs (March 23)
What do you get when you cast your film with Bryan Cranston, Tilda Swinton, Edward Norton, Liev Schreiber, Greta Gerwig, Jeff Goldblum, Courtney B. Vance, Frances McDormand, and Harvey Keitel? A very good dinner party that Quincy Jones will certainly be gossiping about in an interview ten years from now, first of all. Also: Isle of Dogs, Wes Anderson's seemingly twee stop-motion tale about a boy looking for his lost pup. Twelve-year-old Atari travels to Trash Island, where all dogs have been exiled. The movie already won Anderson the Silver Bear for Best Director at Berlinale — let's see if American audiences will bite.
Roxanne Roxanne (March 23)
Vulture crowned Roxanne Roxanne star Chanté Adams one of Sundance 2017's most deserving breakouts. Adams plays fearsome teen rapper Lolita "Roxanne Shanté" Gooden, and the movie follows her through her Queens beginnings and burst of commercial success. Adams plays Roxanne with stirring charisma, even when the movie falters. Also: Who are we to pass up the option of Mahershala Ali and Nia Long on screen together?
Ready Player One (March 29)
Steven Spielberg presents a fantastical virtual universe populated by many of the characters and creatures from Steven Spielberg's other fantastical universes. Ready Player One recycles iconic IP — King Kong, Say Anything, Star Wars, Star Trek, Indiana Jones, John Hughes movies, The Iron Giant, and more — and imports it into the so-called OASIS, a VR world created by James Halliday (Mark Rylance). Tye Sheridan (Mud) stars as Wade Watts, a teen desperate to find treasure hidden inside OASIS, racing against a formidable opponent: baddie Ben Mendelsohn.
Avengers: Infinity War (April 27)
At long last, the Avengers and the Guardians of the Galaxy get a meet-cute. Thanos is busy collecting the Infinity Stones like Armie Hammer collects tracksuits, and Tony Stark senses the arriving threat. Putting the Avengers in cahoots with the Guardians will make this Marvel's biggest outing; Cap, Iron Man, Spidey, Hulk, Thor, Black Widow, plus Black Panther's incredible women. The only person we're missing here is Killmonger.
The Seagull (May 11)
Let's not hear one single word against this Chekhov adaptation that brings together two of our greatest actresses: Annette Bening and Saoirse Ronan. Irina Arkadina (Bening) introduces Boris (Corey Stoll) to the younger and free-spirited Nina (Ronan), even though Irina's son Konstantin (Billy Howle) has a crush on her. The result is a sweaty, smoldering mess of romances and alliances.
Solo: A Star Wars Story (May 25)
What drama hasn't plagued this Star Wars spinoff? First, there's the fact that it's not a Lando Calrissian stand-alone. Then, there's all the behind-the-scenes drama: the firing of previous directors Lord and Miller, Michael K. Williams' cut scenes, the rumors of Alden Ehrenreich's acting coach, and other rumors that Ron Howard did far more work on the movie than originally anticipated. Whatever, haters: to infinity and beyond, or whatever.
March 16
Tomb Raider
Benji (Netflix)
Josie
Allure
Dear Dictator
Love, Simon
Flower
7 Days in Entebbe
Demon House
March 23
Game Over, Man! (Netflix)
I Kill Giants
The Final Portrait
Isle of Dogs
Midnight Sun
Ismael's Ghosts
Unsane
Pacific Rim: Uprising
Roxanne Roxanne (Netflix)
Sherlock Gnomes
Getting Grace
Back to Burgundy
Paul, Apostle of Christ
March 29
Ready Player One
March 30
Love After Love
Finding Your Feet
God's Not Dead: A Light In The Darkness
Acrimony
Birthmarked
Gemini
All I Wish
The Titan
Best Friends (Volume 1)
Mary Magdalene
The China Hustle
Status Update
The Last Movie Star
April 3
But Deliver Us From Evil
April 6
You Were Never Really Here
Lean on Pete
Sweet Country
Blockers
The Miracle Season
Where is Kyra
A Quiet Place
Chappaquiddick
Pandas (Imax)
April 11
Beirut
April 13
Marrowbone
Overboard
Rampage
An Ordinary Man
Blumhouse's Truth or Dare
Grace Jones: Bloodlight and Bami
The Rider
10x10
Submergence
A Prayer Before Dawn
April 17
Who's Jenna?
April 18
This Is Our Land
April 20
Duck Duck Goose
I Feel Pretty
Tully
Traffik
Super Troopers 2
April 27
Avengers: Infinity War
Let the Sunshine In
Animal Crackers
Kings
The House of Tomorrow
Disobedience
Bad Samaritan
Armed
Selfie Dad
The Week Of (Netflix)
May 4
Izzy Gets The Fuck Across Town
The Guardians (Les Gardiennes)
May 11
Life of The Party
Breaking In
The Seagull
May 18
On Chesil Beach
Book Club
Untitled Deadpool Sequel
Show Dogs
Pope Francis - A Man Of His Word
Anders Manor
May 25
Solo: A Star Wars Story
TBD:
Krystal
The Titan
Kodachrome (Netflix)
2.0