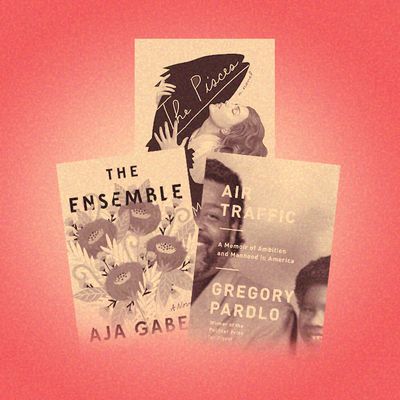 Photo-Illustration: Maya Robinson/Vulture
The best books of spring range from unforgettable debut novels to new works by some of our most beloved authors. Whether you're reading them on vacation or just on your own couch, these books will provide an excellent starting point for escapism, or even catharsis.
Get ready to laugh-cry over and over again. Broder, the poet and author of the memoir So Sad Today (also an excellent Twitter account), makes her fiction debut with a perverse romance that captures the addictive and destructive forces of obsessive love. The Pisces is as hilarious as it is heartbreaking, with a keenly satirical eye towards our culture of therapy and recovery. It also features a bunch of lady-and-fish sex, which is apparently having a moment.
It's a wonderful, terrible thing to read so many different perspectives on rape culture and how survivors of harassment/assault/rape have so many different kinds of stories to tell. Edited by best-selling author Roxane Gay, this anthology of essays features first-person accounts by actresses Ally Sheedy and Gabrielle Union, writers Lyz Lenz, Amy Jo Burns, and Brandon Taylor, and a slew of lesser-known but equally captivating writers. Their anger and fear and disgust are palpable, but by bravely sharing their stories they have the power to remind so many victims of abuse that they are not alone and that the status quo must change.
Told from the points of view of the four musicians who make up a renowned chamber music quartet, Aja Gabel's ambitious debut novel is a beautiful study of just how apt a metaphor classical music is for relationships. When they're in harmony, the group flourishes — they can read each other's cues and communicate volumes without saying a word. And when they're off? Chaos! The Ensemble traces the group's progress over a decade, showing how the professional and the personal become inextricably intertwined, in bad times and good.
The winner of the 2015 Pulitzer Prize for poetry, Gregory Pardlo also writes damn good prose. His upcoming memoir is a meditation on fatherhood: He explores both his relationship with his own father, whose demons took him away from his beloved family and made a lasting impact on his son, and his own flawed yet undeniably tender relationship with his two children. We often talk about Great American Novels, but Air Traffic is an excellent contender in the the Great American Memoir category, an honest and touching look at what it's like to grow up black and male in this country.
The first short-story collection from the best-selling author of Prep and Eligible, You Think It, I'll Say It is a provocative ode to miscommunication, self-delusion, mixed signals, and other ways we lie to ourselves and our loved ones. Told with compassion and humor and a sharp eye for detail, Sittenfeld's stories contain an unforgettable cast of characters, from the Indigo Girls–loving college friends who may or may not hate each other, to the liberal woman who has a flirtation with a Trump supporter. Bonus: The collection is already being adapted into a TV series starring Kristen Wiig.
This extraordinary debut novel follows Filipino immigrants as they settle into the Bay Area. Paz is a nurse from the rural Philippines who take advantage of a nursing shortage in the U.S. and begins to make a new life for herself and her husband. When their niece, a former revolutionary who'd been captured and tortured, comes to stay with them, sparks begin to fly. The writing in America Is Not the Heart is tremendous, the descriptions evocative, and the characters will stay with you.
Romy Hall's life before prison wasn't that great, but when she's sentenced to life at Stanville Women's Correctional Facility we see how much worse (and the slightest bit better) it can possibly get. From the acclaimed author of The Flamethrowers comes a revelatory novel about women on the margins of society, and it's a true feat of Kushner's extraordinary writing that such profound ugliness can result in such tumultuous beauty.
What a distinct pleasure it is to get in on the early side of a burgeoning career, to read a work that introduces a new and important voice in the literary world. The stories in Jamel Brinkley's debut are both confident in their execution and profoundly moving in their style. The title story about a school security guard whose new, nasty habit blows up the life he's worked so hard for is just one of many stunners in a collection about the plights and pitfalls of so-called lucky men.
A comprehensive biography written by a New York Times culture editor, Robin celebrates the life and mourns the loss of a beloved actor and comedian. With plenty of new interviews with friends and colleagues of Robin Williams that illuminate the comedy and tragedy that defined both his acting career and his personal life, Dave Itzkoff's book is a lovely tribute to the man and his work.
The king of the humorous essay returns with a brand-new collection — his first in five years. Sedaris fans will find plenty of familiar delights: His misanthropic charms and wry wit are as delightful as ever, even if some of the subject matter has changed. From his new vacation home on the coast of North Carolina, he writes about the concerns of health and aging, treating us to a story about the persnickety doctor who refused to let him keep a noncancerous tumor that he'd planned to feed to a snapping turtle once removed. We can only assume that the audiobook version of Calypso will be the perfect travel companion during road trips and getaways this spring and beyond.