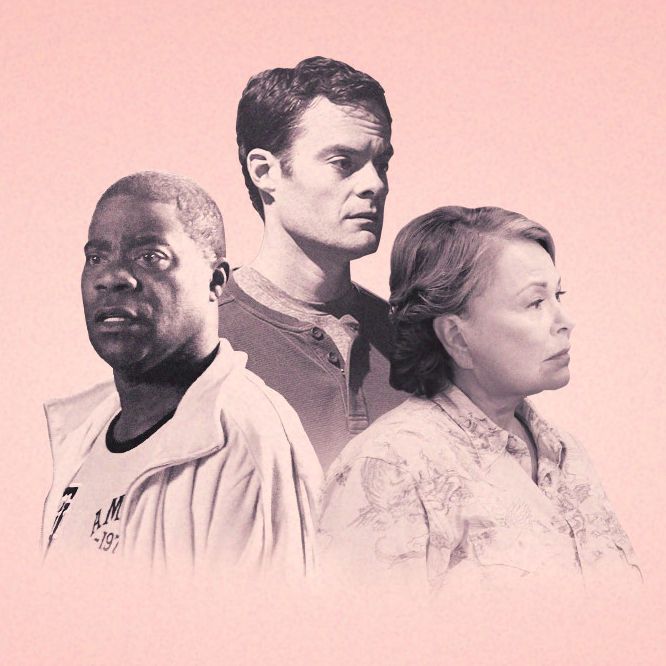 Photo: Maya Robinson/Vulture and Photos by TBS, HBO and ABC
Clear your DVRs. Refill your refrigerators. Call in sick from work for a few days. No, weeks. Because the springtime ain't clowning around when it comes to its extensive television slate, which features a mix of returning awards-season favorites and promising debuts on the small screen. Browse through Vulture's top picks of the season below, as well as an exhaustive list of what will be airing over the next three months on all networks. Please, just don't binge too hard.
Barry, March 25, HBO
It's taken a few years, but Bill Hader might've found his perfect, bizarro post-SNL project. In Barry, he plays a downtrodden hit man who just happens to find his life's calling in Los Angeles on an assignment — to, yes, gruesomely kill someone — while stumbling upon an acting class taught by an eccentric luminary (Henry Winkler!). Too bad his boss isn't particularly keen on his newfound thespian passions.
Roseanne, March 27, ABC
The conversation around the upcoming, nine-episode Roseanne reboot has centered on the fact that TV Roseanne, like real-life Roseanne, will be a Trump supporter. All of your favorites will be back — Roseanne, John Goodman, Laurie Metcalf, Sara Gilbert — and political debates between Jackie and Roseanne will ensue. We look forward to seeing how Dan's rise from the dead will be explained.
Suits, March 28, USA
Lawyers. Legalise. Meghan Markle. The crown jewel of USA's dramatic programming was wise to split up its current season to tease as much of that Markle content as possible, with her departure from the show officially confirmed once this current season ends. (As if there were any doubts.) It looks like a happy ending will be on the horizon for her paralegal character, Rachel — she's engaged to a handsome lawyer at her firm after years of courtship. What a coincidence!
The Americans, March 28, FX
A three-year time jump will propel the final season of The Americans, and it's not just going to be all about Elizabeth and Philip's spy exploits any longer — their daughter, Paige, will be dipping her toes into the Soviet undercover realm right by their side. Here's hoping you don't end up like Martha, girl.
The Last O.G., April 3, TBS
When Tracy Morgan's convict character gets released from prison and returns to the "mean streets" of Brooklyn to reconnect with his family, he's shocked to learn that, gasp, his Brooklyn neighborhood has been gentrified with chic coffee shops and tony brownstones since his 15 years in the slammer. He also has to try to woo back his ex — the undisputed queen of 2017, Tiffany Haddish — while dealing with this nonsense, which is going to be a lot more complicated than he expected.
Westworld, April 22, HBO
"We've lived by your rules long enough. We can save this world." Dolores, Maeve, and their ragtag gang of hosts return to revolt against their captors and claim the Wild West land for themselves — even if it means killing a few people in the process. Developing consciousness is a wonderful thing!
The Handmaid's Tale, April 25, Hulu
The Emmy darling will move past the pages of Margaret Atwood's novel by further exploring Offred's pregnancy, as well as her tireless fight against "this dark truth" in Gilead with her fellow handmaids. Simply put: There's no way in hell she wants to raise her child in this dystopian hellscape.
Fauda, May 24, Netflix
Consider Fauda to be the best international drama you're not yet watching. (But thanks to Netflix, you can. With subtitles!) It follows a former Israeli agent, Doron, who retires after killing one of the most dangerous militants in the country. Doron is forced to return to service — and move away from his lovely vineyard — when it's discovered that said militant is actually still alive and plotting something catastrophic. What ensues is a hunt to capture him for good, even if it means Doron putting the lives of his former unit on the line.
The full spring 2018 lineup:
Monday, March 12
9 p.m. Mary Kills People, Lifetime
Tuesday, March 13
10 p.m. Rise, NBC
10 p.m. For the People, ABC
Friday, March 16
12 a.m. On My Block, Netflix
12 a.m. Striking Out, Acorn
Sunday, March 18
7 p.m. Little Big Shots, NBC
8 p.m. Instinct, CBS
9 p.m. Genius Junior, NBC
Tuesday, March 20
12 a.m. The Standups, Netflix
10 p.m. You Me Her, AT&T/DirecTV
Wednesday, March 21
10 p.m. Krypton, SYFY
Thursday, March 22
9 p.m. Station 19, ABC
Friday, March 23
12 a.m. Alexa & Kate, Netflix
12 a.m. Santa Clarita Diet, Netflix
Sunday, March 25
10 p.m. Billions, Showtime
10 p.m. Silicon Valley, HBO
10 p.m. Trust, FX
10: 30 p.m. Barry, HBO
Monday, March 26
8 p.m. The Zen Diaries of Garry Shandling, HBO
9 p.m. The Terror, AMC
9 p.m. One Strange Rock, NatGeo
Tuesday, March 27
8 p.m. Roseanne, ABC
9:30 p.m. Splitting Up Together, ABC
Wednesday, March 28
8 p.m. Empire, FOX
8:30 p.m. Alec, Inc., ABC
9 p.m. Star, FOX
9 p.m. Suits, USA
10 p.m. The Americans, FX
10 p.m. Ice, AT&T/DirecTV
Thursday, March 29
8 p.m. Siren, Freeform
10 p.m. Scandal, ABC (the first of the show's final four episodes airs)
Friday, March 30
12 a.m. A Series of Unfortunate Events, Netflix
12 a.m. The Dangerous Book for Boys, Amazon
Sunday, April 1
8 p.m. Jesus Christ Superstar Live, NBC
9 p.m. The Child in Time, PBS
Monday, April 2
10 p.m. The Crossing, ABC
Tuesday, April 3
8 p.m. Shadowhunters, Freeform
10 p.m. Legion, FX
10:30 p.m. The Last O.G., TBS
Wednesday, April 4
12 a.m. National Treasure: Kiri, Hulu
Thursday, April 5
10 p.m. Imposters, Bravo
Sunday, April 8
8 p.m. Killing Eve, BBC America
8 p.m. Howards End, Starz
9 p.m. Unforgotten, PBS
Tuesday, April 10
9:30 p.m. New Girl, FOX
Wednesday, April 11
10 p.m. The Expanse, SYFY
Thursday, April 12
12 a.m. SuperMansion, Crackle
Friday, April 13
12 a.m. Bosch, Amazon
12 a.m. Lost in Space, Netflix
10 p.m. Rellik, Cinemax
Saturday, April 14
8 p.m. Elvis Presley: The Searcher, HBO
Sunday, April 15
10 p.m. Fear the Walking Dead, AMC
Monday, April 16
8 p.m. Supergirl, the CW
Friday, April 20
9 p.m. The Originals, the CW
Sunday, April 22
9 p.m. Westworld, HBO
10 p.m. Into the Badlands, AMC
Tuesday, April 24
9 p.m. The 100, the CW
9 p.m. Genius, NatGeo
Wednesday, April 25
12 a.m. The Handmaid's Tale, Hulu
10 p.m. Brockmire, IFC
Thursday, April 26
10 p.m. Quantico, ABC
Friday, April 27
12 a.m. Bobby Kennedy for President, Netflix
Monday, April 30
10 p.m. Elementary, CBS
10 p.m. AMC Visionaries: James Cameron's Story of Science Fiction, AMC
Wednesday, May 2
10 p.m. Code Black, CBS
Sunday, May 6
8 p.m. Vida, Starz
9 p.m. Sweetbitter, Starz
10 p.m. I'm Dying Up Here, Showtime
Sunday, May 13
8 p.m. Little Women, PBS
Thursday, May 24
12 a.m. Fauda, Netflix
Tuesday, May 29
9 p.m. 100 Code, WGN America
Wednesday, May 30
12 a.m. Unbreakable Kimmy Schmidt, Netflix