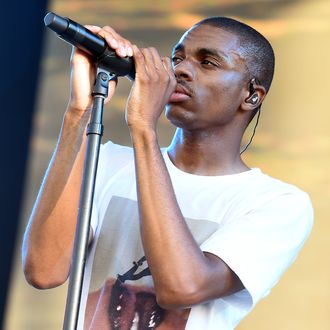 Vince Staples.
Photo: Kevin Winter/Getty Images for FYF
Vince Staples's brilliant plan to troll his trolls with a GoFundMe campaign has come to an end, reports Pitchfork. In the campaign the 24-year-old rapper offered his haters a chance to fund his early retirement — he claimed that if he raised $2 million that would be enough money to "allow me to shut the fuck up forever and you will never hear from me again." He added, "Get off of my dick or fund my lifestyle, the choice is yours." Consequently, he then released a single titled, "Get the Fuck Off My Dick."
After raising $2,200 through the GoFundMe, Staples closed the campaign, announcing that he would be giving the money back. He wrote on Twitter, "Seeing as we clearly won't reach our goal of 2 million dollars, I am cancelling the gofundme and refunding all the little people with big voices. I expect to hear no further slander." He also revealed that he plans to match the amount of money raised and donate it to the Michelle Obama Library in his hometown, North Long Beach, California.