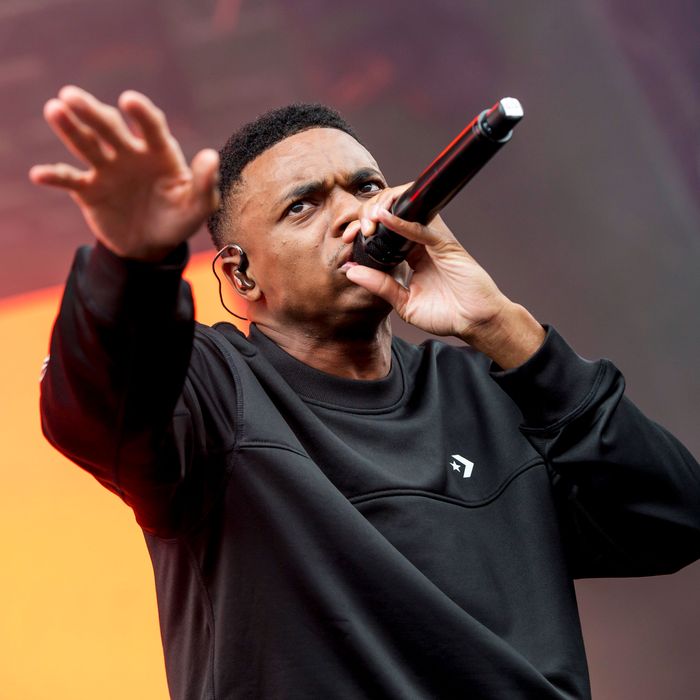 Vince Staples.
Photo: Michael Hickey/Getty Images
Ease has never suited Vince Staples. The Long Beach artist has a flair for difficulty and distinction. He'll never be caught doing the same thing twice because he's sharp enough to learn it all the first time. Staples never speaks lightly: The burden of a self-imposed command toward constant evolution presses down on his language. He expects respect from others in the way that only someone who respects himself can, and now he's made a song called "Get the Fuck Off My Dick" to explain that there is no other option. "This the sound I made, won't nobody knock me off my wave." Translation: He knows what he is doing.
Produced by Staples's Summertime '06 collaborator DJ Dahi, the beat for "GTFOMD" is plain but rich. A pacing keyboard line plays over the muted refinement of art-damaged trap percussion; a distorted, abstract voice sample recites the title phrase at intervals. Vince's aesthetic always has the potential for further development, but his taste will always gravitate toward the striking and subtracted. When he announces on the track that he's considering purchasing furniture by the colorful minimalist Japanese designer Toshiyuki Kita, it's not a sign of wealth so much as of discernment — game recognizing game. When he says he's at the MoMA, you know he doesn't need a guided tour; when he says that Wraiths look ugly, it's a considered judgment.
"Get the Fuck Off My Dick" is, of course, an exercise in S-class trolling from one of the planet's foremost practitioners of the science — the condom-wrapper cover art is an especially nice touch — but it's also, and primarily, a sincere declaration of Vince's core principles. An astute critic himself, Staples is wise to the allegations thrown his way by disgruntled listeners: that Vince Staples is too arrogant and too pretentious; that he needs to stop rapping over techno and get back in line with his earlier, less experimental work. In response, he does what he was planning to do anyway. Grounded in a stable tone, he experiments further with sounds and flows. He alludes, on "GTFOMD," to his appearance on the Black Panther soundtrack; given that his verse was played in the film itself, he can afford to stay "avant-garde with the shit" for the foreseeable future.
Staples isn't the only rapper rising in the world, but he may be the one who most wants to rise entirely on his own terms. "You don't know my pain, bitch, don't act like you don't know my name / Don't record me, man, bitch, you see me trying to board this plane." Fame and wealth are useful to him only if they increase his autonomy. If they diminish his freedom to fly, think, and create — well, the name of the song says it all. Bigger artists than Vince have lost their balance, and often their lives, trying to walk the line between art and popularity. It's going to be a serious ordeal for him to keep his head, but one listen to him is enough to sense that he wants no less of a challenge than to be the greatest out there.