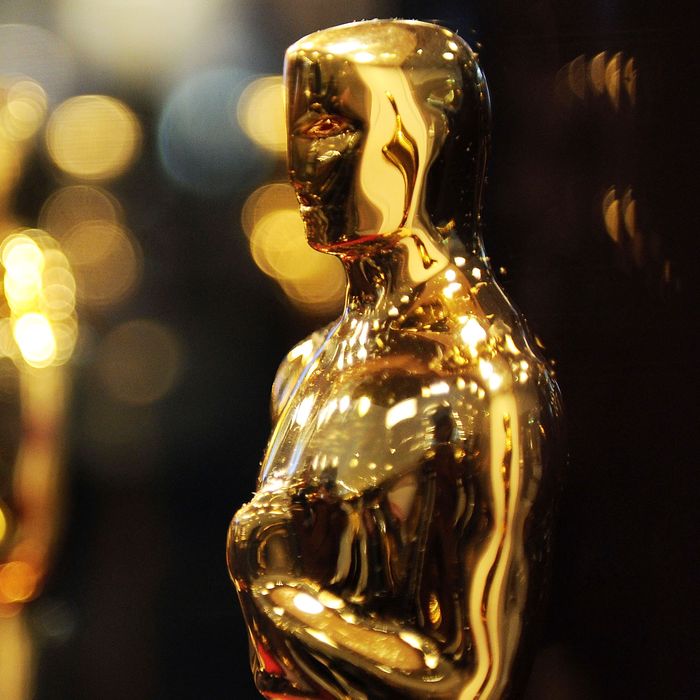 Photo: Andrew H. Walker/Getty Images
Do you want to win your Oscars pool? It won't be easy: Once you look past the locked-and-loaded quartet of actors who have already taken most of this year's prizes, this Oscar ballot offers a surplus of close contests, and every category counts. Which contenders are likeliest to win, and which could still spoil? Let Vulture walk you through it, with fingers crossed.
Best Picture
Call Me by Your Name
Darkest Hour
Dunkirk
Get Out
Lady Bird
Phantom Thread
The Post
The Shape of Water
Three Billboards Outside Ebbing, Missouri
What Will Win: This is the wildest Best Picture race in years, with at least four movies that still appear to be in the mix to win. That said, I'm going with Three Billboards Outside Ebbing, Missouri, which picked up the top prize from the Screen Actors Guild and the British voters at BAFTA: If you can win over actors (the biggest branch of the Academy) and somewhat older, more conservative voters, that's a pretty sizable chunk of people in your corner. It's a bit of a stutter-step that Three Billboards couldn't get a Best Director nomination, but all of the top contenders would have some sort of precedent-defying asterisk attached to their win, and at least Ben Affleck recently proved that this particular snub can be surmounted.
What Could Steal: Well, there's The Shape of Water, which scored the most nominations and will likely win several Oscars, though it's a retro-leaning pastiche in the vein of La La Land and I think last year's race proved that unsettled voters want something that feels contemporary. (Shape also missed out on a nomination for the top prize at SAG that it really ought to have gotten; the last movie to do that and still win Best Picture was Braveheart.) Then there's Get Out, the movie of the moment and the movie with momentum. Can younger voters push it to the top? And don't count out Dunkirk, the sort of movie that would have breezed to Oscar victory in years past. Though it hasn't won anything major so far, this World War II film is still showing up on many voters' ballots.
Best Director
Paul Thomas Anderson, Phantom Thread
Guillermo del Toro, The Shape of Water
Greta Gerwig, Lady Bird
Christopher Nolan, Dunkirk
Jordan Peele, Get Out
Who Will Win: This one is a little easier to predict, since Guillermo del Toro has won most of the Best Director prizes this season. People adore the passionate helmer, and there has been a split between Best Picture and Best Director so often in recent years (with the latter prize usually going to a more technically accomplished director) that somehow, this can be a safe bet in a year where the top race is still so unsettled.
Who Could Steal: Jordan Peele, who many of the newest members are eager to reward.
Best Actress in a Leading Role
Sally Hawkins, The Shape of Water
Frances McDormand, Three Billboards Outside Ebbing, Missouri
Margot Robbie, I, Tonya
Saoirse Ronan, Lady Bird
Meryl Streep, The Post
Who Will Win: In a year with maybe a dozen strong Best Actress contenders, Frances McDormand has dominated. Expect her to continue that streak and become a rare two-time winner of this prize.
Who Could Steal: Sally Hawkins, if a Shape surge is significant enough to float all boats. Should she win here, the film is just about guaranteed to take Best Picture.
Best Actor in a Leading Role
Daniel Day-Lewis, Phantom Thread
Timothée Chalamet, Call Me by Your Name
Daniel Kaluuya, Get Out
Gary Oldman, Darkest Hour
Denzel Washington, Roman J. Israel, Esq.
Who Will Win: Gary Oldman ticks off so many Oscar-friendly boxes here: He's an overdue veteran (check) playing a real-life person (check) during World War II (check), and the role required an uncanny physical transformation (check). This is his to lose.
Who Could Steal: Timothée Chalamet would be the youngest-ever Best Actor winner, but he'll have to settle for being the third-youngest Best Actor nominee.
Best Actress in a Supporting Role
Mary J. Blige, Mudbound
Allison Janney, I, Tonya
Lesley Manville, Phantom Thread
Laurie Metcalf, Lady Bird
Octavia Spencer, The Shape of Water
Who Will Win: Allison Janney has the flashiest role and a flawless award-season record. She should take this in a walk, but …
Who Could Steal: If there's an upset in any of the four acting races, expect it to happen here. Lady Bird lovers might seize on this category as the best chance to give the film a win in the form of Laurie Metcalf, and I've heard from a notable amount of late-breaking voters beguiled by Lesley Manville, too.
Best Actor in a Supporting Role
Willem Dafoe, The Florida Project
Woody Harrelson, Three Billboards Outside Ebbing, Missouri
Richard Jenkins, The Shape of Water
Christopher Plummer, All the Money in the World
Sam Rockwell, Three Billboards Outside Ebbing, Missouri
Who Will Win: Though he's nominated against his co-star Woody Harrelson, this Oscar is certain to go to Sam Rockwell, who's won every other major prize this season.
Who Could Steal: Willem Dafoe is a beloved character actor who's never quite gotten his awards-season due, and he's the only other person in this category with any semblance of a voting bloc.
Best Adapted Screenplay
Aaron Sorkin, Molly's Game
James Ivory, Call Me by Your Name
Scott Frank & James Mangold and Michael Green, Logan
Scott Neustadter, Michael H. Weber, The Disaster Artist
Dee Rees, Virgil Williams, Mudbound
What Will Win: This is a safe bet for Call Me by Your Name, the only Best Picture contender in the category. It would be 89-year-old James Ivory's first Oscar after a long career in prestige period films.
What Could Steal: Mudbound, which managed the most Oscar nominations of the other films in this race.
Best Original Screenplay
Guillermo Del Toro & Vanessa Taylor, The Shape of Water
Greta Gerwig, Lady Bird
Emily V. Gordon, Kumail Nanjiani, The Big Sick
Jordan Peele, Get Out
Martin McDonagh, Three Billboards Outside Ebbing, Missouri
What Will Win: This is a super-stacked race but I think the most voters will gravitate toward Jordan Peele's Get Out screenplay, since Best Original Screenplay is often a consolation prize for talented young writer-directors who wouldn't win elsewhere, like Her's Spike Jonze and Lost in Translation's Sofia Coppola.
What Could Steal: If voters are feeling the love for Three Billboards, a win here should sew up the top prize. Don't count out Lady Bird, either, since the Academy would love to see Greta Gerwig on that stage.
Best Animated Feature Film
Coco
Ferdinand
Loving Vincent
The Breadwinner
The Boss Baby
What Will Win: In a weak year, this is an easy victory for Pixar's Coco.
What Could Steal: There's not a chance in hell that Coco loses this.
Best Documentary Feature
Faces Places
Last Men in Aleppo
Strong Island
Abacus: Small Enough to Jail
Icarus
What Will Win: Icarus, about Russian athletes doping to get ahead, could hardly be more timely.
What Could Steal: Faces Places is a heart-warmer and the last film from director Agnes Varda, but she just received an honorary Oscar a few months ago, so voters might not be as inclined to reward her.
Best Foreign Language Film
A Fantastic Woman
Loveless
On Body and Soul
The Insult
The Square
What Will Win: I think the Chilean trans drama A Fantastic Woman will pull this one out.
What Could Steal: The Square is a Palme d'Or winner with many scenes in English and a few American stars like Elizabeth Moss in its cast, making it a more enticing screener for voters.
Best Cinematography
Roger A. Deakins, Blade Runner 2049
Bruno Delbonnel, Darkest Hour
Dan Laustsen, The Shape of Water
Rachel Morrison, Mudbound
Hoyte Van Hoytema, Dunkirk
What Will Win: Could the 14th time be the charm for Roger Deakins, who has never won an Oscar? I suspect it will; though the ballot won't actually say his name on it — just the title of the movie — there was so much fanfare over his sci-fi lensing that I think voters will know what to do.
What Could Steal: Best Picture contenders The Shape of Water and Dunkirk are beautifully realized, too.
Best Costume Design
Mark Bridges, Phantom Thread
Jacqueline Durran, Darkest Hour
Jacqueline Durran, Beauty and the Beast
Consolata Boyle, Victoria and Abdul
Luis Sequeira, The Shape of Water
What Will Win: Phantom Thread is literally about a dressmaker, so its frocks should push it over the top.
What Could Steal: The Shape of Water won this prize with the Costume Designers Guild, but I think those voters were plugged in enough to understand how much of the film's fishman is an actual costume. The general Academy is likelier to assume that makeup and CGI did the bulk of the work there.
Best Film Editing
Baby Driver
Three Billboards Outside Ebbing, Missouri
I, Tonya
Dunkirk
The Shape of Water
What Will Win: I think the precisely choreographed car chases of Baby Driver have the edge here, although …
What Could Steal: … this Oscar often goes to war films, so keep your eye on Dunkirk.
Best Makeup and Hairstyling
Victoria and Abdul
Wonder
Darkest Hour
What Will Win: Darkest Hour's Winston Churchill makeup has this sewn up.
What Could Steal: Along with Coco taking Best Animated Film, this victory is so foregone that there isn't even a dark horse.
Best Original Score
Alexandre Desplat, The Shape of Water
Jonny Greenwood, Phantom Thread
Carter Burwell, Three Billboards Outside Ebbing, Missouri
John Williams, Star Wars: The Last Jedi
Hans Zimmer, Dunkirk
What Will Win: I'm going out on a bit of a limb here, but Phantom Thread has the most astonishing of the nominated scores and it's also the movie that many Academy members watched last, so Jonny Greenwood's beautiful music is still fresh in their minds.
What Could Steal: Alexandre Desplat's The Shape of Water score has notched the most wins, though, so if you want the safe bet, pick that one.
Best Original Song
"Mighty River" from Mudbound by Mary J. Blige, Raphael Saadiq, and Taura Stinson
"Remember Me" from Coco by Kristen Anderson-Lopez and Robert Lopez
"Stand Up for Something" from Marshall by Lonnie R. Lynn (Common), Andra Day, and Diane Warren
"The Mystery of Love" from Call Me by Your Name by Sufjan Stevens
"This Is Me" from The Greatest Showman by Benj Pasek and Justin Paul
What Will Win: "Remember Me" is played so many times in Coco that even a casual viewer can commit it to memory, and the film's final rendition of the tune is an emotional powerhouse.
What Could Steal: Could The Greatest Showman's unlikely, come-from-behind box-office run now include an Oscar, too? I'm not certain that the Academy will be eager to give songwriters Benj Pasek and Justin Paul another Oscar after the duo already won last year for La La Land, but "This Is Me" is a high-octane number that got a major workout in the film's trailers and commercials.
Best Production Design
Dunkirk
The Shape of Water
Darkest Hour
Beauty and the Beast
Blade Runner 2049
What Will Win: This will be a close one, but the beautiful sets of The Shape of Water made that film look way more expensive than it actually was.
What Could Steal: Blade Runner 2049 had the most striking milieu, but voters may dock it points for being heavily influenced by the original film.
Best Sound Editing
Dunkirk
Blade Runner 2049
The Shape of Water
Baby Driver
Star Wars: The Last Jedi
What Will Win: War, what is it good for? A suite of sound Oscars. Expect Dunkirk to triumph here.
What Could Steal: Baby Driver, if the voters are really feeling it. Though it would be a much better pick for the next prize …
Best Sound Mixing
Blade Runner 2049
Baby Driver
The Shape of Water
Dunkirk
Star Wars: The Last Jedi
What Will Win: Again, this ought to go to Dunkirk.
What Could Steal: If the voters are familiar with the process of sound mixing, where so many different strands of audio are expertly woven together, they may prefer the cinematic mixtape that was Baby Driver.
Best Visual Effects
Star Wars: The Last Jedi
War for the Planet of the Apes
Kong: Skull Island
Blade Runner 2049
Guardians of the Galaxy Vol. 2.
What Will Win: The rebooted Planet of the Apes franchise has pioneered new levels of motion-capture verisimilitude, but Andy Serkis and his simians have never gotten the gold. Will this trilogy-ender finally break through? I think yes, but just barely.
What Could Steal: Blade Runner 2049 put up a better Oscar showing and could easily take this, too. It'll be close.
Best Documentary Short
Edith + Eddie
Heaven Is a Traffic Jam on the 405
Heroin(e)
Knife Skills
Traffic Stop
What Will Win: Netflix is backing Heroin(e), which addresses the country's opioid crisis in a way that ought to resonate.
What Could Steal: Edith + Eddie, about an elderly couple who must confront red tape and family issues after their late-in-life marriage, offers something a little different.
Best Animated Short
Dear Basketball
Garden Party
Negative Space
Lou
Revolting Rhymes
What Will Win: Dear Basketball is a short about Kobe Bryant, animated by the legendary Glen Keane and scored by John Williams. It's a bit of a softball (sorry for mixing sports metaphors) but those heavy hitters (again, I apologize) should be enough to make this short a slam dunk (see, I got there in the end).
What Could Steal: Either Pixar's Lou or the well-done Garden Party.
Best Live-Action Short
DeKalb Elementary
My Nephew Emmett
The Silent Child
Watu Wote/All of Us
The Eleven O'Clock
What Will Win: DeKalb Elementary, which deals with a school shooter, feels like the short for our current moment.
What Could Steal: If voters are in the mood for something lighter, and they often are, comedic short The Eleven O'Clock could sneak in.