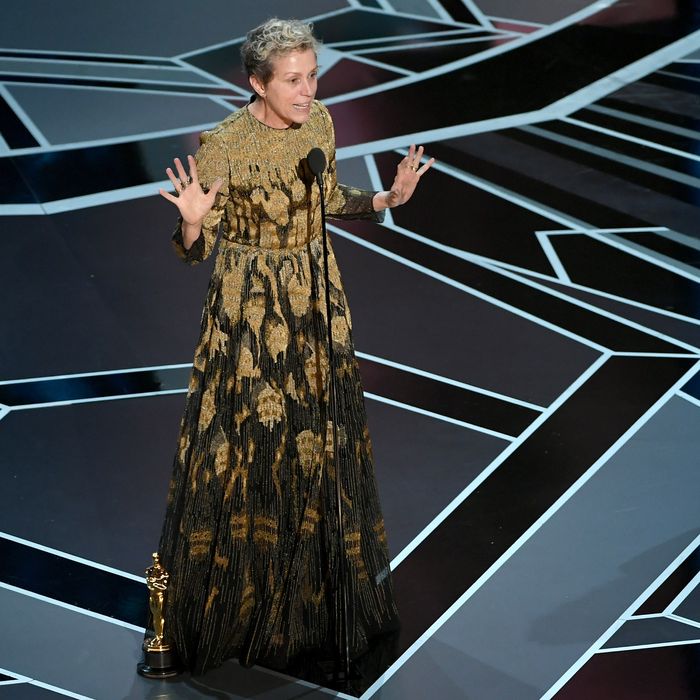 Frances McDormand accepting her Best Actress Oscar.
Photo: Kevin Winter/Getty Images
At the conclusion of Frances McDormand's Oscars acceptance speech Sunday night for Best Performance by an Actress in a Leading Role, the Three Billboards Outside Ebbing, Missouri star said, "I have two words for you: INCLUSION RIDER."
So: What the hell is an inclusion rider? A rider is an amendment or attachment to a contract that modifies its original intent without having to tear up the original document and start over from scratch. In the context of McDormand's unforgettable and emotional moment at the podium at Hollywood's Dolby Theatre — during which she exhorted "all the female nominees in every category, stand with me in this room tonight" — the "inclusion" portion seemed to be a plea to her peers to add a contractual clause to their deals going forward, requiring racial and/or gender equality on movie productions.
Backstage at the Dolby, McDormand elaborated on what she said onstage. "I just found out about this last week," the actress told reporters. "It means you can ask for and/or demand at least 50 percent diversity in, not only casting, but also the crew."
Aside from being a moving made-for-TV moment, McDormand's inclusion-rider shout-out also fits into a movement begun in 2014 by Stacy L. Smith, Ph.D., director of USC Annenberg's Media, Diversity & Social Change Initiatives. Smith wrote in a guest column for The Hollywood Reporter:
What if A-list actors amended every contract with an equity rider? The clause would state that tertiary speaking characters should match the gender distribution of the setting for the film, as long as it's sensible for the plot. If notable actors working across 25 top films in 2013 had made this change to their contracts, the proportion of balanced films (about half-female) would have jumped from 16 percent to 41 percent. Imagine the possibilities if a few actors exercised their power contractually on behalf of women and girls. It wouldn't necessarily mean more lead roles for females, but it would create a diverse onscreen demography reflecting a population comprised of 50 percent women and girls.




In other words, reality.