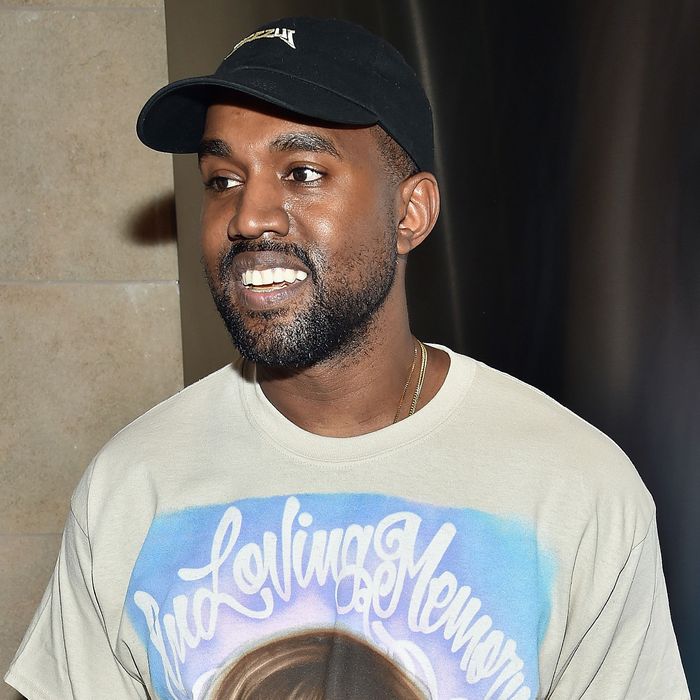 A Vulture investigation.
Photo: Dimitrios Kambouris/Getty Images for Yeezy Season 3
Kanye West is mostly a man of mystery, but there are two things we know he loves for sure: Bon Iver and picturesque mountaintops. At least one of those can be found in the state of Wyoming. Nearly a year ago, TMZ reported that West was holed up in the middle of nowhere in that very state at a retreat, supposedly recording a new album. But it's hard to say: At any given moment, Kanye could be doing a number of different things at any location. (Remember when he dropped by unannounced at Trump Tower for a photo op?) Except right this very second, we know he's back in Wyoming and, this time, he sure seems up to something.
The rapper was tracked down in the town of Jackson, Wyoming, with his wife Kim Kardashian, by a bunch of local teens last week. Since then, the PIs of the internet (namely reputable fan account @TeamKanyeDaily) have scanned the streets of Wyoming and discovered that more and more of the usual suspects typically flown in to work on a Kanye West album have arrived in the area, specifically at the Jackson Hole Mountain Resort. Kim herself is posting from out West to her Instagram Stories, which TKD reshared on Twitter.
So far, the likes of Travis Scott (and his manager), Nas, Kid Cudi, The-Dream, Chicago rapper King Louie, and even controversial A$AP Mob associate A$AP Bari have been spotted hanging around. Some of those artists have identified their Wyoming location, others have just hit the slopes and left us to connect the dots.
But it's not the biggest names that are the dead giveaway that Kanye's working on new music — he's also assembled members of his trusted team, along with some fresh behind-the-scenes faces. West famously rented out a resort in Hawaii and turned it into his own private recording space to make My Beautiful Dark Twisted Fantasy. Some of the members of that MBDTF team that are reportedly on location now in Wyoming include producer Jeff Bhasker, Kanye's longtime producer/engineer Mike Dean (though he's been telling fans he's in Hawaii), and singer Tony Williams, who is also Kanye's cousin. They've been joined by Playboi Carti producer Pi'erre Bourne (who once proclaimed, "I could really be the next Kanye type of star" and has been joking on Instagram Stories that his hands are getting too frostbitten to make beats) and producer Wheezy (who produced Young Thug song's "Kanye West").
TMZ has yet again reported that, yup, Kanye's back in Wyoming to resume work on that album, but mainly with (his sort of brother-in-law) Travis Scott. Meanwhile, someone anonymous (Kris Jenner?) has also confirmed to E! News that Kanye has been recording and even flew in his personal trainer (can't skip leg day). While we wildly speculate about what, if anything, will come from this getaway, here are five guesses what he's doing in Wyoming.
Working on his own album
The obvious answer, which is supported by all of our airtight evidence above. But it's a little too obvious, so …
Working on someone else's album
Kanye talks about Kanye so much, you forget he's the former head of his own label and has other artists to worry about. It's possible that he's on that mountaintop to cater to G.O.O.D. Music artists, like current label president Pusha T, Teyana Taylor, Big Sean, Cyhi the Prince, Desiigner, Kacy Hill, or others. Remember, the artists don't have to physically be there for Kanye to set up his own beat factory for them. (He also recently executive-produced newest signee Valee's debut EP for the label.) Then there's Travis Scott's upcoming album Astroworld, which Scott hinted at in his photo caption; it's not inconceivable that Kanye would pull out all the stops for someone who's practically family now.
Working on Cruel Winter
Or maybe it's no one's album, but everyone's album. Talk of a second label compilation, the follow-up to 2012's Good Summer, has been percolating for years, with the latest update being a resounding yeah, maybe it'll happen. For it to be happening now, though, we'd probably see more label members on the premises — though the location is certainly winter-inspo appropriate!
Not working at all
Seasoned Keeping Up With the Kardashian fans will be well aware that the family that vacations together, stays together — and this family vacations a lot, at least once a season. Kim has explained that they're on a family trip to Utah as we speak, so where does Wyoming fit into this? Well, what if the tradition rubbed off on Kanye so much, he decided to plan his bros' trip to a mountain resort? It's scenic!
Reliving the Winter Olympics, duh
Listen, who are we to assume what Kanye is and isn't watching? Perhaps, so inspired by all that Olympic skiing (and the one dude who wrote #FreeMeekMill on his snowboard), he just had to hit the slopes himself. Granted, we have not seen Kanye on a single slope just yet (Kim seems to be the Lindsey Vonn of the pair), but we wouldn't put it past the man. Perhaps his next Yeezy collection will be winter-gear inspired? Live your best icy life, 'Ye.