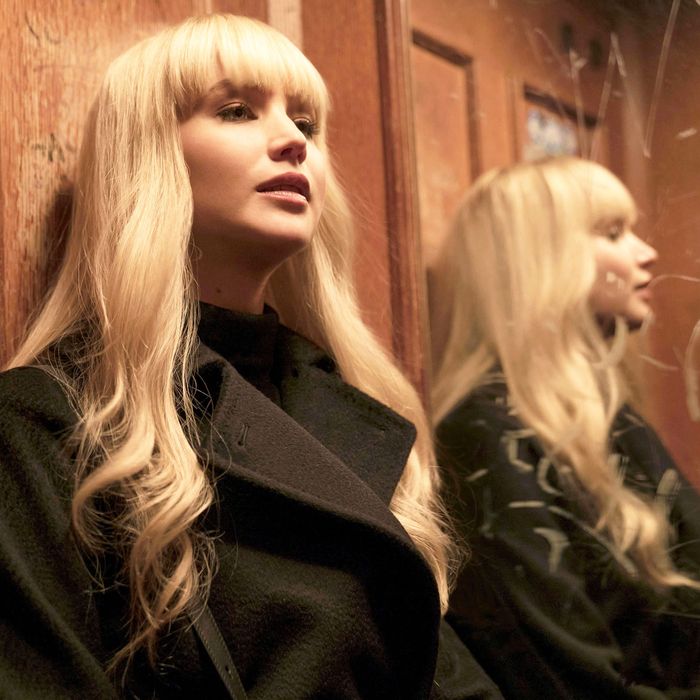 Photo: Murray Close/Twentieth Century Fox Film Corporation.
This weekend, you'll finally get a chance to see Jennifer Lawrence as a Russian ballerina turned seductress spy in Francis Lawrence's Red Sparrow. The violent, intense espionage thriller has a little something for everyone: assassinations, frightening Russian hit men, rape revenge, insane wigs, training sequences in covert facilities, ballerinas forced to retire at their prime, a totally surprising appearance by Mary-Louise Parker, ridiculously gory torture scenes, and much more. But if you simply cannot wait until Friday to enjoy this specific sort of cinematic intrigue, Vulture has broken Red Sparrow down to its component parts and assembled a companion viewing guide based on its wide variety of narrative elements. Let this list take you on a thrilling adventure, populated by creepy uncles keeping their nieces prisoner, rogue agents in fabulous coats, attractive men in little swimsuits, and other essential filmic experiences.
If you want…
A dense spy film about ferreting out the mole in an intelligence agency that will keep you asking, "But who is double crossing who?", check out: Tinker, Tailor, Soldier, Spy
Contrary to what the trailers suggest, Red Sparrow isn't really a darker Atomic Blonde, but more like this John le Carré novel about an intelligence officer who comes out of retirement to unearth a mole. If you want to engage in some heavy espionage, but you also think action scenes are just tasteless filler, Tinker is the talky, slow-paced spy movie you need.
A movie that could potentially be the spiritual origin story of Charlotte Rampling's State School 4 Matron, check out: The Night Porter
In this drama from 1973, Charlotte Rampling plays a Holocaust survivor named Lucia who stumbles across a high-ranking Nazi officer (Dirk Bogarde) who was stationed in her concentration camp. She finds herself pulled back to the Nazi, with whom she had a twisted affair while she lived as his prisoner.
A female assassin who loves wigs and statement jackets, check out: Atomic Blonde
Charlize Theron is a British spy undercover in a divided Berlin, and she has to fend off killers of many stripes while wearing a variety of fabulous coats in bisexual lighting.

Salt
Angelina Jolie is Evelyn Salt, a CIA operative accused of being a Russian spy who must evade capture by American authorities and find the real mole so she can clear her name. And she has to do it as a blonde, as a raven-haired woman with a bold bang, and even disguised as a man with short hair. Now here's a woman who can do it all.

Lucy
Lucy (Scarlett Johansson) may only have one loud jacket (that leopard number), but she, too, dons a variety of wigs after her mind and body are transformed by a synthetic drug that allows her to access 100 percent of her brain's processing power.

Female assassins trained in the performing arts, check out: The Villainess
Kim Ok-bin plays Sook-hee, a woman conscripted into an assassin-training program after she runs afoul of the wrong people. Sook-hee chooses theater for her cover vocation in the outside world, and her skill as a performer shines through in how proficiently she can manipulate men she wants to control. Watch The Villainess for some of the most incredible fight choreography you can get your eyeballs on.

An extremely violent movie that has a crucial scene involving skin flaying, check out: Martyrs
Red Sparrow uses skin-shearing to powerful and disturbing effect, and if you'd like some more dramatically placed, skin-based action, then Martyrs will serve you well. A woman goes on a quest for revenge to track down the people who horrifically abused her as a child — but then she and her friend get scooped up by an organization that imprisons them and puts them through hell. Rated R for Run — this movie is incredibly brutal and upsetting.

A young woman forced into a life of clandestine servitude in order to save her own life, check out: La Femme Nikita
In Luc Besson's iconic female-assassin film, Nikita (Anne Parillaud) is a heroin addict and petty thief who kills a cop and is given a choice between death and training to be a professional killer. She's taken into a secret facility where she is dried out, polished up, and schooled in the ways of covert ops. Nikita was remade with Bridget Fonda in America as Point of No Return, but stick to the original.

A rape-revenge thriller about a young working professional in a major metropolitan area who exploits her reputation as the "polite girl" to destroy men, check out: Ms. 45
Much like Jennifer Lawrence's Dominika Egorova in Red Sparrow, Zoë Lund's Thana in Ms. 45 knows what it's like to be the good girl who's taken advantage of by her superiors at work. She also knows what it's like to be forged in the fires of sexual violence and transformed into a dark version of yourself driven by a furious vengeance.

A woman whose life as a trained killer is born from sexual violence (not to be confused with reactionary vigilante spree killing), check out: Lady Snowblood
Lady Snowblood is a tale of rape and revenge, but in this case, Meiko Kaji's Yuki (the Lady herself) has been raised with the sole purpose of getting vengeance on the people who killed her father and brother and gang-raped her mother before throwing her in prison.

A unique take on lady assassins with particular sets of skills that is also extremely violent, but leans into absurdity to take the edge off the gore, check out: Tokyo Gore Police
If Red Sparrow's violence seems too gritty and real for you, but you still want to see a highly trained female agent of the state assigned to eliminate adversaries with extreme prejudice — and you also really love gore — try Tokyo Gore Police. It's set in a future Japan where a virus has transformed people into beings called Engineers that sprout weapons from any injury. Aiding the Engineer Hunters in their quest to rid the streets of bad guys is Ruka (Eihi Shiina), an elite fighter who specializes in dispatching the mutations. She's also avenging her murdered father, because the plot wasn't insane enough already.

A rape-revenge movie that focuses on the way trauma existentially fractures a person and makes them capable of previously unimaginable violence, check out: Felt
This slow-burn paranoid thriller is about a woman named Amy (co-writer and star Amy Everson) who copes with her sexual assault by creating an alter ego with its own masks and bodysuits. In those suits, modeled after a man's physical build and attributes, Amy tries to reclaim her power and starts traveling down an even darker path.

A movie with a female double agent who watches well-built, attractive male intelligence officers erotically get out of the water while wearing tiny swim shorts, check out: Casino Royale
The intentions of Eva Green's Vesper Lynd with James Bond might have been questionable, but what's not questionable was how fine Daniel Craig looked emerging from the crystalline blue ocean in Casino Royale while wearing those petite little swim shorts. Joel Edgerton's CIA agent Nathan Nash might be in dreary, cold Eastern Europe, but he still found a pool — and a little black swimming costume — to make Jennifer Lawrence's deadly Sparrow forget her mission for just a minute.

Movies where women are trained to kill in secluded tactical facilities, check out: Barely Lethal
Before she was on the edge of seventeen, Hailee Steinfeld was Megan, a girl raised inside an assassin-training orphanage who fakes her own death to break free from a life of contract killings so she can live like a normal teen. She eventually has to break her cover, though, to defeat Jessica Alba and her hit-girl school archnemesis, Sophie Turner. Watch this one for some lighter fare.
Raze
Stuntwoman Zoë Bell stars in this combat thriller about women abducted and forced to fight each other to the death in a nonconsensual fight club. It's like an assassin sorority, but also one where the sisters are killing each other instead of external targets.
 
Ballerinas forced to suffer the indignities of life as a prima ballerina, who also become dangers to themselves and others, check out: Black Swan
Sometimes you just need an extra helping of super-dark psychosexual ballerina drama.

Movies about men and women who kill people for a living but risk being compromised when they develop feelings for one another, check out: Prizzi's Honor
As far as men and women who kill for a living joining forces to help do each other's dirty work, this Jack Nicholson and Kathleen Turner vehicle is one of the best you'll find.

Mr. and Mrs. Smith
Brad Pitt and Angelina Jolie's jobs as covert killers in Mr. and Mrs. Smith seemed a lot more glamorous than what Jennifer Lawrence and Joel Edgerton have to deal with in Red Sparrow. But if you want more sexy assassins working for opposing interests, you'll hardly find a more attractive pair than the Smiths.
Allied
Not content to play one half of a married couple on different sides of a violent conflict just once in his life, Brad Pitt stars alongside Marion Cotillard in Allied as a Canadian Royal Air Force pilot married to a French Resistance fighter (who might actually be a German double-agent spy). These spies really should heed Jamie Foxx's advice in Baby Driver: The moment you catch feelings, that's when you catch a bullet.
Notorious
Spies! Seduction! American government operatives! Double agents! It's all here in Hitchcock's classic starring Ingrid Bergman as the American daughter of a Nazi spy recruited by the U.S. to infiltrate a network of her father's old acquaintances.

Movies about women trapped by and subjected to various betrayals and forms of violence by their creepy uncles (and then violently rebel to survive), check out: The Handmaiden
South Korea's Park Chan-wook is one of the best filmmakers in the world, and he still managed to outdo himself with The Handmaiden, a combination erotic thriller and black comedy about a young female grifter who sets out to infiltrate and con a wealthy family — but ends up in a much more complicated love triangle than she bargained for.

Movies about lady assassins who have very cool animal designations as their handles, check out: Kill Bill Vol. 1 and Vol. 2
Uma Thurman may have been the Bride and Beatrix Kiddo in Quentin Tarantino's two-part action opus, but when she was at her deadliest, she was the Black Mamba. Red Sparrows, beware.

Highly stylized lady assassins working on behalf of the state who struggle with reconciling their born identity with their given identity, check out: Ghost in the Shell (1995)
Major Motoko Kusanagi is an elite operative working for Public Security Section 9 whose consciousness ("ghost") lives inside a cyborg frame (the "shell"). The Major works on behalf of the Ministry of Internal Affairs to kill and carry out secret missions, but this good soldier also starts questioning the meaning of humanity and her own self-identity as the story unfolds. And we're talking about the animated original movie here, not last year's live-action remake.

The Fifth Element
Leeloominaï Lekatariba Lamina-Tchaï Ekbat De Sebat — better known as Leeloo (Milla Jovovich) — is a Supreme Being of the Universe who gets drafted by the American president to put herself in harm's way so she can save all of humanity — despite the fact that she is a perfect creature who finds our history boorish and scary. But American hero Corbin Dallas (Bruce Willis) proves to her that we're worth protecting after all. The Matron of State School 4 would surely love to jump her into the Sparrow program.

Highly skilled lady assassins forced to abandon the mission and protect themselves when their employer becomes the enemy, check out: Haywire
If you want to see a woman take charge of her own destiny and kick everyone's ass after her bosses turn on her, there might not be a better pure action experience than Steven Soderbergh's Haywire. Star Gina Carano is a real-life MMA champion, so yes, the fight choreography is 100 percent her.

Women just trying their best to protect their mothers or daughters — and who have to become killers to do it — check out: Everly
Everly (Salma Hayek) has been forced to live as a Yakuza sex slave for four years, and she's not going to take it anymore. But fighting her way to freedom also means protecting her mother and daughter from the criminals who have been keeping her, so she has to kill absolutely everyone who could threaten her family. If you're in the market for more bloody violence being rained down by a woman shaped by sexual subjugation, this pulpy outing from Joe Lynch should satisfy.

The Long Kiss Goodnight
As Charly Baltimore, Geena Davis already is a trained killer who must relearn her spy ways after a bout of amnesia to protect her new family from her old life. This one is also a win for the passionate wig fans out there.

A movie about assassins in which Mary-Louise Parker is not involved in any of the murder business, but you're still really glad to see her, check out: Red
Mary-Louise Parker plays an office worker who gets caught up in the dark business of contract killing when one of the customers (Bruce Willis as Frank Moses) she frequently speaks to has a hit ordered on him. She is, as always, perfectly nonplussed about the whole thing and entirely out of place among a bunch of people whose job it is to kill on command.

Movies in which a garrote plays a gruesome and central role, check out: Audition
Strangulation (and near decapitation) by piano wire is used to great effect in Sparrow by the ruthless killer Matorin (Sebastian Hülk). Audition, Takashi Miike's landmark of torture horror, has perhaps the best usage of a piano wire ever. Eihi Shiina's Asami Yamazaki could teach Sparrow's Russian torture specialist a thing or two about how to wield his garrote like a true pro.