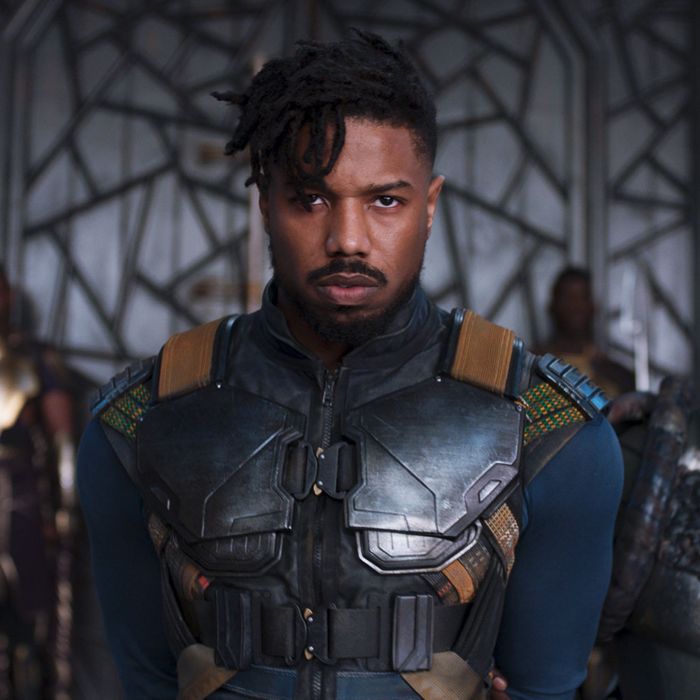 Black Panther
.
Photo: Film Frame/Marvel Studios
We've only just closed the books on last year's Oscar winners, but already, a vague shape of the next awards-season race is starting to form. Contenders have already debuted at film festivals or the multiplex, behind-the-scenes buzz has been circulating on exciting titles, and all sorts of hires, release dates, and pickups will be made over the next few months with an eye on the film industry's top prize. Here are some of the movies and performances you can expect to see in the race.
Four major directors who just recently won Oscars will all be coming out with their next project later in the year, and to make things even more interesting, each one is up against a rival from their own season. In 2013, Steve McQueen and Alfonso Cuarón went head to head and split the two top Oscars: McQueen won Best Picture for 12 Years a Slave, while Cuarón took Best Director for Gravity. This year, McQueen returns with Widows, a female-fronted crime thriller with a stacked cast including Viola Davis, Cynthia Erivo, Michelle Rodriguez, and Elizabeth Debicki, while Cuarón will put out Roma, a Mexican family drama. They'll be rubbing shoulders with another pair who recently pulled off the Picture/Director split: La La Land director Damien Chazelle has the Neil Armstrong biopic First Man with Ryan Gosling, which I've heard is shaping up nicely, while Moonlight's Barry Jenkins has adapted James Baldwin's If Beale Street Could Talk, about a Harlem couple parted by false imprisonment.
Many of this year's Oscar nominees will be back in the mix, too. Best Actress contenders Saoirse Ronan and Margot Robbie will clash in the royalty drama Mary, Queen of Scots, while Best Supporting Actor winner Sam Rockwell plays a Ku Klux Klan member who finds unexpected common ground with a black activist (Taraji P. Henson) in the fact-based The Best of Enemies. Timothée Chalamet ought to be a strong Best Supporting Actor contender as Steve Carell's drug-addicted son in Beautiful Boy, while Willem Dafoe could move up a category as the lead, Vincent Van Gogh, in Julian Schnabel's At Eternity's Gate. Call Me by Your Name director Luca Guadagnino will likely unspool his horror remake Suspiria at the Cannes Film Festival this May, and though I've only seen a few scenes from it, I'm already hopeful for composer Thom Yorke to follow in the Oscar-nominated footsteps of his Radiohead bandmate Jonny Greenwood, who was recognized this year for scoring Phantom Thread.
And then there's Oscar good-luck charm Lucas Hedges, who is only 21 but already has three Best Picture nominees on his resume in Manchester by the Sea, Lady Bird, and Three Billboards Outside Ebbing, Missouri. This year, Hedges will be seen in three more anticipated movies: the gay conversion-therapy film Boy Erased, which I've heard offers powerhouse performances from Nicole Kidman and Russell Crowe as Hedges's parents, as well as the Jonah Hill–directed coming-of-age story Mid '90s, and Ben Is Back, a family drama where Hedges stars opposite Julia Roberts for his director father, Peter Hedges.
Would you prefer some bigger-budget contenders? How about two musicals: Mary Poppins Returns, which subs in Emily Blunt as the iconic nanny and adds Lin-Manuel Miranda and Meryl Streep as support, and A Star Is Born, where Bradley Cooper directs and stars in a music-industry remake opposite Lady Gaga? The most expensive Netflix movie ever made, Martin Scorsese's The Irishman, will try to take the baton from Mudbound and make the Best Picture race, while director Robert Zemeckis, who hasn't had a movie in that category since he won with 1994's Forrest Gump, will vie with the mental-illness fantasy film The Women of Marwen, which surrounds Steve Carell with Diane Kruger, Janelle Monáe, and Leslie Mann. I'm curious if James Gray's big-budget space movie Ad Astra with Brad Pitt will get an Oscar-season berth since it's currently dated for January 2019; I'm also curious if Bohemian Rhapsody will come together after Dexter Fletcher replaced director Bryan Singer, since Rami Malek as Queen singer Freddie Mercury feels awfully Oscar-friendly.
Cannes in May will reveal a few more intriguing contenders, but expect the bulk of this year's Oscar favorites to debut in early fall, when Venice, Telluride, and Toronto throw their film festivals. That's where I assume we'll get a look at Christian Bale as Dick Cheney in Backseat, from The Big Short director Adam McKay, as well as a few other political dramas like the Ruth Bader Ginsburg film On the Basis of Sex with Felicity Jones and Armie Hammer, The Front Runner with Hugh Jackman as disgraced politician Gary Hart, and Emma Stone and Rachel Weisz vying for Queen Anne's court in the Yorgos Lanthimos film The Favourite. A few more recent Best Director nominees will be in the mix, too: I can't wait until we get a look at Wendy, the Peter Pan–inspired effort from Beasts of the Southern Wild director Benh Zeitlin, or see Richard Linklater's Where'd You Go, Bernadette with Cate Blanchett, and The Little Stranger, a creepy new film starring Domhnall Gleeson from Lenny Abrahamson, who directed Brie Larson to an Oscar in Room.
The Sundance Film Festival usually offers a strong slate of potential Oscar favorites, though this year's edition was more muted, and the most-talked about film, Laura Dern's molestation drama The Tale, will debut on HBO. Still, there were some showy performances that could contend if they manage to break through in a tough indie market. I'm thinking of Burden, a racially charged drama with attention-getting turns from Garrett Hedlund, Andrea Riseborough, and Forest Whitaker, a clutch of left-field Best Actress candidates like The Kindergarten Teacher's Maggie Gyllenhaal, Wildlife's Carey Mulligan, and Hereditary's Toni Collette, and Gus Van Sant's Don't Worry, He Won't Get Far on Foot, which has Joaquin Phoenix and Jonah Hill in showy roles. There's also The Wife, which debuted last fall in Toronto and earned so much buzz for Glenn Close that the film sat out last year's crowded Best Actress scrum and will go into this one strong.
What else should you keep an eye on? Life Itself has Oscar Isaac and is from This Is Us mastermind Dan Fogelman, so expect heartstrings to be tugged. I've heard Melissa McCarthy is terrific as a celebrity forger in Marielle Heller's Can You Ever Forgive Me?, and she might be up against Julianne Moore in Sebastián Lelio's English-language remake of his own film, Gloria. I'm also curious about Robert Redford in The Old Man and the Gun, Spike Lee's Black Klansman (produced by Jordan Peele), Karyn Kusama's Destroyer with Nicole Kidman as a cop, and the new film from Oscar fave Asghar Farhadi, Everybody Knows, which stars real-life couple Javier Bardem and Penélope Cruz.
And then there's Black Panther. I forecasted its chances a few weeks ago, before it began its history-making run, and the film has only become stronger since. I hear that Team Black Panther is sniffing around some powerful Oscar strategists, ready to make an awards-season run unlike any Marvel has mounted so far, and there are several categories in which it could contend. Best Costume Design is a lock, and I'd hope Best Hair and Makeup is, too. Any manner of tech nods could be in the offing if the movie stays strong, and the Kendrick Lamar–produced soundtrack could score a Best Original Song nod. As for the biggies, expect Best Supporting Actor buzz for the never-nominated Michael B. Jordan, and I'd take the film seriously in Best Adapted Screenplay and Best Picture, too. There's still a year until the next set of gold statuettes get handed out, but I'd be shocked if Black Panther didn't set new awards-season benchmarks for a comic-book film; it's just that huge.