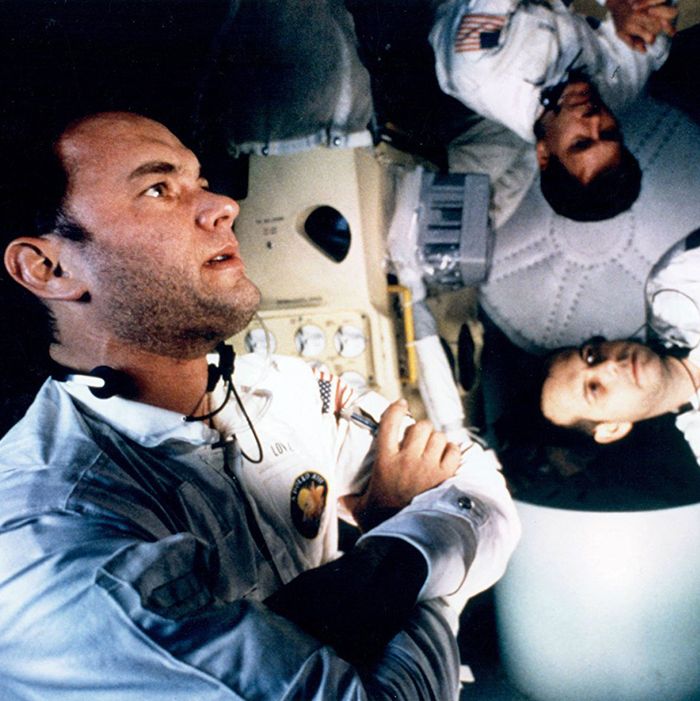 Apollo 13.
Photo: Universal Pictures
Each month, several films and TV shows leave Netflix's library. We provide a list of departing titles and recommend a few standouts so you can watch them before they're gone forever (or are just available on a different site). For more comprehensive coverage of the best titles available on Netflix and elsewhere, check out Vulture's What to Stream Now hub, which is updated throughout the month.
Leaving April 1
Because it's a classic Dad Movie: Apollo 13
Dad Movies — historical dramas about dudes, usually in either war or space, usually played by Tom Hanks — get a bad rap, but when they're done well they can be so satisfying. Case in point: This 1995 nail-biter about the infamous NASA lunar mission gone catastrophically wrong, after an explosion forces its three-man crew to abandon all hope of reaching the moon and just pray they live to see Earth again. Director Ron Howard, who's often unfairly maligned for his meat-and-potatoes sensibilities, knocks every emotion here out of the park, particularly in the moment when Hanks's Jim Lovell catches a final glimpse of the moon he'll never get to walk on. Leaving April 1.
Leaving April 21
Because it's Christopher Nolan's best movie: The Prestige
Dunkirk was a spectacular feat of filmmaking, and we forget Memento at our own peril, but history will reveal this twisty-turny magician fake-out as the best Christopher Nolan film. None of his other efforts so effectively combine a slick narrative, a stellar acting ensemble, and thrilling crowd-pleasing technique. (Yes, the parallels between magicians and movie directors are inescapable.) With the addition of David Bowie's otherworldly turn as Nikola Tesla, The Prestige truly meets all-timer status for its ability to turn anxieties about emerging technology into timeless myth. Leaving April 21.
Available September 20
If you love Banksy … or if you don't: Exit Through the Gift Shop
The art world hasn't gotten any less ridiculous since Banksy let the air out of its tires in his 2010 documentary, although the anonymous street artist himself has become a meme and an easy punchline for describing the self-consciously hip scene. ("Is that Banksy?" you mumbled to yourself whenever you see some pretty stencils.) In other words, he's let himself morph into Mr. Brainwash, but watching the original Frankenstein's monster of underground art bumble his way around blatantly generic copies of his hero's aesthetic is still entertaining. Leaving April 22.
TV Shows
Leaving April 1
• 30 Days of Night
• 88 Minutes
• Ace Ventura: Pet Detective
• Ace Ventura: When Nature Calls
• American Pie
• American Pie 2
• Apollo 13
• Batman (1989)
• Batman Returns
• Batman Forever
• Batman & Robin
• Caddyshack
• Charlie and the Chocolate Factory (2005)
• Cool Runnings
• Death Sentence
• Dolphin Tale
• The Dukes of Hazzard (2005)
• Eagle vs. Shark
• The Men Who Stare at Goats
• John Mulaney: New in Town
• Never Let Me Go
• The Pursuit of Happyness
• Set Up
• The Shawshank Redemption
• Small Soldiers
• Wild Wild West
• The Whole Nine Yards
Leaving April 3
• Starry Eyes
Leaving April 5
• The Hallow
• The Nightingale
Leaving April 12
• The Emperor's New Clothes
Leaving April 15
• Happy Tree Friends
• Leap Year
Leaving April 16
• Son of God
Leaving April 17
• Z Storm
Leaving April 20
• The Exorcism of Molly Hartley
Leaving April 21
• The Prestige
Leaving April 22
• Exit Through the Gift Shop
Leaving April 26
• Kung Fu Panda 3
Leaving April 27
• Begin Again