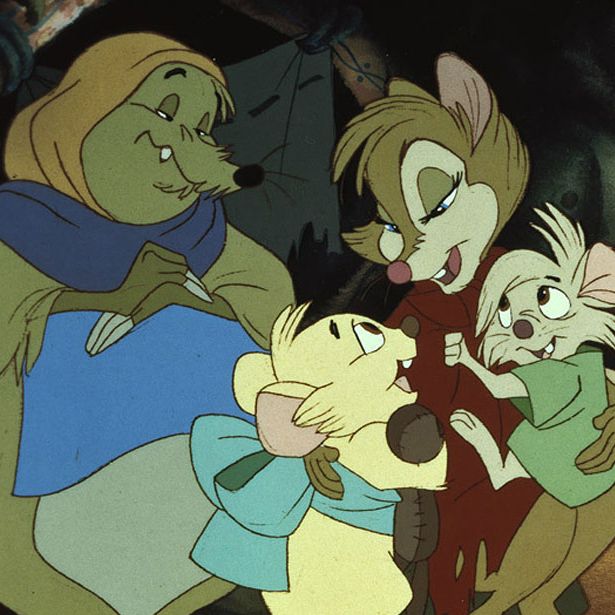 Photo: MGM/UA Communications Co.
At the beginning of (and during) every month, Amazon Prime adds new movies and TV shows to its library. Below, you'll find our recommendations for March 2018. For more comprehensive coverage of the best titles available on Amazon Prime and elsewhere, check out Vulture's What to Stream Now hub, which is updated throughout the month.
Available March 1
Because it's an animated classic: The Secret of N.I.M.H.
Don Bluth's 1982 debut was a window into a world of animation free of Disney's all-encompassing mass appeal, home to complicated and surprisingly dark storytelling. The story of displaced field mice who find themselves on a strange adventure when they meet rats with strange powers, N.I.M.H. is a gorgeous, sprawling fantasy in the vein of Jim Henson's Labyrinth or The Dark Crystal, and totally worth revisiting on a rainy day. Available March 1.
Available March 31
For a moving documentary you may have missed: The Departure
The story of Ittetsu Nemoto, a Buddhist priest in Tokyo who counsels the suicidal and helps them find reasons to live, The Departure is a documentary that's tender as it is heavy, a portrait of stunning altruism and sacrifice. Difficult to watch but extremely humane, it, like the best documentaries, delves into a subject you likely didn't know was out there, but you'll feel all the better for having a chance to learning its story. Available March 31.
Available March 1
For some seriously extra '90s nostalgia: Hackers
A cult classic that has only seen its reputation improve as it becomes more dated and kitschy, Hackers is one of those movies that is just so admirably extra you can't help but respect it, regardless of whether you like it or not. The story of a bunch of high school hackers in the '90s — back when the internet was a curiosity, not a necessity — as they hack their way into and out of trouble, eventually angering a corporate magnate, sparking a terrorist threat, and getting tangled with the Secret Service. It's also got vintage Angelina Jolie and peak Matthew Lillard. Watch it late at night and you won't be disappointed. Available March 1.
Noteworthy selections in bold.
Available March 1
• 1984
• A Feast at Midnight
• A Guy Thing
• A View to a Kill
• Amélie
• Antitrust
• Bad Influence
• Bad News Bears
• Billy the Kid
• Body of Evidence
• Breakdown
• Bye Bye Birdie
• Captivity
• Carriers
• Chaplin
• The Color of Magic Season 1
• Criminal Law
• Die Another Day
• Dirty Rotten Scoundrels
• Dreamkeeper
• Earth Girls Are Easy
• F/X
• F/X 2
• Fatal Instinct
• Finder's Fee
• Fire with Fire
• Fluke
• For Your Eyes Only
• Forces of Nature
• Goldeneye
• Hackers
• Hanoi Hilton
• Hart's War
• Home of the Brave
• Human Trafficking Season 1
• I'm Gonna Git You Sucka
• Imagine That
• The Infinite Worlds of H.G. Wells Season 1
• Jeff Who Lives at Home
• Jennifer 8
• Kingpin
• License to Kill
• Little Ghost
• Moonraker
• Mr. Majestyk
• National Lampoon's Dirty Movie
• National Lampoon's Dorm Daze 2: College @ Sea
• The Odyssey Season 1
• On Her Majesty's Secret Service
• Regarding Henry
• Southie
• Sprung
• The Accused
• The Devil Inside
• The Doors
• The Living Daylights
• The Million Dollar Hotel
• The Music Never Stopped
• The Secret of N.I.M.H.
• The World is Not Enough
• Tomorrow Never Dies
• Valerian and the City of a Thousand Planets
• XXX
• XXX: State of the Union
• Young Adult
• Zathura: A Space Adventure
Available March 2
• Brad's Status (Amazon Original Movie)
Available March 3
• The Nut Job 2
Available March 8
• Aftermath
Available March 9
• Sneaky Pete Season 2 (Amazon Original)
• The Remix Season 1 (Amazon Original)
• The Tunnel Season 2
• Power Rangers
Available March 10
• November Criminals
Available March 14
• Tommy's Honour
Available March 15
• LOL
Available March 17
• Crooked House
Available March 26
• The Durrells in Corfu Season 2
• Let There Be Light
Available March 27
• The Little Hours
Available March 30
• The Dangerous Book for Boys Season 1 (Prime Original)
Available March 31
• A Suitable Girl
• Bitter Harvest
• Flames
• Ice Mother
• Imperium
• The Blue Lagoon
• The Departure
• Thirst Street