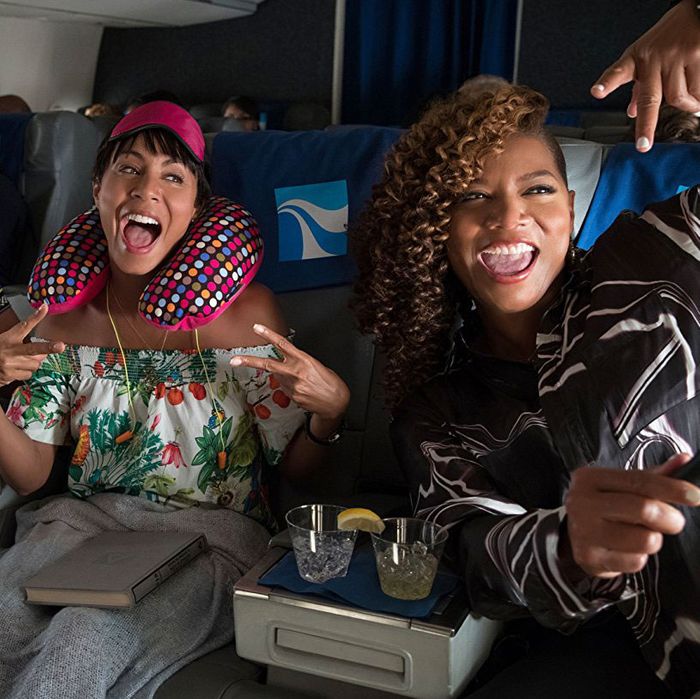 Photo: Universal Pictures
At the beginning of (and during) every month, HBO adds new movies and TV shows to its library. Below, you'll find our recommendations for March 2018. For more comprehensive coverage of the best titles available on HBO and elsewhere, check out Vulture's What to Stream Now hub, which is updated throughout the month.
Available March 31
Because the Oscars never give comedies their due: Girls Trip
Girls Trip is one of the best comedies of last year: Outrageous, bawdy, and extremely funny, with an outrageously talented cast, the movie is a comedy roller coaster. It's also the film that signaled the arrival of Tiffany Haddish, one of the most naturally gifted comic actors we've got right now. Don't sleep on Jada Pinkett either, playing against type as an uptight nurse who … well, go see for yourself, and get mad all over again about how the Academy Awards (almost entirely) ignore comedies. Available March 31.
Available March 25
If you're looking for a new comedy: Barry
Accompanying the fifth season of Silicon Valley is Barry, Bill Hader's new half-hour series about an assassin who decides to give up killing to pursue a career in acting. It's hard not to be hooked from the jump with a premise that good, but with Hader in the lead role, Barry becomes utterly delicious. This one should be a fun one with plenty of potential for fun twists ahead. Available March 25.
Available March 3
If you love philosophical sci-fi: Alien: Covenant
Ridley Scott's latter-day Alien films are fascinating studies in how to move a franchise forward while wholly refusing to give the fans what they want. Alien: Covenant, like Prometheus before it, is a surprisingly misanthropic work concerned less with the horror — although it's very scary — and more with what makes humanity human. It's hard to enjoy but really easy to appreciate, and while it didn't get a whole lot of love upon release, odds are it'll be due for a serious reappraisal sometime soon. Available March 3.
Noteworthy selections in bold.
Available March 1
• The Beguiled (1971)
• Die Hard
• Die Hard 2
• Die Hard with a Vengeance
• The French Connection
• Friday the 13th (2009)
• Hannibal
• Ice Age
• The Last Boy Scout
• Mercury Rising
• Observe and Report
• Rock Star
• Sgt. Bilko
• She's Out of My League
• The Adventures of Ford Fairlane
• The Silence of the Lambs
• To Be or Not To Be (1983)
• Undercover Brother
• Wargames
• Where the Wild Things Are
• Win a Date with Tad Hamilton!
• La Casa De Beatriz
• Incarnate
Available March 2
• Soy Nero (a.k.a. I am Nero)
Available March 3
• Alien: Covenant
Available March 8
• Live by Night
Available March 9
• La región salvaje (a.k.a. The Untamed)
Available March 10
• My Cousin Rachel
Available March 17
• The Beguiled
Available March 18
• El Negocio, Season 4 Premiere
Available March 19
• Arthur Miller: Writer
Available March 21
• The Book of Henry
Available March 24
• Atomic Blonde
Available March 25
• Silicon Valley Season 5 Premiere
• Barry Series Premiere
Available March 26
• The Zen Diaries of Garry Shandling: Part 1
Available March 27
• The Zen Diaries of Garry Shandling: Part 2
Available March 30
• Entre Nos, Part 3
Available March 31
• Girls Trip