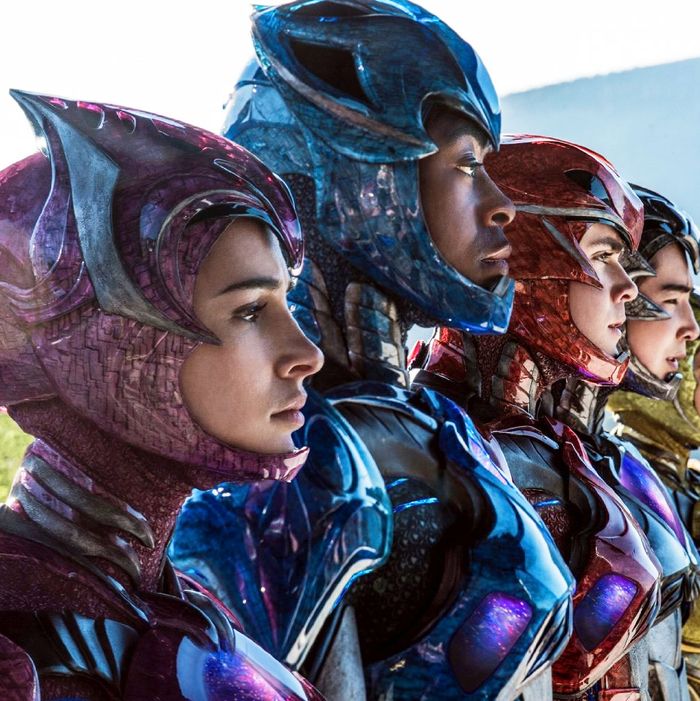 At the beginning of (and during) every month, Hulu adds new movies and TV shows to its library. Below, you'll find our recommendations for March 2018. For more comprehensive coverage of the best titles available on Hulu and elsewhere, check out Vulture's What to Stream Now hub, which is updated throughout the month.
Available March 9
Because it's much better than you think: Power Rangers
Yes, the Power Rangers reboot is good. It's big silly popcorn fun with a cast of teens giving it their all, bolstered with goofy performances from Bryan Cranston, Elizabeth Banks, and Bill Hader that never lose sight of the kind of movie they're in. It's got Dacre Montgomery before Stranger Things! It's got Elizabeth Banks, wreaking havoc across small-town America as she stalks the streak and bellows, "WHERE IS THE KRISPY KREME?!" You might think I'm making that last one up, but I swear, I'm not. Available March 9.
Available March 1
For a last-minute Oscars catch-up: The Square
One of the nominees for Best Foreign Language Film, The Square is director Ruben Östlund's follow-up to his 2014 contender, Force Majeure. Like Force Majuere, The Square has been hailed as one of the best films of the year, a biting comedy-drama that defies easy description and upsets expectation. Ostensibly about the opening of a new art exhibit in Sweden, the film escalates and spirals out to become stranger and stranger, leading to one of the most memorably perverse scenes you'll see in a movie this year. Squeeze it in before the Oscars or take it in afterwards, it'll be worth it either way. Available March 1.
Available March 12
Because you shouldn't miss out on a show this fun: Timeless
Saved at the last minute from the brink of cancellation, Timeless is the kind of show you don't really see anymore: a fun network genre that isn't a reboot or an adaptation, just about a bunch of fun people doing fun sci-fi things. Timeless gets bonus points its pure wish fulfillment, in which a history teacher gets called in to save history, like Wishbone but with more guns and kissing. Season two premieres on NBC on March 11 and you'll probably be fine just jumping in, but the first season is sitting right there, so why not? Available March 12.
Noteworthy selections in bold.
Available March 1
• 1984
• The Accused
• A Feast at Midnight
• A Guy Thing
• A Mermaid's Tale
• A Stork's Journey
• A View to Kill
• All the Wild Horses 
• Antitrust
• Ask This Old House: Seasons 11 -12 (PBS)
• Bad Influence
• Bad News Bears (2005)
• Billy the Kid
• Body of Evidence
• Boots on the Ground
• Boulevard
• Branded
• Breakdown
• Captivity
• Carriers
• Chaplin
• Chicago
• Criminal Law
• The Devil Inside
• Die Another Day
• Dirty Dancing
• Dirty Dancing: Havana Nights
• Dirty Rotten Scoundrels
• The Doors
• Dream House Nightmare
• Earth Girls are Easy
• F/X
• F/X 2
• Fatal Instinct
• Finder's Fee
• Fire with Fire
• Fluke
• For Your Eyes Only
• Forces of Nature
• Goldeneye
• Gordy
• The Glass Shield
• Hackers
• Hanoi Hilton
• Happythankyoumoreplease
• Hart's War
• Hesher
• High School
• Home of the Brave
• I'm Gonna Git You Sucka
• I'm So Excited!
• Ill Manors
• Imagine That
• Jack Goes Boating
• Jeff Who Lives at Home
• Jennifer 8
• Kingpin
• Leonard Cohen: I'm Your Man
• License to Kill
• The Living Daylights
• Love Crimes
• The Million Dollar Hotel
• Moonraker
• Mr. Majesty
• The Music Never Stopped
• National Lampoon's Dirty Movie
• National Lampoon's Dorm Daze 2: College @ Sea
• On Her Majesty's Secret Service
• Pudsey the Dog: The Movie
• Regarding Henry
• The Secret of N.I.M.H.
• Southie
• Sprung
• The Square
• Stuart Little
• Stuart Little 2
• Tales of the Grim Sleeper
• This Old House: Seasons 30 & 38 (PBS)
• Tomorrow Never Dies
• Twenty Twenty Four
• Veni Vidi Vici: Season 1 (Viaplay)
• We Blew It
• Where the Skin Lies
• Who Killed Nancy?
• The World is Not Enough
• XXX
• XXX: State of the Union
• Young Adult
Available March 2
• Showtime at the Apollo: Season 1 Premiere (FOX)
Available March 3
• MasterChef Junior: Season 6 Premiere (FOX)
Available March 4
• K.C. Undercover: Season 3 (Disney XD)
• Traitor
Available March 5
• The 90th Oscars: Special (ABC)
• The 90th Oscars: Live From the Red Carpet: Special (ABC)
• Amazing World of Gumball: Season 5 (Cartoon Network)
• Everything Beautiful is Far Away
• The New Radical
• The Real Housewives of New York City: Season 9 (Bravo)
Available March 6
• Crash (2005)
• Fantasia 2000
Available March 7
• Hard Sun: Season 1 Premiere (Hulu Original)
• Living Soul
Available March 8
• Aftermath
• Knock Knock
Available March 9
• Champions: Series Premiere (NBC)
• Power Rangers (2017)
Available March 10
• Angie Tribeca: Season 3 (TBS)
Available March 12
• American Idol: Series Premiere (ABC)
• American Ninja Warrior: Season 9 Premiere (NBC)
• Deception: Series Premiere (ABC)
• Timeless: Season 2 Premiere (NBC)
• Force Majeure
• Wolf Warrior 2
Available March 13
• Food Wars!: Season 2 Dubs (Sentai Filmworks)
• Bitter Harvest
Available March 14
• For the People: Series Premiere (ABC)
• Rise: Series Premiere (NBC)
• Tommy's Honour
Available March 15
• 4 Lovers
• Blade of the Immortal
• The Bridge: Season 4 (ZDF Enterprises)
• The Englishman Who Went Up A Hill But Came Down A Mountain
• The Fog
• The Forgotten
• Four Rooms
• Hello I Must Be Going
• The Kill Team
• LOL
• October Country
• River of Grass
• The Son: Season 1 (AMC)
Available March 16
• John Q
Available March 18
• Almost Friends
Available March 19
• Genius Jr.: Series Premiere (NBC)
• Little Big Shots: Season 3 Premiere (NBC)
• Life Itself
• Love and Saucers
Available March 23
• Station 19: Series Premiere (ABC)
• March of the Penguins 2: The Next Step (Hulu Original Documentary)
Available March 24
• Who Framed Roger Rabbit
Available March 27
• The Little Hours
Available March 28
• Roseanne: Season 10 Premiere (ABC)
• Splitting Up Together: Series Premiere (ABC)
Available March 30
• Alex, Inc: Series Premiere (ABC)
• Shadowhunters: Season 3 Premiere (Freeform)
• Siren: Series Premiere (Freeform)
Available March 31
• Closing Gambit
• EuroTrump
• The Ghoul
• Habit
• Project Eden