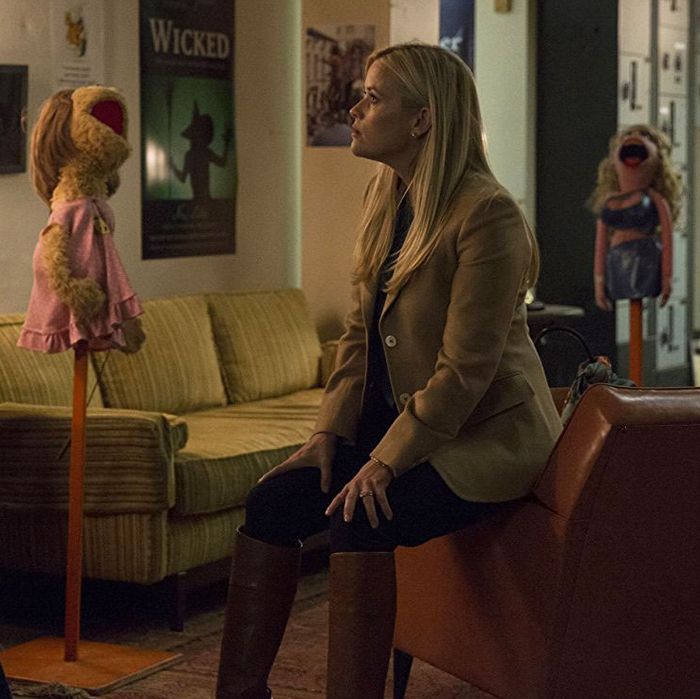 She got the rights to
Wicked
, so she can really do anything.
Photo: HBO
Whether you like it or not, Big Little Lies fever is back. After announcing that the (formerly) limited series would return, HBO has pushed out a steady stream of updates about the upcoming season: Meryl Streep is coming to town! All the women will be back! Adam Scott is … also going to be there! Madeline and Renata are hanging out at that coffee shop! There is one question, however, that HBO hasn't yet answered: Which musical will Madeline Martha Mackenzie produce at the Monterey community theater?
For those unfamiliar, Madeline spent much of the first season trying to stage Avenue Q over Renata's objections. It was great fun, and it led to a dream sequence where Laura Dern scared Reese Witherspoon off the side of a cliff with a puppet. Given that Madeline is such a type-A personality, we can only assume that she will try to produce a new show this year, if only to distract herself after helping to kill Celeste's husband, Perry. Given that the theater previously put together a production of Wicked (as you can see by the poster above), we should also assume that Madeline can magically get the rights to pretty much anything. Here are some suggestions.
Legally Blonde
Reese Witherspoon almost plays herself on Big Little Lies, so really, she should just embrace it. Madeline gets the rights to Legally Blonde, books a young newcomer Monterey mom as the lead, but then she falls out at the last minute, which means — ohmygod, you guys! — Madeline has to step in. Shailene Woodley plays Salesgirl No. 2.
Dear Evan Hansen
Reese Witherspoon loves Ben Platt. Ben Platt has an upcoming album to promote. Madeline's activist daughter is the kind of person who would get really involved in a show about a Kickstarter about teen suicide. Platt makes a guest appearance as the troubled teen that Madeline casts as Evan Hansen. Nicole Kidman cries.
Hamilton
Madeline gets in trouble for casting too many white actors. She enlists Celeste to argue her case against Lin-Manuel Miranda (playing himself) in court. It all reflects very poorly on HBO.
The Bridges of Madison County
Meryl Streep plays her BLL character playing the musical version of the character she played on film 30 years ago flawlessly … because what can't she do!?
Spider-Man: Turn Off the Dark
In order to take down Male Enemy of the Season, Madeline casts him as Spider-Man and concocts a way for his harness to break mid-show. Zoë Kravitz spends a lot of time talking about how Julie Taymor had a really great vision for the show and is still sad she was fired.
Jesus Christ Superstar
Madeline inadvertently offends several local religious groups when she casts herself as Jesus.
Spring Awakening
Madeline moves to a struggling Pennsylvania small town, takes over the drama department from Rosie Perez, and decides to inspire a group of troubled teenagers by staging that show about sexually repressed German teenagers. Wait, this is just the plot of Rise.
Cats
You haven't lived until you've seen a dubbed Adam Scott perform "Memory." Shailene Woodley hooks up with Rum Tum Tugger.
Mamma Mia!: Here We Go Again
Madeline decides it'd be fun to get all the moms to perform the ABBA musical. Renata outdoes her by licensing the sequel movie, which isn't actually a stage show (yet). Lily James guest stars as herself, though nobody recognizes her or brings it up. Somehow, Meryl Streep dies again.
Carrie: The Musical
Sure, Riverdale is beating Big Little Lies to it, but wait until you watch Laura Dern scream "and Eve was weak" at Reese Witherspoon in Madeline's nightmares.
The Light in the Piazza
I just think it'd be nice.