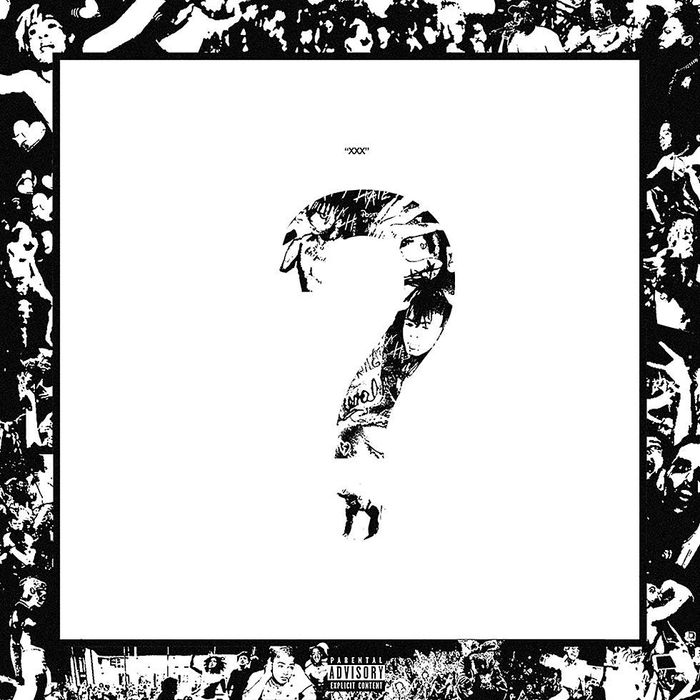 Despite mounting controversy, XXXTentacion has SoundCloud rap's first No. 1 album.
Photo: Bad Vibes Forever
It was bound to happen at some point: SoundCloud rap, the catchall phrase for a loose band of young hip-hop artists with heavy punk influence that's emerged on the platform within the past year, has finally peaked on the Billboard 200. 6ix9ine, the abrasive Bushwick screamer, had come close: His recent debut mixtape, Day69, charted at No. 4 on its week of release. So, too, had Lil Pump, the "Gucci Gang" inventor whose self-titled mixtape reached No. 3. Jahseh Onfroy, the Florida rapper who performs as XXXTentacion, had come the closest to the top: 17, his previous album, had charted second. But his new album, ?, has made him the first SoundCloud rapper to have the nation's most-heard album in a given week, debuting at No. 1.
How it happened can be broken down to numbers. Some measure of criminal controversy, it seems, has only boosted SoundCloud rappers' visibility: 6ix9ine pleaded guilty to filming and sharing, at the age of 18, video of a 13-year-old girl performing oral sex on an acquaintance; Onfroy, meanwhile, is facing decades in prison on a variety of charges stemming from his alleged violent abuse of an ex-girlfriend. Powerful singles are a must. 6ix9ine's "Gummo" peaked at No. 12, XXXTentacion's "Sad!" rose to No. 7 this week (his first top-ten hit) and may well rise higher, and "Gucci Gang" reached No. 3. Fluency in social media is vital. As his recent Breakfast Club interview displays, 6ix9ine has perfected the art of capturing attention via trolling; meanwhile, Lil Pump has over 10 million followers on Instagram.
The most important numbers, though, are streaming. With only a slight boost from rap radio, virtually all of the chart success of SoundCloud rap has come from the likes of Spotify, Apple Music, SoundCloud, and YouTube, and a key component of that success is, as we've mentioned in the past, short songs and short albums. ? consists of 18 tracks totaling 38 minutes; 17 had 11 songs totaling 22 minutes; Day69 is 11 songs totaling 27 minutes; Lil Pump is 15 songs totaling 37 minutes. Provided the songs are found worthy of playing on repeat, short songs add up to huge stream counts; while major-label artists like Drake or the Migos have found success with four- or five-minute songs stacked in album-sized bundles of 20 or more, the younger generation, by halving the usual song length, is doubling their potency on the charts. With ?, XXXTenatacion has logged the second-largest streaming week of the year, at 106,000 streaming equivalents, just behind an act thought to be comparatively more popular, the Migos, whose latest album had 150,000 streaming equivalents; "Sad!" was also the second-most streamed song of the week, trailing only Drake's streaming giant, "God's Plan."
In a recent piece for the Times, music critic Jon Caramanica suggested that being kept at arm's length by industry gatekeepers and artists has permitted the likes of 6ix9ine and XXXTentacion to experiment with format in ways that seem likely to set trends for rising artists of the future. It's a tempting argument: After all, what is the history of hip-hop if not an avant-garde narrative where the margins bleed into, and then transform, the mainstream? But more often than not, the most important exclusions are the self-imposed ones. Aesthetically speaking, both Lil Pump and 6ix9ine have one, maybe one-and-a-half gears at most; just because it resonates at the moment is hardly proof that the sound they've painted themselves into a corner with is durable enough to persist. XXXTentacion, the sole SoundCloud rapper who's proven himself versatile in terms of genre and tone — East Coast boom-bap lyricism, nü-metal screaming, acoustic ballads, Weeknd-ish R&B, forays into EDM and Latin music — is facing the prospect of prolonged imprisonment, which would put an end to all experimentation.
The charts, in their own way, are a kind of permanent trial, and the default judgment to be disproven is that newcomers are outliers and not the harbingers of a new norm. Short songs and short albums seem likely to trend, but song length does not, in itself, a genre make; the turn toward downcast content in pop precedes XXXTentacion's misery-mongering.
The future of SoundCloud rap as a genre is brightest precisely when it ceases to be a genre, and the SoundCloud rapper least fenced in by genre is facing trial for violent domestic crimes and witness tampering that could keep him from making any kind of music at all for quite some time. Morals are one thing, and listeners can judge artists on those grounds immediately and as they see fit. But commercially and aesthetically, it's too early to tell what will stick, and in that sense, a question mark really is the leading sound of the moment.