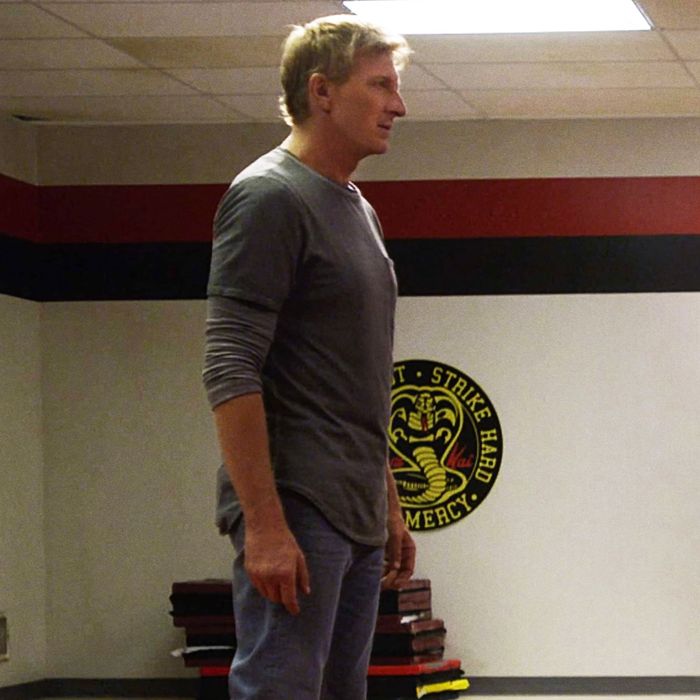 The upcoming YouTube Red original
Cobra Kai
, a TV spinoff of
The Karate Kid.
Photo: Youtube Red
Much the way Amazon now dominates the American retail market, YouTube doesn't have a problem drawing eyeballs. As of last summer, the Google-owned company boasted a monthly user base of 1.5 billion global viewers, a platform rivaled only by Chinese state television. For most of its 13 years in existence, YouTube's financial model was not that dissimilar to old-school linear broadcast networks: Viewers got lots of free content but "paid" for it by watching commercials. As successful as that strategy has been, the video giant is now making a serious push into the subscription-based TV business, and it's targeting the same eyeballs — and dollars — as Netflix, Amazon, and Hulu.
YouTube's premium tier, dubbed Red, has actually been around since late 2015. For a monthly fee of $10, subscribers get to skip all advertising on YouTube videos while also gaining access to a pair of Spotify-like audio platforms (YouTube Music and Google Play Music). YouTube Red has also offered original programming since early 2016, serving up everything from feature-length films (Lazer Team) and reality shows (Escape the Night) to standard-issue sitcoms (Foursome). These early efforts haven't broken out much outside of YouTube's own (very expansive) ecosystem, but that's almost by design: Most of the initial projects were built around existing YouTube superstars who already boasted their own (often very young) audience bases. (Yes, of course, PewDePie had his own reality show on Red.)
But a new wave of projects promises to bring greater attention to Red, potentially expanding the service's audience beyond hard-core YouTubers. Susanne Daniels, the YouTube global content chief who oversees programming for Red, today announced a May 2 launch for Cobra Kai, a TV spinoff of The Karate Kid, featuring original stars Ralph Macchio and William Zabka. (The series will also get a splashy premiere at the Tribeca Film Festival on April 24.) This year has also seen the arrival of a slickly produced dance drama based on the Step Up movie franchise as well as Youth & Consequences, a darkly comic teen soap from veteran producer Mark Gordon (Ray Donovan, Criminal Minds). Other projects in the works include an adaptation of author Steven Gould's sci-fi thriller Impulse (from Edge of Tomorrow director Doug Liman), the basketball documentary series Best Shot (produced by LeBron James), and the John Cena–Kat Dennings-voiced animated comedy Dallas & Robo (from BoJack Horseman writer Mike Roberts).
While Google's deep pockets theoretically mean YouTube Red could start churning out a lot more original series, there's no indication Daniels is looking to match Netflix or even Hulu in terms of her overall programming budget. But that doesn't mean she doesn't have big plans for the service. Vulture recently spent a half hour on the phone with Daniels discussing the evolution of Red, where it fits into the larger streaming universe, and how she sees it evolving further in the next few years. Here are five key takeaways from our conversation.
It's not a niche service
When YouTube Red first started making its own episodic long-form content back in 2016, Daniels and her team understandably opted to tap into the service's base of homegrown talent. Programs such as Rhett and Link's Buddy System or Single by 30 were mostly built around well-known YouTubers, with the hope that audiences already spending a lot of time on the site would fork over a monthly subscription fee to see shows with their favorite personalities. Because of the initial emphasis on the native YouTube base, casual observers might have figured YouTube wasn't in the same game as Amazon, Netflix, and Hulu, whose originals aim for the same consumers who fork over $15 per month for HBO. Not so, insists Daniels. "We started where we were just doing one thing," referring to the early batch of YouTuber-centric series. "But we're now also engaged in developing and producing newer, broader-appeal-type programming that doesn't just focus on YouTube talent and the YouTube core audience."
Series such as Step Up: High Water and Cobra Kai, the latter based on a movie franchise older than most YouTube stars, have "the potential to connect with a broader audience that's new to YouTube Red," Daniels adds. "They're brands or talent that we believe have crossover appeal." That last phrase — "crossover appeal" — may be key to Daniels's thinking: She doesn't want to choose between YouTube natives and older viewers who've never heard of Rhett and Link. Take the Red's comedic soap Youth & Consequences, which happens to feature a big-name YouTuber (Anna Akana) in a starring role, but its production values, plot, and supporting cast would be right at home on Freeform or the CW. (And for Gen-Xers, it even features Melrose Place alum Marcia Cross in a recurring role.)
And while most of Red's originals to date seem to be targeted at very young millennials (and even post-millennials), Daniels leaves no doubt she also wants audiences old enough to remember the Clinton administration — and, eventually, a breakthrough series like Hulu's The Handmaid's Tale or Amazon's Transparent.  "Do I want a show that's going to drive subscription and be in the Zeitgeist and have people talking about it? Damn right, I do!" Daniels laughs when asked about Red's goals. But she just as quickly cautions against expecting too much too fast. "And I've built — or had to rebuild — services and brands before," Daniels explains. "It takes time to build that brand to a place where you feel like you are really taking off. In time, I'd like to see us offer shows that appeal to [the broader adults 18–49 demo]. But what you're seeing us do right now is focus on the heavy user of YouTube, who tends to be a little bit younger. That's a smart place for us to start as a strategy." By year's end, Daniels says Red will release more than 30 new projects — a mix of scripted and reality shows, as well as some feature-length films — on top of the 50 originals already on the service.
Data helps drive programming decisions
Daniels spent decades working for old-school outlets like Fox, MTV, and the dearly departed WB network. Back then, her life was ruled by the tyranny of the nightly Nielsen report card: Shows lived or died based on ratings, and decisions about what kinds of shows to make were based on what kinds of shows had rated well in the past. Daniels is now free from the misery of trying to get millions of viewers to watch a show within a short amount of time, but that doesn't mean she's stopped looking at numbers. "Data does play a large part in evaluating these shows," she says. "There's a broad global funnel at YouTube to appeal to … so we can target different aspects of the funnel for different shows."
Relying on digital data to help guide programming decisions isn't a new strategy, of course. Netflix famously gave House of Cards a two-season order without so much as a pilot episode because its streaming stats suggested audiences were really into the kinds of thrillers Cards director David Fincher made. In the case of Red, Daniels and her team can rely on the incredibly deep veins of information provided by its reported base of 1.5 billion monthly users. "We know from our search data that titles like Step Up and Karate Kid are extremely popular on YouTube," Daniels says. "Karate Kid–related content has been watched over one billion times on our platform." Similarly, since "dance is an incredibly popular genre on YouTube … we knew there was a big dance community that would be excited about Step Up." Daniels, like Netflix and Amazon execs, is quick to note that while data "helps us make smart decisions," gut instinct and choosing the right creative talent are still critical to programming choices. "I'm also looking at things that can enhance the brand — things that resonate with viewers, things that we sense an excitement and real interest for," she says. "We're looking for a lot of different metrics, but all of the metrics ultimately point to: Do we think this is a positive addition to YouTube Red originals?"
Red is also a music service
A few weeks ago, YouTube CEO Susan Wojcicki made headlines in the tech world when she told journalist Kara Swisher that, while the company has been busy making a slew of original series, Red "is a service that is really a music service." Understandably, that prompted speculation that perhaps Google was backing away from the premium video content space, or at the very least, minimizing its importance. Daniels, however, says Wojcicki was doing no such thing. "That quote was taken out of context a bit," she says. "She was articulating that there is an entire music service as part of YouTube Red, and that she's confident that people are willing to pay for music just like they want to pay for originals. It's no secret that music is a really important part of YouTube, and combined with the original focus, it will continue to drive success."
While some tech bloggers might argue otherwise, Daniels's explanation seems logical. As it is, one of Red's main rivals — Amazon Prime Video — has long bundled its TV offerings within a package of other offerings (two-day package delivery, streaming music, video-game downloads). Similarly, unlike Netflix, Red isn't trying to woo subscribers simply by promising them new episodes of Cobra Kai or Step Up. "We're looking for YouTube Red to start to feel like a great value proposition to consumers — a premium music service and premium content and ad-free [videos]," Daniels says, adding that her job is to "make sure that we have enough premium content that appeals to the YouTube Red user" and — perhaps even more importantly — convinces folks who use the free version of YouTube to upgrade to Red. "If YouTube for most people stands for short-form, user-generated content, and I think it does, we want to start getting out the word that we offer a service in YouTube Red that offers that, plus more."
Expect more interactive content from the service
Daniels says the "favorite show I've worked on so far here" is Witness World Wide, Katy Perry's four-day livestream event from last summer. The stunt, a promotion for Perry's album release, put the pop superstar in her studio/house, where her every move (including visits from other celebs) was documented with cameras. "It wasn't my idea; Katy Perry gets all the credit," Daniels says. "That show tapped into everything that YouTube does best. We're a global platform, and she had global fans. She wanted to have interactivity, which it did. You could basically design your own viewing of the content. It [was] not a lean-back, network experience. That's the thing that's the most super cool about YouTube — the engaged viewer. Television is a one-way street. YouTube is definitely two-way street, and I love that about this place."
To be sure, YouTube doesn't have a complete monopoly on interactivity. CBS's Big Brother has been giving audiences a similarly immersive experience for more than 15 years. But the company is certainly better able to deploy interactivity on a regular basis than CBS, and on a bigger scale (given its international reach). Daniels wouldn't get too specific about her plans for interactive programming, except to say that CBS's pioneering reality show could be at least something of an inspiration for a future unscripted project. "I'm in the very early stages of development with a big producer, but I can't say who yet," she says.  "We are looking into a very original, new version of a Big Brother type of experience."
It's still experimenting with how to release its shows
From day one, Netflix has been dogmatic about releasing full seasons of all its series (save talk shows) all at once; Amazon eventually settled on a similar tactic. For now, YouTube Red's release philosophy is a lot like Hulu's. "We don't have a go-to rule of thumb about this," Daniels says. "We're still building the service, and we're experimenting to see what works best. So we've taken a show-by-show, case-by-case basis. We want to do what's best for the show." So far, Red's most high-profile scripted shows (Step Up, Youth & Consequences) have been given binge releases, while it's gone with weekly episodes for reality shows such as Ultimate Expedition.
Where Red has been more innovative is with its use of the free YouTube platform to drive audiences to Red series. In the case of Step Up, "we knew from testing that [viewers] were the most engaged after episode four," Daniels says. "So we offered four free episodes in front of the paywall. You had to subscribe to see the rest." Since launching in January, Daniels says the pilot for Step Up has generated over 9 million views, "and the subscription [conversion] rate has been really promising as well." (She declined to specify how many viewers signed up for the paid service after watching the show). Red is continuing the use of free previews with other originals: The first two half-hour episodes of Youth & Consequences don't require a Red subscription, and it's likely at least one episode of Cobra Kai will be free to stream.
As for the marketing of specific shows, Red so far has avoided the massive campaigns some streaming networks have put behind big projects. And rather than weeks or even months of prerelease hype, Daniels says the "bulk of the marketing will be released the day or day after, or possibly even the week after the show is released so that when we're telling viewers to go check out the show, they can click and go check out the show." Red has bent that rule a bit, however, with Cobra Kai, releasing several buzzy trailers over the last few weeks in advance of the May launch. That makes sense, given the decades-old, cross-generational appeal of the Karate Kid movies — and the involvement of the original films' two big stars. But even with Cobra Kai, Daniels says much of Red's marketing will still be focused on the overall service rather than specific projects. "It's going to be more about building up YouTube Red as a destination," she says.
*A previous version of this story said that Stephen Gould's Impulse is a time-travel thriller. It is actually about teleportation.