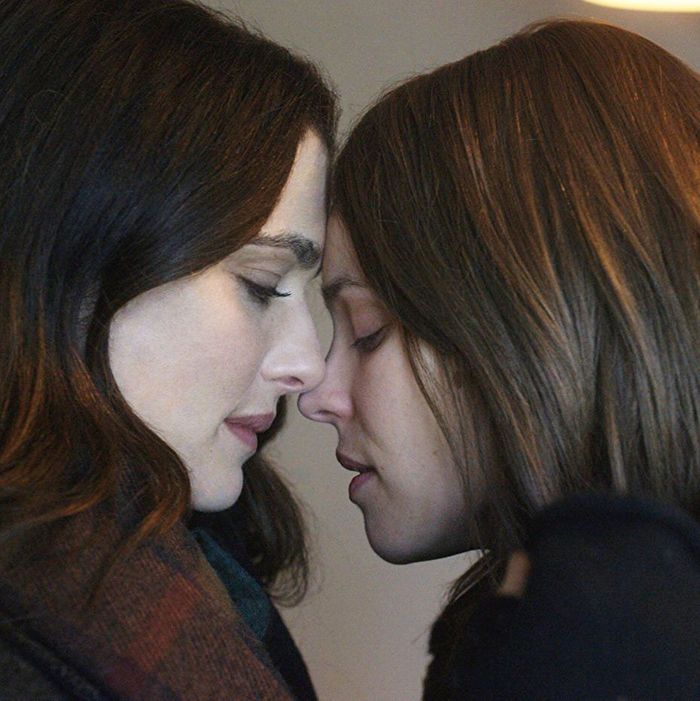 The good news about the 17th annual Tribeca Film Festival is that it continues last year's trend of being less inclusive. Three cheers for elitism! Give thanks for fewer turkeys! This year's slate of features — reduced by 20 percent from two years ago — could be the most consistently provocative ever. Just as exciting is the news that the percentage of films directed by women is — wait for it — 46. Is full parity in sight?
We've managed to see some — though nowhere near all — of the most touted films. We're not going to mention the few we thought weren't up to snuff, only the cherce. We're also listing some features we've heard are extra-special but can't vouch for personally. As usual, caveat emptor.
But don't be mad if you shell out for something that turns out to be a big-swing-and-miss. Festivals aren't just meant for seeing next year's Oscar nominees in advance. They're for seeing films that get not much (in some cases no) distribution but still enrich our collective moviegoing experience. Plus, you can stay for a Q&A and share your opinion with the filmmaker. But be kind. It's a charged environment.
Don't forget, too, that the festival is a veritable World's Fair in demonstrating the latest in Virtual Reality Narratives (Cinema 360). There are talks, "master classes," and anniversary retrospectives of Schindler's List (with the stars and Steven Spielberg), Scarface (Al Pacino and Brian DePalma), and the wonderful, underseen 1992 Alexandre Rockwell comedy In the Soup with Steve Buscemi as a poor NYC screenwriter.
Dead Women Walking
Hagar Ben-Asher's drama depicting the stages leading up to the execution of women on death row is occasionally heavy-handed, more often heart-rending, and always superlatively acted by a cast that includes Dale Dickey, Dot Marie Jones, Lynn Collins, Colleen Camp, June Carryl, and Ashton Sanders. It's like a series of small plays — in which different condemned women (some victims of incest and abuse) and different sets of guards, fellow prisoners, family members, and spiritual advisers offer sympathy, tangible help, or, in some cases, the opposite of those things. Ben-Asher's first "playlet" takes place more than 24 hours before an execution, but each comes a little closer in time until we enter the death chamber itself. You'll hear lots more about this movie. It's ferociously powerful. —DE
Disobedience
The love that dares not speak its name, especially among Orthodox Jews. Rachel Weisz is the daughter of the community's most revered rabbi who left the fold and returns on news of her father's death, Rachel McAdams her former lover who sought religious counsel on the subject of her unorthodox sexual appetites and then married the rabbi's young disciple (Alessandro Nivola). The movie isn't packed with surprises — it's fairly tame. But the Chilean director, Sebastian Lelio (Gloria, A Fantastic Woman), is a specialist in portraying longings for connection that go against the prevailing social norms, and Weisz captures her character's divided existence in every gesture and expression. Above all we learn that while there's one set of laws handed down by God, there are so many fascinating ways of disobeying them.  —DE
Duck Butter
Alia Shawkat makes her writing debut alongside director and co-writer Miguel Arteta for this almost overwhelmingly intense romantic comedy. She and Laia Costa play two women who meet at a bar, hit it off, and then, in an effort to do away with the protracted bullshit of dating, decide to spend the next 24 hours together, sharing everything with each other and having sex on the hour. The madness and tenderness they share is manic, contagious, and exhausting. —EY
House Two
Not a horror sequel, but an Iraq war-crimes documentary that turns into a gripping, downbeat legal thriller. Michael Epstein sets out to cover the aftermath of a 2005 war crime in Haditha in which a Marine Corps raid on suspected insurgents — the target was designated "house two" — ended with the deaths of 24 unarmed civilians, among them a little girl shot point-blank in the eye in a bed. The staff sergeant who led the squadron claims to remember very little about the raid but ends up getting full blame — despite evidence (some of it suppressed) that subordinates who got full immunity for testifying committed the murders. I had to look away from the photos of the scene, which are graphic and heartbreaking. NB: The commander who signed off on the corrupt investigation and trial was current Secretary of Defense James Mattis, often referred to as the most competent and stable of Trump's Cabinet appointees.  —DE
Jellyfish
Or, the therapeutic value of insult comedy. James Gardner's story of a 15-year-old girl in a run-down British seaside community who has to earn money to take care of her younger siblings (her mum is an emotional wreck) is too on-the-nose but generally tough-minded and powerful. The girl, Sarah (the superb Liv Hill) has a fierce will and acid tongue, which inspires her drama teacher (Cyril Niri, a black man whose voice is uncannily like Oliver Reed's) to suggest she try stand-up. Don't worry, this is not A Star is Born: Joan Rivers Edition or even a sentimental tale like last years Patty Cake$. It's bitter and sad, with a good, unresolved ending. Sinead Matthews's portrait of the mother — attractive, sometimes exuberant, and madly self-centered — is a true original.  —DE
Love, Gilda
A smart, somewhat melancholy documentary by Lisa D'Apolito about Gilda Radner and the roots of her high-strung but lovable comic persona. It's constructed around interviews (archival with Radner, contemporary with Paul Shaffer, Martin Short, Chevy Chase, and Lorne Michaels); excerpts of Radner's autobiography (It's Always Something); and passages from her private diary — some of them on the subject of her bulimia, some on her struggles to find love. (Did you know she was involved with every major guy in Ghostbusters except Rick Moranis?) The footage of her work on SNL and in other venues has an emotional charge that feels electrifyingly present-tense. —DE
McQueen
The late designer Alexander McQueen was a revolutionary presence in the fashion world, and this new documentary goes behind-the-scenes of his tortured, brilliant career. Combining backstage footage of some of his most memorable fashion week presentations (calling them "fashion shows" feels insufficient for the level of theatricality and intricacy McQueen was working at) and interviews with those who worked alongside him or simply admired him from the front row, director Ian Bonhôte creates a fittingly dramatic tribute to a legend of contemporary couture. —EY
Nico 1988
The Venice Film Festival award-winning feature by Susanna Nicchiarelli follows the iconic German singer and musician Christa Päffgen in the final years of her life, struggling with a heroin addiction and a rocky European tour and making amends with her son, Ari. Nicchiarelli mostly sidesteps Päffgen's documented virulent (and occasionally violent) racism; even so, it's hardly a flattering portrait, and Trine Dyrholm's performance is searing and forcefully unpleasant in a way we rarely see women on screen. —EY
O.G.
The Jeffrey Wright vehicle I've been waiting for. He plays Louis, an inmate — a murderer — who's about to get out after 24 years (the sentence was 60 but he behaved impeccably) but develops a gnawing, paternal attachment to a vulnerable new prisoner. The narrative is tidy and schematic, but the dialogue is fresh and Madeleine Sackler's direction is excitingly attentive to Louis's emotions and to the prison's chaotic crosscurrents. The best thing about Wright's performance is that it chafes against the character's wisdom and basic decency. His Louis is still edgy and challenging, his fate both in prison and on the outside — should he get out — a question mark. The good supporting cast includes William Fichner as the hardass but sympathetic warden. —DE
Ryuichi Sakamoto: Coda
There are plenty of artist biography documentaries on offer at Tribeca, but this Venice-vetted late-career portrait of Ryuichi Sakamoto is one to highlight. Director Stephen Schible spent countless hours with the genius composer after his diagnosis with throat cancer, while he worked on the opus that may be his last. Eschewing interviews and commentary and letting the artist — both in the studio and in his activist efforts following the Fukushima nuclear disaster — speak for himself, Schible's film is deceptively simple and intimate in its approach. —EY
The Feeling of Being Watched
The title of Assia Boundaoui's first-person investigative doc plainly evokes life in an Arab-American neighborhood outside Chicago, where the FBI has been a presence for decades. Not an entirely secretive presence, either. Boundaoui's thesis is that — as with the open plan "panopticon" prison — the ruling power's intent is to let the people know in ways subtle and obvious that they're being watched. But the extent of the program — which she learns through Freedom of Information Act requests — and the fanaticism of the agent in charge shocks even her. —DE
The Miseducation of Cameron Post
The big winner at this year's Sundance Film Festival stars Chloë Grace Moretz as an orphaned teen caught having sex on prom night with another girl and sent off by her fundamentalist Christian sister to a facility specializing in "conversion therapy." If Vice-President Mike Pence had produced the film, she'd come out ready for Stepford, CT, but Desiree Akhavan's adaptation of Emily M. Danforth's novel homes in on both the absurd — at times laughable, as in a satirical comedy — attempts to instruct kids that their desires aren't natural and the devastating, in some cases tragic consequences. Jennifer Ehle is the truly frightening Nurse Ratched figure, John Gallagher, Jr. a "convert" who's now a passionate — and not unsympathetic — instructor. —DE
The Party's Just Beginning
The ascendant Karen Gillan (Guardians of the Galaxy, Dr. Who) wrote, directed, and stars in this darkly humorous, intensely sad, belated-coming-of-age film. After her best friend takes his own life, Lucy (Gillan) is determined to drink, smoke, and casually sleep her way through life in her small, depressing Irish town. But due to her phone number being one digit off from the local suicide hotline, she strikes up a friendship with a struggling stranger, and forms a bond with another would-be random hookup (Lee Pace); both help to point to a way forward. —EY
The Rachel Divide
The Rachel of Laura Brownson's fine, nuanced, intimate doc is Rachel Dolezal, the bronzed, dreadlocked head of the Spokane, WA, branch of the NAACP who became a national laughingstock — and drew the ire of many — when she was exposed as being white and then maintained that "race is a construct." Brownson talks to Dolezal's fiercest critics and doesn't shy away from the idea that her subject might be a nut. But as you learn about her physically and emotionally abusive religious-fanatic parents who adopted and then beat black children — her true siblings — you come to understand how she fashioned her unique identity. You come away feeling for Dolezal amid the relentless ridicule and abuse as well as for her children, who are like fellow prisoners. Highly recommended. —DE
Tully
To be honest, I'm an anti-fan of Juno and Young Adult, the other collaborations of director Jason (son of Ivan) Reitman and screenwriter Diablo Cody. This one starts shakily — with too self-conscious quips and condescension toward the characters — but gets better and deeper as it goes along and becomes impressive. Charlize Theron is Marlo, the new, barely middle-class mother driven nearly insane by the arrival of her third child combined with the general uselessness of her husband (Ron Livingston). The vivid Mackenzie Davis is Tully, the "night nanny" hired by her Marlo's rich brother (Mark Duplass) to mind the infant while Marlo sleeps. What passes between them is offbeat to the point of eeriness, and the end made me think — in a good way — of The Babadook, in which demonic presences can lead to healthy emotional accommodations. Recommended. —DE
United Skates
This one's for any '90s kids who ever couples-skated to "All My Life." This atmospheric documentary tracks the slow decline of the American roller rink, once a buzzing, bustling locus for youth culture and hip-hop culture, now a nearly extinct industry. Directors Tina Brown and Dyana Winkler follow an activist group who mount a last stand to save their local rink, and in the process show the extent of what we stand to lose when hangouts and meeting places are taken away from a community. —EY
Zoe
Drake Doremus, director of many a heady relationship drama, continues to explore a sci-fi approach to love and romance with this follow up to 2015's Equals. Ewan McGregor and Léa Seydoux play researchers working at a lab that has developed technology to simulate the feeling of falling in love, but then decide to see what the real thing feels like. Sounds like a great Black Mirror pitch, but expect more steaminess than apocalyptic proclamations from Doremus and his (as always) very attractive leads. Christina Aguilera also co-stars, one of the more intriguing co-billings of the festival. —EY
Unseen, But We've Heard Good Things About (fiction): a new version of Chekhov's The Seagull with Annette Bening and Saoirse Ronan; Little Woods, Nia Da Costa's North Dakota thriller starring Tessa Thompson, Lily James, and Lance Reddick; The Night Eats the World, French director Dominique Rocher's tale of a man who wakes up after a blowout party to find himself alone among zombies (one of several zombie movies at Tribeca!). —DE
Unseen, But We've Heard Good Things About (doc): Liz Garbus's closing-night series The Fourth Estate, which explores the novel ways that New York Times journalists have to cover a threat like Donald Trump; Blowin' Up, Stephanie Wang-Breal's study of an experimental Queens program offering women facing prostitution charges "a chance at redemption"; Phantom Cowboys, in which Daniel Patrick Carbone follows different boys over a decade in "forgotten industrial towns across America"; and When Lambs Become Lions, Jon Kasbe's not-unsympathetic, fly-on-wall portrait ivory poachers in Kenya. In a class by itself is Horses: Patti Smith and her Band, a documentary of Smith's 40th anniversary tour of her seminal masterpiece, followed by a concert. —DE