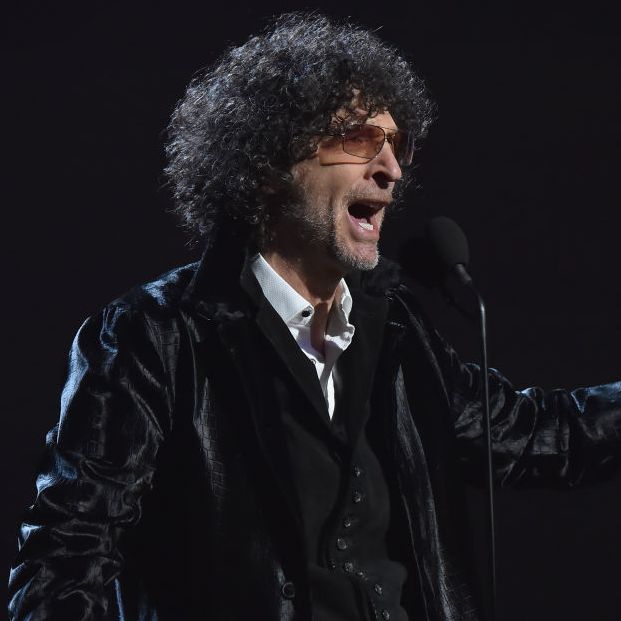 Howard Stern.
Photo: Kevin Mazur/2018 Kevin Mazur
Last year we had Dave. And now, Howard.
Bon Jovi were the first of six artists to be inducted into 2018's Rock and Roll Hall of Fame on Saturday night in Cleveland, and Jon Bon Jovi himself managed to wrangle the famously travel-averse Stern into getting to the Midwest to induct the band. ("He was my first, my only choice," Jon later said in his speech, "to induct us tonight.") Stern barely cracked a joke and meticulously listed off Bon Jovi's discography from start to finish before calling it a night. Just kidding! In a surprise to nobody, he brought his comedic A-game to the festivities and gave what few would question as the most amusing speech of the evening, finding a way to seamlessly weave his genuine admiration for the band with raunchy anecdotes that were, until now, presumably behind-closed-doors secrets. To wit, he was particularly forthcoming about his longtime pal Richie Sambora.
"One of the greatest guitar players in the world. Masterful songwriter. And, you know this is true, the man with the biggest penis in Bon Jovi," Stern mused to the ecstatic crowd. "There was a contest early on, Richie won, but I don't wanna get into the anaconda penis discussion. This isn't the right time for that. We're going to be inducting Richie in the Penis Hall of Fame next week. You realize that Mr. Richie Sambora single-handedly considered it his mission to help women who could not get dates to feel better about themselves. Over the years, he helped women like Heather Locklear, Cher, Denise Richards. I always said it's a good thing that Richie had a thing for pretty blondes with blue eyes and a nice ass. That's what motivated him to team up with Jon in the first place." In fact, Stern and Sambora had some personal penis experiences together back in the day: "In 1987, I was on a date with Richie Sambora. We met the hottest chick and had a threesome. That's how close we get."
Ever the loyal fan of the band, Stern couldn't help but get a little feisty about Jann Wenner, co-founder of the Rock Hall and Rolling Stone founding editor, for being late to the Bon Jovi train:
Now, on the other side of the zombie apocalypse, Jann Wenner finally let Bon Jovi into the Rock and Roll Hall of Fame. Way to go Jan, Jonny, John, Jann, whatever the fuck your name is. Anyway, Jann, you did it. You finally gave this fantastic band their due. Now, for those of you who don't know, Jann is the man in charge, but I'm not sure why. This guy doesn't play a musical instrument, he doesn't have a band, but he did start a great magazine, Rolling Stone. Yeah. And now it's the size of a pamphlet, what a business plan, way to go. I read it in about 30 seconds backstage. Now, Jann required years of pondering to decide if this glorious band that sold over 130 million albums could be inducted. What a tough decision! Gee, I don't know if I should let Bon Jovi in? 130 million albums, that's not such a big deal.
If you need an idea as to what exactly 130 million means, don't worry, Stern has crunched the numbers. It means a lot:
Now, the bubonic plague only killed 50 million people. The atom bomb only killed 225,000 people. 625,000 died in the Civil War. Peanuts compared to 130 million. Anybody wanna hear about the AIDS epidemic, or …? But you see, even with all this talk of death and destruction, I'm making a point, and my point is that 130 million is ridiculously big. Try to look at it this way: The average amount of sperm in one ejaculation is only 100 million. Bon Jovi beat sperm, ladies and gentlemen! Let me tell you something. Leonard Cohen used to sit at home beating off at night thinking about selling 3 million albums, let alone 130 million.
Stern eventually relented on the jokes for a bit, noting how much of a genuine honor it was to finally see Bon Jovi's "dream realized" by getting into the Rock Hall. (In the past, Jon had been vocally harsh about the years and years of the Hall's snubbing.) And for that, Stern only has four simple words to leave people with who question their musical legacy: "Eat shit, Bob Dylan!"