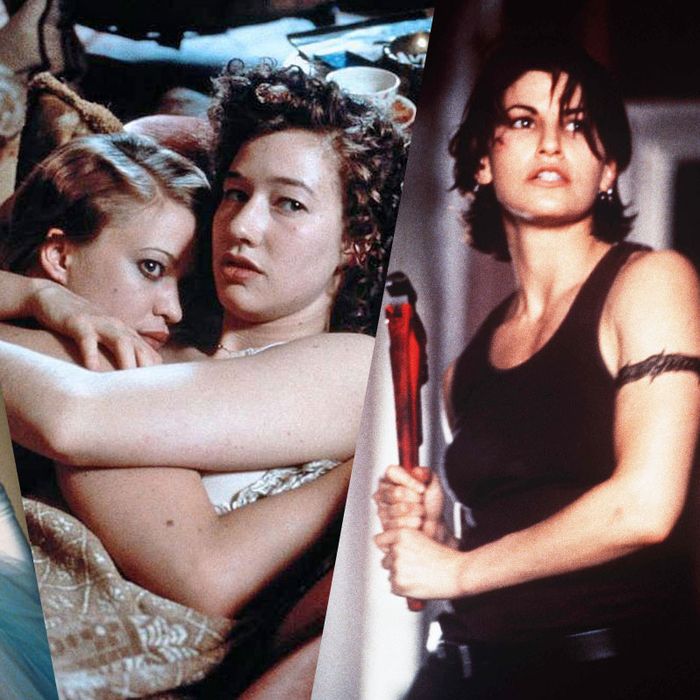 Photo: HBO/Zeitgeist Films/Gramercy Pictures
This past weekend at the box office was particularly gay. Love, Simon was still playing at theaters across America, and it was joined by Disobedience — which tells the story of two women finding love and comfort with each other in an Orthodox Jewish community — and Duck Butter, an indie dramedy about a pair of millennial ladies who endeavor to pack an entire relationship's worth of experience into a single 24-hour stretch. (Not to mention, the Marvel big bad Thanos took over over Earth in hopes of obtaining a collection of fine jewelry.)
In celebration of all this queerness, Vulture has assembled a list of 40 essential lesbian love stories from around the world: movies that will make you laugh, make you cry, and then make you cry so violently you want to throw up. We're exaggerating, of course — only some of these movies end in horrible tragedy. But all of them will hit you right square in the heart.
Mädchen in Uniform (1931)
Imagine! A lesbian love story made in the 1930s! Mädchen is arguably the first "lesbian film," and it's about a teenager named Manuela (Hertha Thiele), who's sent off to boarding school after the death of her mother, and is coaxed out of her grief by the alluring young teacher, Elizabeth von Bernburg (Dorothea Wieck). But it becomes a school-wide scandal when Manuela's attraction to her teacher turns romantic.
The Killing of Sister George (1968)
You have to give it up for the legacy lesbian movies. In Sister George, Beryl Reid plays June "George" Buckridge, a domineering TV actress in danger of losing her high-profile gig on a popular show while she also endangers her relationship with her younger live-in girlfriend, Alice (Susannah York), by being cruel and abusive. It's not a flattering presentation of lesbian life, but it is indicative of how women who desired women were viewed at the time.
Desert Hearts (1985)
In this period piece set in 1959, an English professor named Vivian (Helen Shaver) divorces her husband and sets out for the West. While set up in Reno, Nevada, she meets Cay Rivvers (Patricia Charbonneau), who draws Vivian out with her boldness and her big personality. The 1980s were still early for lesbians on film, and Hearts was notable for not portraying the lead characters as awful people or subjecting them to terrible torment. How nice!
The Incredibly True Adventures of Two Girls in Love (1995)
True Adventures has so many of the staples of a great teen coming-of-age movie. It centers on two kids with disparate upbringings, one who's pretty and gets good grades, the other viewed as too alternative and doesn't much care for school. There are family complications and small-town gossips to contend with — and there also happens to be annoying institutional bigotry that makes being young and gay and out a tall order. The movie is definitely canon for L Word fans, as it stars Laurel Holloman as the tomboyish Randy.
The Watermelon Woman (1996)
The 1990s were such a precious time for gay films. Indie cinema was at its peak, and we were still romanticizing working at video stores. Cheryl Dunye wrote, directed, and starred in this movie about an aspiring filmmaker who becomes fixated on learning more about an actress from the 1940s known as the Watermelon Woman. As she researches, she meets and starts a relationship with Diana (Guinevere Turner), which creates friction between her and her close friend, Tamara (Valarie Walker). It's an important black lesbian film with a main character that seeks to do exactly what the writer and director intended to do by making The Watermelon Woman: bring stories about gay, black women into the light where they'd been previously pushed into the dark.
Fire (1996)
Deepa Mehta wrote and directed this pioneering work of queer Indian cinema, which concerns two women who retreat from loveless straight marriages and head directly into each other's loving arms. It's not so simple as that, of course, as cruel men, religious zealotry, and fear of sexual taboos stand in their way. (That, and it's a really complicated family dynamic, considering they're sisters-in-law married to a pair of brothers.) Upon its release in India, Fire was protested, and theaters that played it were vandalized. But the women, as they do, persisted, and the movie is now a landmark in Bollywood cinema.
Bound (1996)
Before they made The Matrix, the Wachowski siblings made Bound, a crime drama about a gangster's girlfriend (Jennifer Tilly as Violet) and an ex-con turned contractor (Gina Gershon as Corky), who become lovers and hatch a plan to free Violet from her dangerous boyfriend, Caesar (Joe Pantoliano). Witness the certification of a gay icon's legacy in Gershon.
All Over Me (1997)
Come through riot grrrls! All Over Me has a welcome twist: It's a movie partly about a murder that doesn't actually involve one of the lesbians at the center of the story. The narrative revolves around Claude (Alison Folland), a teenage girl in Hell's Kitchen who starts figuring out her sexuality when she falls for her best friend, Ellen (Tara Subkoff) — and it would all be much less complicated if Ellen wasn't dating Mark, who may or may not be involved in the death of one of Claude's neighbors. If you aren't yet satisfied by this movie's gay credentials, you'll revel in the Ani DiFranco and Sleater-Kinney powered soundtrack.
Show Me Love (1998)
An alternate title for this movie is Fucking Åmål, but since it's Swedish and so is the pop icon Robyn, it's almost more fun to think of it as Show Me Love. The story centers on two teens living in the town of Åmål. Agnes (Rebecka Liljeberg) is shy and a rumored lesbian (you know, the classic Alleged Lesbian type), and Elin (Alexandra Dahlström) is a popular girl with a dull life. Fortunately for both, love awaits — but not before the extroverted girl cons the introverted one with a cruel prank. There's also the standard "boy she has to lose her virginity to in order to prove something" character, because in lesbian movies, the most important function men serve is proving their obsolescence to women!
High Art (1998)
You didn't think you'd get through this list without seeing Lisa Cholodenko, did you? For High Art, she brings together Radha Mitchell as Syd and Ally Sheedy as Lucy Berliner. Syd is an ambitious aspiring photo editor at a magazine, and Lucy is a once-famous photographer who lives in the same building as Syd. They've both got baggage, Syd with her boyfriend (ugh), Lucy with her heroin-addled girlfriend (Patricia Clarkson!), but can they deny the allure of such a powerful physical and creative attraction? You bet they can't! See also from Cholodenko: Laurel Canyon and The Kids Are All Right.
Gia (1998)
In her younger years, Angelina Jolie made a habit of playing women who were devastatingly compelling, and constantly on the edge of shattering. Even though she won her Oscar for Girl, Interrupted, no character so fully embodied that wild volatility as Gia Carangi, a real model from the 1980s who rocketed to global fame before a heroin addiction tore her down and she eventually died of AIDS. Gia looked for love and fulfillment in so many of the wrong places, but was too far gone to take refuge in the loving relationship she did have with her girlfriend Linda (Elizabeth Mitchell). You may never truly recover from the closing scene.
Aimée & Jaguar (1999)
If it's been too long since you tried to cut your own heart out with a dull knife, watch Aimée & Jaguar, which, in addition to being a tragic love story, is set amid the Holocaust. Lilly (Juliane Köhler) is a model Nazi wife and mother, until she meets and falls in love with Felice (Maria Schrader), a Jewish woman trying to avoid capture by Hitler's army. You know where this is going. The movie is based on the book by Erica Fisher, which was written from actual accounts given to the author by the real Lilly Wust.
But I'm a Cheerleader (1999)
When you reach the summit of American lesbian cinema, there is one movie waiting for you: Jamie Babbit's But I'm a Cheerleader, starring Natasha Lyonne as a good girl on the spirit squad who, after an intervention by her family and friends, is shipped off to a conversion camp called True Directions to get the gay coached out of her. Obviously, Clea DuVall and Melanie Lynskey co-star, and RuPaul plays the camp's most devoted alumnus and counselor, Mike. It's campy. It's candy-colored. It's a classic.
If These Walls Could Talk 2 (2000)
Who else out there started examining their personal truth while sneak watching ITWCT 2 on HBO late night? The first If These Walls was based around the theme of abortion, but the sequel delves into three stories of three different lesbian couples living in different decades. There's death (obviously). There's adoption. There's lesbian activism. And there's that kiss with Michelle Williams and butch Chloë Sevigny, after which Williams shouts "big scary lesbiaaaaans!" at a guy taking out his trash. Sharon Stone, Vanessa Redgrave, and Ellen DeGeneres also co-star, so, it's iconic.
Lost and Delirious (2001)
You thought there wouldn't be a movie on this list set at an all-girls boarding school? If you're a little white girl who's queer and questioning, what better dream to dream than being the new girl at private school (this makes you Mischa Barton) with cute roommates who welcome you into their open-minded and progressive roommate relationship (those girls are Jessica Paré and Piper Perabo)? The fantasy stops, however, when the two young lovers are torn asunder by prejudice and the pangs of being a teen in a space not safe for young queers. Things get tragic, but would you believe there's also some falconry and a girl stabbing a guy with a sword? What a time!
Kissing Jessica Stein (2001)
A treasure of the aughts, Jessica Stein is about two women who need more in their lives — in particular, they need more than men have proved capable of providing to either of them. Screenwriter Jennifer Westfeldt stars as Jessica, and Heather Juergensen plays opposite as Helen Cooper. It's a coming-out and coming-of age movie, but one that's about adults who are learning to navigate the lines between friendship and romance. It's a little soft on dealing with the harder realities of being gay (or maybe worse on this list: realizing you do like men after all), but it's an important entry in the lesbian cinema canon for presenting same-sex relationships positively before that was cool — and also for not killing people or charging them with crimes.
Saving Face (2004)
You say you want a love story about two Chinese-American women — one a surgeon and one a dancer — battling against familial pressures to make it work, that is also produced in part by Will Smith? Why, yes, we have that! Saving Face is about Wil (Michelle Krusiec) and Vivian (Lynn Chen), two ladies brought together by unexpected attraction, pushed apart by diverging life paths, and then — well, it would be rude to spoil the end, but just get ready to dab your eyes.
D.E.B.S. (2004)
Discipline. Energy. Beauty. Strength. No list of lesbian love stories would be complete without some schoolgirls who are also secret government agents, duty bound to apprehend a baddie (Jordana Brewster) who has a love thing burgeoning with one of the D.E.B.S. assigned to bring her down (Sara Foster). This all-star cast also includes Devon Aoki, Meagan Good, Jimmi Simpson, Michael Clarke Duncan, and, drumroll please … Holland Taylor.
My Summer of Love (2004)
Did you know that two years before The Devil Wears Prada, Emily Blunt made her feature film debut in a dramatic thriller where she played the "bad influence" love interest of a girl seeking to get out from under the thumb of her born-again preacher brother? This movie has a boarding-school plot, nefarious seduction, lies, betrayal, sexual discovery, and more. It also won a BAFTA for Best British Film!
Imagine Me & You (2005)
The reviews for Imagine Me & You are not great, and that is frankly ridiculous. This sweet little love story stars Piper Perabo as Rachel, a woman happily engaged to a very nice man named Heck (Matthew Goode), but who only realizes what true love is for the first time after meeting the utterly charming Luce (Lena Headey). So many lesbian romance films involve death and tragedy and separation by the patriarchy or other horrible circumstances, but Imagine is just a movie filled with nice people doing their best. Life is complicated enough. There doesn't need to be a bad guy making everything worse.
Water Lilies (Naissance des pieuvres, 2007)
Writer-director Céline Sciamma makes very good queer movies, and her first was Water Lilies. It centers on two teenage girls coming into their own over the course of one summer in a lazy French suburb. Maria (Pauline Acquart) is eager to join the local swim team, but it's only because she fancies Floriane (Adéle Haenel), a girl with a misplaced reputation for being easy. Things are made more complicated when the affections of Anne (Louise Blachére) are added to the mix. There's so much French ennui and some heaping helpings of bisexual lighting. See also: Sciamma's Tomboy and Girlhood.
The Secrets (Ha-Sodot, 2007)
Nothing lifts up a lesbian love story like repressive religious upbringings. In The Secrets, Noemi (Ania Bukstein) is the devout Orthodox Jewish woman who develops feelings for Michelle (Michal Shtamler) when the two meet at seminary school. The two also meet an ill foreign woman named Anouk (Fanny Ardant), who they try to cleanse through Kabbalah. It's a whole cultural journey, and you should take it.
Itty Bitty Titty Committee (2007)
Somehow, Itty Bitty Titty Committee was made in 2007, even though it looks like it was found in a time capsule from 1996. Writer and director Jamie Babbit is a lesbian film legend thanks to But I'm a Cheerleader, but Itty Bitty is her kooky, endearing follow up to that gay masterpiece, and it stars Melonie Diaz as Anna, an 18-year-old girl who finds her inner activist after being recruited to a group called the C(i)A, or: Clits in Action. How lesbian is this movie? It's got Daniela Sea, Jenny Shimizu, Clea DuVall, Melanie Lynskey, and one woman condescendingly asking another if she's read "the zine." You're already more gay just having read that.
Circumstance (2011)
If there is an emotional equivalent to getting doored by a parked car, Circumstance is it. But why is it so crushing? Well, probably because it's about two young Iranian girls falling in love, and one of them has a brother falling further into the thrall of Islamic fundamentalism. Iranian-American filmmaker Maryam Keshavarz delivers something beautiful with Circumstance, but you're crazy if you think this has a happy ending.
Pariah (2011)
Writer and director Dee Rees came on the scene as a force with her feature film debut, Pariah. The beautifully shot story focuses on Alike (Adepero Oduye), a Brooklyn teen who is embracing her lesbian identity and looking for her first lover while taking heavy pushback from her mother about her masculine style — which obviously betrays her closeted sexual preferences. It is one of the highest-profile — if not the highest-profile — black queer films of all time.
Codependent Lesbian Space Alien Seeks Same (2011)
If you've ever wondered what a send-up of lesbian relationship dynamics would look like if you made it a micro-budget sci-fi movie that pays homage to the films of Ed Wood, you now have your answer: Codependent Lesbian Space Alien Seeks Same. Watch and enjoy the misadventures of Zoinx (Susan Ziegler) as she looks for love among Earthlings while being pursued by Men in Black–esque agents who know she doesn't belong on this planet.
Cloudburst (2012)
Regardless of what pop culture tells you, lesbians aren't just curious 20-somethings or angsty teens. They're also old women! In the case of Cloudburst, they're Olympia Dukakis and Brenda Fricker, playing a gay couple who set out on a road trip after Fricker's character, Dotty, is moved to a nursing home by her granddaughter. Screw assisted living! These two are bolting for Canada so they can finally get married. You're never the wrong age to pull a noncriminal Thelma & Louise and live free.
Stud Life (2012)
Trans filmmaker Campbell X wrote and directed this drama that concerns two love stories, one between a butch lesbian named JJ (T'Nia Miller) and her best friend (Kyle Treslove as Seb), and the other between JJ and her hot new girlfriend (Robyn Kerr). Stud Life evokes the raw indie vibe of 1990s cinema, and in the best way possible, it's just extremely queer — made to connect with the communities it concerns, and free of self-conscious pandering to a broader audience.
Concussion (2013)
The refreshing thing about Concussion is that no one's mad at anyone for being gay. (Tip: Don't confuse this with the Will Smith movie called Concussion about brain injuries in the NFL.) Robin Weigert stars as Abbey, a woman who, after taking a blow to the head and sustaining a concussion, decides she's had it with her humdrum life and starts stepping out on her wife to secretly work as a call girl named "Eleanor." Are there any men of consequence in this movie? What are men? I only see Robin Weigert serving up Julianne Moore domestic malaise realness.
Blue Is the Warmest Color (La vie d'Adèle, 2013)
Lead actresses Adéle Exarchopoulos and Léa Seydoux give it their absolute all in this Palme d'Or winner, in which Exarchopoulos's teenage Adéle falls for an older woman in Seydoux's Emma, and the two embark on a tortured journey of lust and love over the next three hours. The sex scenes are visceral and intense, but are still somehow outmatched by the yearning Exarchopoulos is able to convey in her eyes. Be prepared to feel everything.
The Duke of Burgundy (2014)
Finally, a movie for the lesbian entomologist set seeking dom/sub representation on screen. Evelyn (Chiara D'Anna) is studying lepidopterology under Cynthia (Sidse Babett Knudsen). She also works as her maid, and is sometimes made to sleep in a trunk at the foot of Cynthia's bed if she fails to complete her duties adequately. Their highly choreographed relationship is a fascinating, sexy, and strange look at sexual power dynamics, and the opulent home Cynthia lives in makes for one hell of a stage for the movie to play out on.
Margarita With a Straw (2014)
Written, directed, and produced by Indian filmmaker Shonali Bose, Margarita centers on Laila (Kalki Koechlin), a teenage girl with cerebral palsy who takes a scholarship to attend New York University for a semester. During her time abroad, she falls for a blind activist named Khanum (Sayani Gupta). That's all nice and lovely, but Laila comes from a conservative religious family, and they're not quick to embrace the truth of her heart. Also, there's a terminal illness, but we won't spoil who has it!
Carol (2015)
Even if it's really easy to make fun of that awful lunch order of creamed spinach with a poached egg, Carol is an otherwise exquisite movie from director Todd Haynes, based on the book The Price of Salt by Patricia Highsmith. Rooney Mara plays Therese Belivet, a mousy shopgirl who manages to bewitch the classy and confident (and semi-closeted married woman) Carol Aird (Cate Blanchett). It's set in the 1950s, so everything is stunning in a mid-century modern kind of way, and both Blanchett and Mara give moving performances as two women desperate for one another but who are bound by societal mores. Thankfully, Sarah Paulson is also present as the sage, swaggering lesbian who's on hand to help everyone else keep their shit together.
Bessie (2015)
Queen Latifah's best performance as a gay woman will forever be in Set It Off, but her turn as blues legend Bessie Smith is pretty great, too. The biopic from writer-director Dee Rees chronicles Smith's financial and personal highs and lows throughout her life and career, which includes the relationship she had with her lover Lucille (Tika Sumpter). Smith ultimately settled down with a man, Richard Morgan (Mike Epps), but the movie puts into focus the racism, sexism, and colorism she confronted as a bisexual woman in the course of becoming an icon.
The Summer of Sangailė (2015)
If you're still ruminating on the sun-soaked beauty of Call Me by Your Name and jonesing for another immersively soundtracked gay teen story, seek out The Summer of Sangailė. This Lithuanian entry stars Julija Steponaityte as Sangailė and Aistė Diržiūtė as Austė, two teens who, over the course of a summer, fall in love, fly in single-engine planes, make each other feel beautiful, and also stare down tough challenges like strained family dynamics and self-harm. Also, Air provides the score, so get ready for a whole vibe.
The Handmaiden (2016)
With The Handmaiden, Park Chan-wook delivered the greatest Shakespearean lesbian love story and long-con crime-caper period piece ever made. Like all movies from the auteur, Handmaiden is dark and funny and occasionally brutal and smart and devastatingly beautiful. Kim Tae-ri and Kim Min-hee star as a pair of women who have too long lived under the rule of men, and while the two meet each other as marks in a scam, they come together as coconspirators in a most surprising way.
Lovesong (2016)
This is for all the "I'm secretly but obviously in love with my best friend!" gays out there. Lovesong is an almost painfully understated movie that stars Riley Keough and Jena Malone as besties who become estranged after things like life and kids and marriage to subpar men get in the way. But when they reunite on the occasion of one getting married, it gives them a chance to realize affections that have been long-since buried. Keough and Malone are great Intense Actresses, and they work every inch of Lovesong's claustrophobically tight close-ups.
Princess Cyd (2017)
Don't you want to know why Princess Cyd earned a spot in Emily Yoshida's top-ten films of the year from 2017? Jessie Pinnick is Cyd, a girl spending the summer with her novelist aunt who meets and begins a relationship with a local barista named Katie (Malic White). The focus on intimacy is twofold in Princess, with Cyd and Katie exploring each other as Cyd and her dear aunt deepen their relationship while relating about love and life. As Yoshida says, "It feels more tapped into human nature at its best than most films ever have the patience for."
My Days of Mercy (2017)
Ellen Page is great for an extremely sad lesbian love story (exhibit A: Freeheld), and My Days of Mercy finds her starring opposite Kate Mara in a really sad context. Page is Lucy, the daughter of a man about to die on death row, and Mara is Mercy, a woman who she meets at an anti-death-penalty vigil. Mercy and Lucy are on opposite sides of the issue, and it's all further charged by the fact that Mercy might be able to offer legal advice that could either save Lucy's dad or condemn him to death in prison. Maybe Israeli director Tali Shalom-Ezer was worried lesbian dramas had lost their edge and needed higher stakes again!
Thelma (2017)
You know what we need more of? Sci-fi-tinged lesbian romances that also double as quiet superhero origin stories. That's what you'll find in Thelma, a Norwegian drama about a sheltered girl (Thelma, played by Eili Harboe) trying to find her way in college when she is knocked sideways by the beautiful and outgoing Anja (Kaya Wilkins). Not only was Thelma raised to be codependent with her parents, she was also raised as a fundamentalist Christian, which does not jibe at all with realizing you're probably gay. Then there's the additional wrinkle: Thelma has telekinetic powers that are emerging alongside her sexuality, and increasing in power beyond her ability to control. Best premise ever, or best premise ever?