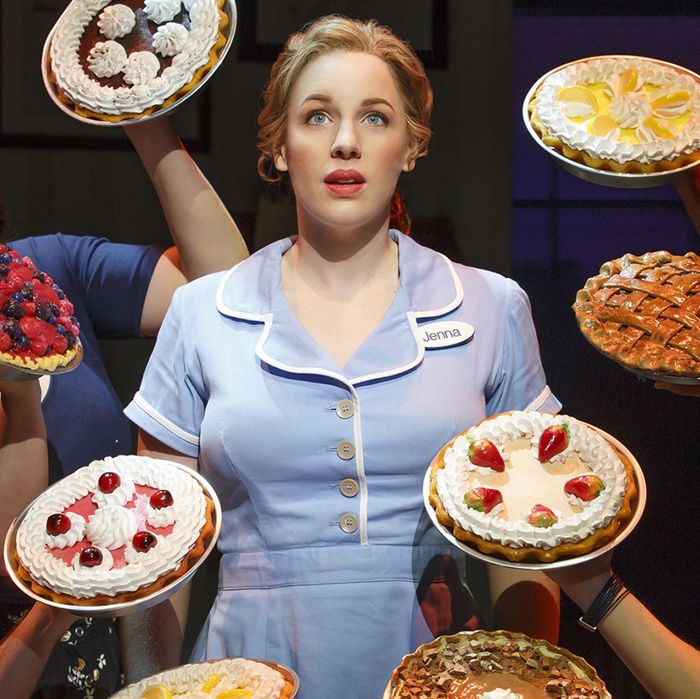 One of the Jessies, in
Waitress.
Photo: Joan Marcus
Performers of the kind whose names run above the title on Broadway musicals often have a signature — an idiosyncrasy, some way of essentially playing themselves. Jessie Mueller's performances diverge to the extent they seem to come from different people. She's played characters drawn from everything from farce to biography, and sung music that ranges from scatting to balladry.
In Carousel, opening April 12, Mueller plays the innocent Julie Jordan, who falls for the rough Billy Bigelow. One question hanging over the revival is how audiences will react to the way Julie loves Billy in the face of his violence; Mueller insists that Carousel is beautiful in that it doesn't give answers, saying "people get hung up on one moment, one line — the piece is about the scope of life." In playing Julie, she's had to adjust to a role written for a Rodgers and Hammerstein soprano, after singing pop in her two previous shows. We asked her to break down her many Broadway selves and explain how she got there.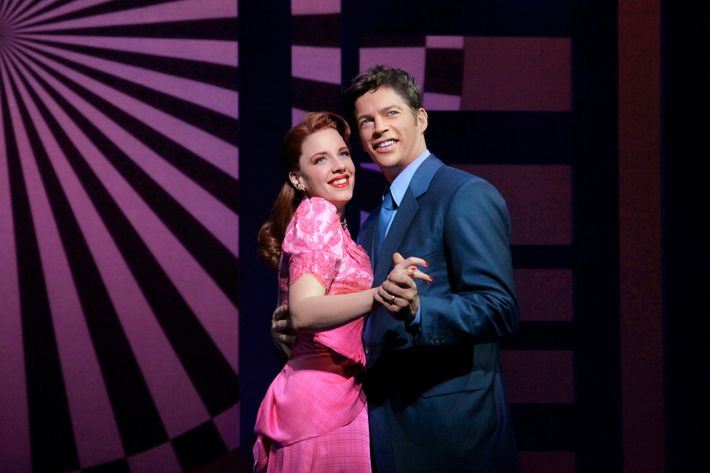 On a Clear Day You Can See Forever
December 11, 2011–January 29, 2012; Tony nomination
The character: Melinda, a jazz singer who's the past life of a male florist.
The music: Jazz standards and scat singing, some of it repurposed from the Fred Astaire film Royal Wedding.
How she made it work: It was her first show on Broadway after years in the Chicago theater scene, and Mueller says her co-star Harry Connick Jr. coached her on everything from her approach to phrasing to dealing with the pressure of opening a show. The fact she'd been a fan of his since high school also upped her game. "I had the person I wanted to impress most in the world in front of me every night."
The Mystery of Edwin Drood
November 13, 2012–March 10, 2013
The character: Nineteenth-century British actress Janet Conover, who's playing a quasi-Indian immigrant in the show-within-a-show.
The music: Music-hall farce, via pop songwriter Rupert Holmes.
How she made it work: The most striking aspect of Mueller's character is her accent, which, as she points out, is based not anywhere specific in Britain but on the blend of "the Victorian woman's accent and someone she had never met." Mueller and Andy Karl, who played her character's brother, developed the absurd result together, finding sounds they thought it'd be funny to emphasize and pushing each other to exaggerate them. "We still look back and think, We got paid for that?"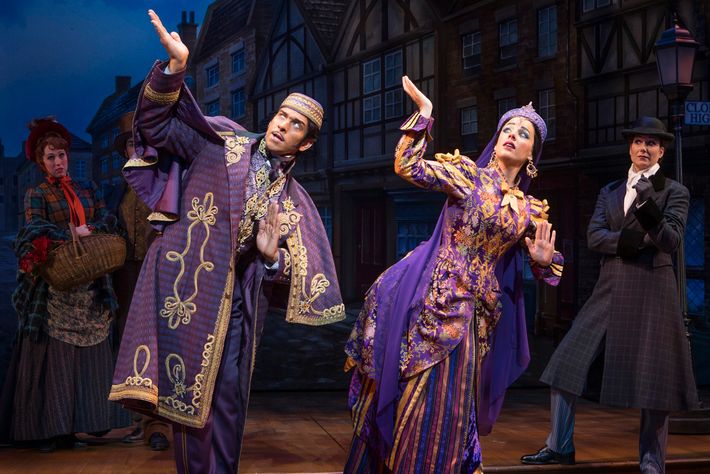 Beautiful: The Carole King Musical
November 21, 2013–March 6, 2015; Tony award
The character: Carole King.
The music: Carole King and her various collaborators.
How she made it work: Mueller read everything she could about King, mimicked her mannerisms and accent, and had to learn how to pretend to accompany herself on a silent piano. "Did I play every song perfectly? Absolutely not," she admitted. "It became more like choreography for me." She had to modify those moves once the show brought in the orchestra and she realized she'd need to fake only the piano line instead of trying (as a rehearsal pianist would, and as she had been) to reproduce the whole breadth of the score with big complicated chords.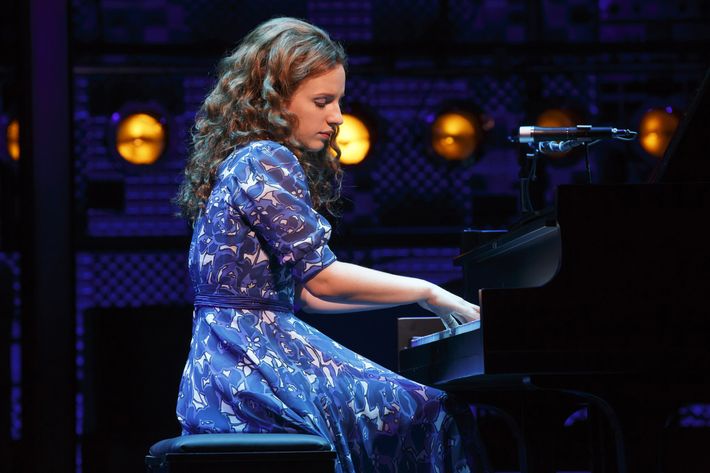 Waitress
March 25, 2016–March 26, 2017; Tony nomination
The character: Jenna, the waitress and pie maker, as seen in the 2007 film.
The music: Pop, written by Sara Bareilles.
How she made it work: "Sara's voice is inhuman," Mueller said, and since Bareilles wrote the musical's songs for her own range, they then had to figure out to make them fit Mueller. "It's like she has no break [between registers], and my break is in a very different place." For the eleven o'clock number "She Used to Be Mine," "we changed the key I don't know how many times, trying to figure it out."
Carousel
In previews for an April 12 opening
The character: Julie Jordan, mill worker and eventual wife of Billy Bigelow.
The music: Peak Rodgers and Hammerstein.
How she made it work: For Carousel, Mueller had to step away from pop singing, where every syllable can be exaggerated and emoted, to a more classic Broadway style, where "you approach more of the whole of the line, or the whole of the thought, rather than every single note." Mueller also learned from her co-star, the opera legend Renée Fleming, picking her brain on technique and paying close attention to how she breathes and projects. "The way she can manipulate her instrument is unlike anyone I've ever heard."
*A version of this article appears in the April 16, 2018, issue of New York Magazine. Subscribe Now!