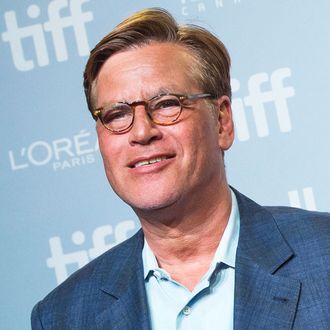 Aaron Sorkin.
Photo: Valerie Macon/AFP/Getty Images
It's no secret that NBC Entertainment chairman Bob Greenblatt would love to recreate some of the network's past television magic, even publicly pushing for reboots of beloved series like The Office, 30 Rock, and The West Wing. "I keep saying to him, 'Do you want to do The West Wing again, wouldn't it be great to do it?,'" Greenblatt said last August about his conversations with creator Aaron Sorkin. "He says, 'You know I love that show and some day I'd love to revisit it, but it's not going to happen right now.'" Well, as it turns out, some day may be coming sooner than you think … just as soon as Aaron Sorkin feels he has the right idea.
On Monday, the West Wing creator sat down for a live taping of The West Wing Weekly podcast, hosted by the West Wing's own Joshua Malina and film composer Hrishikesh Hirway. The pair played a message from series star Bradley Whitford, who asked, "Would you ever consider bringing some characters back?"
In response, Sorkin shared that his conversation with Greenblatt "nine months, a year ago" made him feel that NBC was interested in a reboot for more than just the ratings. "It was incredible, really, because it didn't seem to be a commercial pitch that he was making," Sorkin mused, referring to Greenblatt. "He was just so bummed out by the world."
As bummed as he might be, the NBC chair still left the perimeters of a potential West Wing reboot up to the show's creator. "I want you to do The West Wing again in some form," Sorkin recalls him saying. "You can do it for 9 episodes, 13 episodes. You do it with a different cast, the same cast." Sorkin concluded, "Incredibly, the show has a legacy. The last thing I would want to do is harm that, so if I can come up with an idea that doesn't feel like A Very Brady Christmas, if I can come up with an idea that works, then yeah." Well, good thing you've already got the idea, Aaron Sorkin. And the idea's name is President Sterling K. Brown.