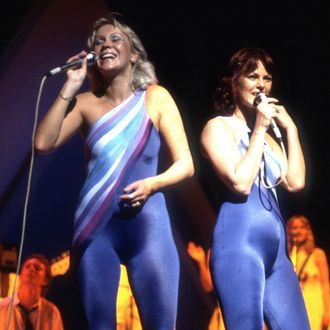 Mamma Mia!
Photo: Paul Natkin/WireImage
In news that we must surely have Cher to thank for, ABBA have announced their reunion after 35 years. It's technically got nothing to do with Mamma Mia! 2, so don't start fantasizing about a surprise Meryl Streep cameo on their new songs, but we'd also like to think it has everything to do with Mamma Mia! 2. Your fave Swedes will release new song "I Still Have Faith in You" in December, with a second new song to follow. In a statement, the group explained that they essentially got FOMO after announcing a virtual tour last year that'll feature all four members performing as digital avatars, not actually them in the flesh.
"We all four felt that, after some 35 years, it could be fun to join forces again and go into the recording studio. So we did. And it was like time had stood still and that we only had been away on a short holiday. An extremely joyful experience!" they wrote in a statement. "We may have come of age, but the song is new. And it feels good." The group's avatars will now perform "I Still Have Faith in You" on NBC and BBC specials later this year; meanwhile, Mamma Mia! Here We Go Again premieres in June, proving that their brand synergy is truly thriving.