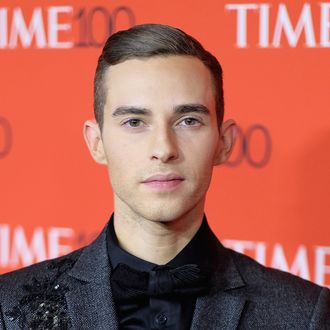 Rippon.
Photo: Dimitrios Kambouris/Getty Images for Time
Adam Rippon continues to live his best life in 2018. In the past couple of months, the Olympic figure skater has taken home the bronze medal in Pyeongchang (making history as the first openly gay U.S. athlete to win a medal at the Winter Games), gotten a new job competing on Dancing With the Stars, and become America's sweetheart. But on Tuesday night, at the Time 100 Gala, he was ready to gush about his latest dream-come-true — and he gave credit where credit was due.
In his toast, Rippon dedicated much of his speech to his mom, whom he refers to as "the person that inspires me." He said that it was her support that helped him achieve his greatness on and off the ice. He explained:
I'd like to raise a glass tonight to my mom and to all the moms out there who have helped their kids realize their true potential. I'm really able to be who I am very effortlessly. I met Nicole Kidman earlier tonight and she even let me smell her husband. If it wasn't for the words that my mom told me, "Never give up on your dreams," I would never have had that experience.
If only we could all have mothers who encouraged us to follow our noses to Keith Urban — or to work harder on landing a triple Axel.
Additional reporting by Trupti Rami.