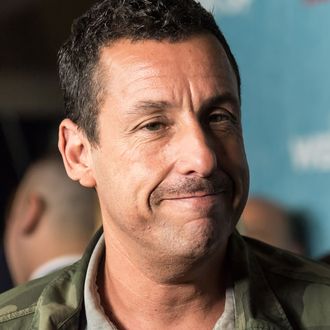 Photo: Gilbert Carrasquillo/FilmMagic
Adam Sandler filmed a comedy special in Austin, Texas on Tuesday, the first special of his own in over 20 years, which is set to debut on Netflix at some point in the future though no dates have been announced. The only thing we know for sure about the special is that Paul Thomas Anderson was involved, according to The Playlist.
Update: Per Netflix, the special was directed by Steven Brill, with a portion of Sandler's standup filmed by Paul Thomas Anderson.
Sandler and Anderson previously worked together on the 2002 film Punch-Drunk Love. Anderson has been nominated for eight Oscars, including 2017's The Phantom Thread, but he's also directed music specials in the past for artists like Radiohead, Fiona Apple, and Haim. In 2000, he directed a sketch for Saturday Night Live starring Ben Affleck. Sandler has been working on his stage show for the last couple of years, playing songs, telling jokes, and having his friends like David Spade and Rob Schneider drop in for appearances.
Netflix and Sandler signed a four-movie pact in 2014, then another in 2017. The two sides don't seem to be slowing down their partnership any time soon, especially if Sandler is bringing Anderson along with him for the ride.