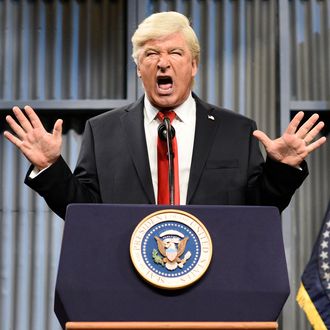 Baldwin as the president.
Photo: NBC/Will Heath/NBC
Don't show this to Lorne. Rob Schneider, who was a cast member on Saturday Night Live in the early '90s, has voiced criticism about the show's current political leanings in a new interview with the New York Daily News. Specifically, Schneider believes that by taking a firmly liberal stance with its sketches — especially with the frequent appearances of Alec Baldwin as Donald Trump — the element of comedic surprise is completely lost. "The fun of Saturday Night Live was always you never knew which way they leaned politically," he explained. "You kind of assumed they would lean more left and liberal, but now the cat's out of the bag they are completely against Trump, which I think makes it less interesting because you know the direction the piece is going."
Schneider's gripes go beyond the show's political elements, though. He also believes Baldwin is ill-equipped to impersonate the president, calling his efforts "hard to watch" in sketches. "Alec Baldwin is a brilliant actor … he's not a comedian," Schneider explained. "I don't find his impression to be comical. Because, like I said, I know the way his politics lean and it spoils any surprise. There's no possible surprise. He so clearly hates the man he's playing." Actually, Baldwin wouldn't exactly disagree with that.