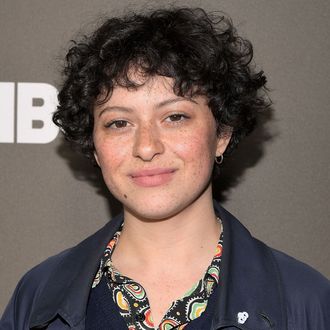 Alia Shawkat.
Photo: Charley Gallay/Getty Images for HBO
Becoming one of the first Arrested Development cast members to comment on the sexual-misconduct allegations against Jeffrey Tambor, Alia Shawkat is voicing her support for the women who have accused Tambor of repeated inappropriate behavior on the set of his Amazon series Transparent. "I was surprised, obviously. I've known him since I was very young," Shawkat told IndieWire. "I support the voices of the victims though, whatever they said." Shawkat also noted how she has to put her personal feelings of Tambor aside for the sake of ensuring the women can be heard, even though she thinks the whole situation is "sad" in theory. "It's being handled the way it's being handled," she continued. "It's very … strange … I worked with him on two shows, too, so it's kind of following me around. I hope it's all handled legally, the way it should be, and taken into consideration. What those victims said needs to be heard just as much."
Shawkat and Tambor's Arrested Development co-star, David Cross, previously defended Tambor, saying how "a number" of the show's stars "stand behind him" amid these accusations. Tambor himself has also criticized the way Amazon handled the investigation, calling it "deeply flawed." He has maintained his innocence since the claims surfaced last fall.