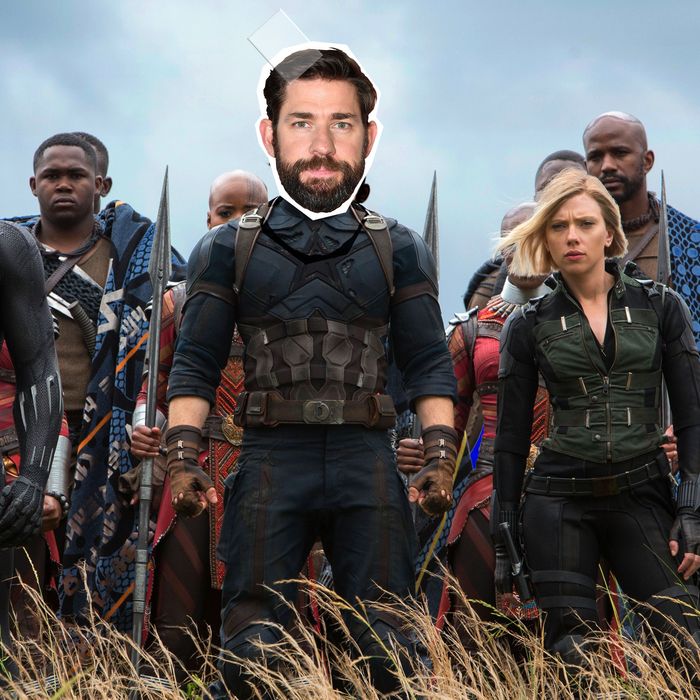 Photo-Illustration: Vulture/Marvel Studios/Getty Images
John Krasinski and Chris Evans are both affable guys in their late 30s who look great with beards, so it makes sense that from time to time, they might vie for the same part. But do you know how close Krasinski once came to nabbing the lead in Captain America: The First Avenger, the Marvel film that gave Evans his signature role? During an appearance on Conan two years ago, Krasinski recalled that during Marvel's extensive casting search, he impressed the top brass enough to earn a costumed screen test. "I was putting on the suit, just watching it, [and] I was like, This is so amazing," Krasinski said. "I was still shirtless, feeling pretty good about myself … and all of a sudden Chris Hemsworth walked by as Thor, and he's like, 'Hey, mate.' And I went, I'm good, this is stupid. It's okay. I'm not Captain America. It's fine."
With Krasinski's A Quiet Place burning up the box office this year, he likely hasn't spent too much time counting his losses, but how different would the Marvel Cinematic Universe have looked if someone other than Evans had to carry Cap's shield into battle? Would these series-spanning comic-book characters, who all come together in this month's massive Avengers: Infinity War, have had the same easy chemistry if different actors were cast as Iron Man, Black Widow, Star-Lord and the rest? Here are the stars who came oh-so-close to joining the lucrative MCU.
Iron Man
Robert Downey Jr. has been the cornerstone of Marvel's screen universe, but in the 1990s, when other studios tried unsuccessfully to develop an Iron Man movie, stars like Tom Cruise and Nicolas Cage were targeted to play Tony Stark. Eventually, the nascent Marvel Studios reclaimed the rights to the character and hired Jon Favreau to direct. Favreau fought to cast Downey Jr., though he has admitted since that Sam Rockwell (who would go on to play one of Stark's foes in Iron Man 2) was also on the director's casting short list if Downey Jr. didn't work out.
Thor
Every hot, built blond in Hollywood vied to wield Thor's hammer, including Alexander Skarsgård (whose father Stellan would eventually land a part in the film), Tom Hiddleston (who went on to win the role of Loki), Joel Kinnaman, and Charlie Hunnam. Chris Hemsworth was sliced from the running early on after a bad first audition, but after his brother Liam landed a place on the short list, Chris successfully lobbied for a second audition that won him the part. In fact, all three Hemsworth brothers have read lines for Thor at some point: Chris and Liam's sibling Luke played the god of thunder during that Thor: Ragnarok stage play where Matt Damon made his cameo.
Black Widow
Poor Emily Blunt was the original pick to play the most pivotal female character in the Avengers lineup, but 20th Century Fox prevented her from taking the role: The studio exercised a contractual option on Blunt that had been negotiated when Blunt signed on to Fox's The Devil Wears Prada, compelling her to make her next film at Fox. Blunt was then shuttled off to co-star in the Fox flop Gulliver's Travels, and Marvel tapped Scarlett Johansson to replace her for Iron Man 2, where Black Widow was introduced.
Captain America
John Krasinski wasn't the only well-known actor vying for Captain America; for a time, this was Hollywood's most hotly pursued role. Before Marvel went to Chris Evans to make a deal, the company circled names like Ryan Phillippe and Garrett Hedlund, and even Sebastian Stan got close to snagging Steve Rogers before he was instead cast as Bucky Barnes, the Winter Soldier. Other names once rumored to be on the casting short list were Mike Vogel, Chace Crawford, Scott Porter, Michael Cassidy and Patrick Flueger.
Hulk
Though Edward Norton played Bruce Banner in the second MCU entry The Incredible Hulk, by the time The Avengers rolled around, he'd been recast with Mark Ruffalo. What happened? Well, it was common knowledge in Hollywood that Norton had attempted to advance his own cut of The Incredible Hulk, sometimes clashing with Marvel and that film's director, Louis Leterrier. Where things get murky, though, is when it comes to the question of whether Norton was still asked back. His agent insisted that Norton was in the middle of negotiations to co-star in The Avengers when Marvel released a surprisingly juicy statement dumping him from the franchise: "Our decision is definitely not one based on monetary factors," read the company press release, "but instead rooted in the need for an actor who embodies the creativity and collaborative spirit of our other talented cast members. The Avengers demands players who thrive working as part of an ensemble." It's rumored that the company then went to Joaquin Phoenix to gauge his interest before settling on Ruffalo, who knew his deal had closed when a car showed up at his home to take him to Comic-Con.
Doctor Strange
Speaking of Phoenix, he was among the big names Marvel flirted with to take on the role of the Sorcerer Supreme. Perhaps Marvel succeeded only in loosening the lid of that jar, since after several attempts to lure Phoenix to play a comic-book role, the actor has now committed to playing the Joker for rival DC. Phoenix was one of many actors who didn't quite click with Doctor Strange, and Marvel saw a ton of them, allegedly meeting with Matthew McConaughey, Oscar Isaac, Jake Gyllenhaal, Jared Leto and Ethan Hawke. In the end, it was Benedict Cumberbatch who got the role: The Sherlock star had been rumored for the movie early on, fanned the flames himself a few times, and stayed in contention even as the bigger names fell out.
Scarlet Witch
What if Lady Bird had joined the MCU? When Joss Whedon was scripting Avengers: Age of Ultron, it's said that he had Saoirse Ronan in mind to play the telekinetic Wanda Maximoff, whose role has only grown in Marvel movies since. "I love Joss and I love those films, and I love his handle on them and how he portrayed these kinds of superheroes," Ronan said at the time. "So yeah, I'd love to be in it." Somewhere along the way, though, some wires got crossed: Ronan allegedly passed on the film, and Marvel went with Elizabeth Olsen instead.
Star-Lord
Before asking Chris Pratt to join the MCU, Marvel cast a wide net for Guardians of the Galaxy's lead role. Joseph Gordon-Levitt was in the running for a little while, and since Marvel also circled the actor for Ant-Man, he's clearly someone the studio is interested in working with. Lee Pace auditioned, too, though he ended up playing the movie's baddie. Pace was among a select group of actors who reached a final testing phase for Guardians — a list that also included Joel Edgerton, Jack Huston, Eddie Redmayne, and Jim Sturgess but didn't initially feature Pratt. "I didn't even want to see Chris at first," director James Gunn said. "He was overweight at the time, and he seemed like a comedy guy, and he didn't think he was the right person for the role. But he came in, and he was doing his audition, and 20 seconds into his audition I'm like, 'That's the guy.'"
Rocket Raccoon and Drax
As for Star-Lord's companions, Marvel allegedly reached out to big names like Adam Sandler and Jim Carrey to voice Rocket. (Eventual pick Bradley Cooper was a surprising but successful choice.) Jason Momoa auditioned opposite Pratt to play Drax, and though rumors at the time said he fell out during the negotiation phase, Momoa has since said that he turned the role down: "I was on Stargate: Atlantis for four years playing a similar character called Ronon, who was an alien who didn't say much and grunted. I've been there and done that, whether people have seen it or not. You want to stretch."
Spider-Man
Tom Holland is doing a bang-up job as Marvel's newest Spider-Man, but Call Me by Your Name star Timothée Chalamet came awfully close to snagging that role when Marvel recast the part for Captain America: Civil War: He was up against Holland, Nat Wolff, The Way Way Back star Liam James, and Ender's Game actor Asa Butterfield. At least Chalamet eventually found a better vehicle for his sticky shootings.