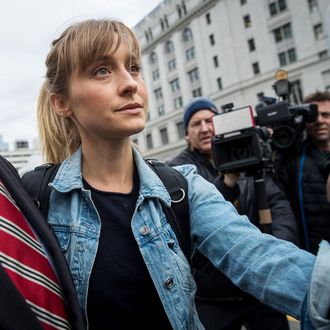 Mack.
Photo: Drew Angerer/Getty Images
Well, that was fast for the television overlords. Just days after Smallville actress Allison Mack was arrested for her alleged involvement in recruiting women for the sex cult NXIVM, a documentary series about the cult has been ordered for television. Per Deadline, former Psych actress and "branded" woman Sarah Edmondson will star in the series alongside her husband, actor Anthony Ames, as they were the first prominent defectors from the group to speak out against its alleged history of abuse and sex trafficking last fall.
Set against the ongoing legal drama involving NXIVM's leaders, the doc will follow the duo as they "reacclimate into society while also helping others — many of whom they had recruited — leave NXIVM and the DOS secret society within it." Edmondson and Ames will also "look back at their experience at NXIVM and keep up with the ongoing litigation against the organization," as Deadline notes they're likely going to be asked to testify in Mack's case. No network is attached yet, but filming has already begun.