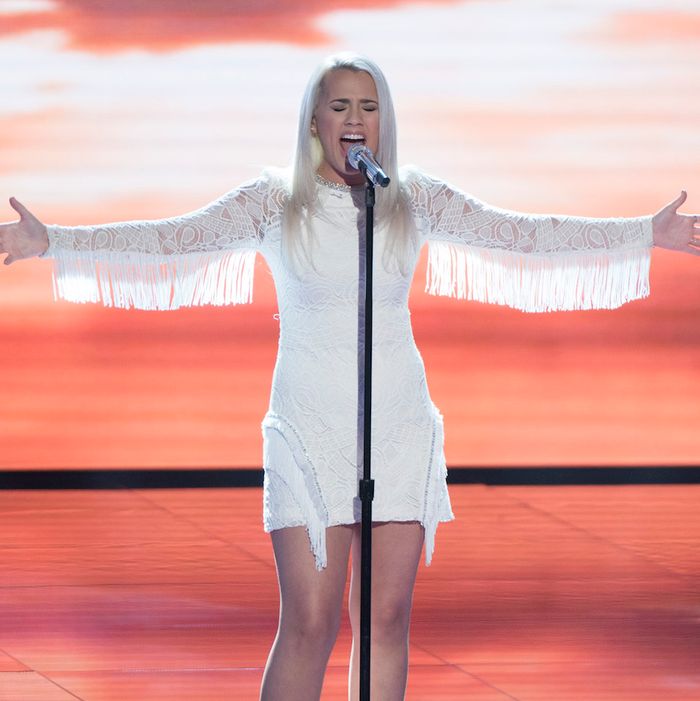 Photo: Eric McCandless/ABC
Hold a fellow Idol zealot's hand because I have some bad news: I think our judges are failing. Even with Katy Perry leaning forward and glowering like a humorless record exec in Paula Abdul's "Cold Hearted" video, we can't seem to eke any honesty out of our three assigned judges. Why do they keep telling every contestant "You've grown"? Grown? Into what, an upstanding young adult? A butterfly? No guess here. Hopefully Katy will regain her giant polygonal lion claws, because I can't bear much more of this meek patter.
We're down to 14 cooing combatants who all earned passing marks for their first finals performance. But who comes out on top? Pack a lunch and read down the rankings to find out.
14. Jonny Brenns, "This Is Gospel"
Jonny Brenns's opening package where he practices ballet with a bunch of little kids is criminally cute. Like, anger-making cute. Who can I sue to prevent that cute overload from happening again? I was nearly maimed. Anyway, I remain a little baffled as to how Jonny landed in the Top 14 when he has neither the assured stage presence nor refined pop voice to make a career seem feasible. Panic at the Disco!'s "This Is Gospel" is not exactly a song you pick assuming you're going to be the next American Idol, is it? I don't see Jonny figuring this game out with inventive new moves to propel himself forward in the competition. I don't even see him becoming all that comfortable with how big the room is.
13. Mara Justine, "This Is Me"
"This is Me" is the kind of song that wins Eurovision: an empowering ballad with a big pop hook. It's also the kind of song that gets too much credit for representing the little guy. These lyrics are … pretty generic for circus freaks? Real circus freaks would be way funnier in a self-penned empowerment anthem. Fortunately, Mara Justine is not generic, but her mid-song cry and her gasping passion falls so much flatter than any of her previous performances. She tries to recover after the fact by saying she wants to inspire young girls, but that's not interesting either. Don't tell me you want to be inspiring! Just do it with great records and big notes and pissing off the Catholic Church with a risqué bed-humping scene on your Blond Ambition tour. Come on. Pop 101.
12. Garrett Jacobs, "Raging Fire"
Here's Garrett Jacobs covering Philip Phillips, as if to say, "Your older sister voted for this seven years ago and you should too!" Go with me on this one: Something is secretly lovable about Phillip Phillips? His voice may have had a kitschy gravelliness, but his sincerity and humor were palpable in his every performance. Garrett Jacobs, meanwhile, has little in the way of artistic identity besides resembling a young Jesse Metcalfe (who is a VERY important public figure for those of us who came out in 2003). Garrett's good at his zesty heartthrob strumming, but it's never on the level of his competitors' performances. This one is cute, though it's less a raging fire and more a simmering hot plate.
11. Michelle Sussett, "Friends"
Michelle is one of the few contestants left who can be described as having The Look. With her enviable hair, rad stagewear, and Lovato-esque strut, she blends into the prevailing pop gestalt nicely. She could perform tomorrow at the American Music Awards and the ghost of Dick Clark would not complain. The judges seemed to believe this was a "nervous" performance for Michelle, but I thought she proved to be one of the few people who understood how to fill the planetarium-size space with some grit and ebullience. I'm skeptical of the novelty she brings as a recording artist, but she understands (or at least thinks about) watchability as she shimmies across the stage.
10. Caleb Lee Hutchinson, "Midnight Train to Memphis"
It's wild to watch an Idol contestant lose so much weight over the span of a few weeks. Somehow, Caleb Lee Hutchinson's persona shifted along the way: He used to be a sleepy-eyed, drily wise guy who gurgled love songs to tombstones, and now he's Billy Gilman II: Backwoods Balladeer. This week marks his first attempt to fill a stadium with a loud, booming vocal and he loses some identity in that effort. To be honest, he didn't have to change up his game. He could've soared to the finals with slowish, lived-in versions of songs like "Landslide," "I Can't Make You Love Me," "To Make You Feel My Love," and anything else your favorite aunt blasts on a road trip to Taos. But the size of the room tricked Caleb into pretending to be a different performer, and I'm hoping he reels us back into that gentle voice with the tattered old fishing pole he inevitably owns.
9. Marcio Donaldson, "It's a Miracle"
With his burgundy blazer and bolo tie, Marcio Donaldson is trying to score points with me by dressing like Paula Poundstone. He knows she is my favorite comedian of all time and he'll cop any of her sartorial iconography to engage me. Nice try, but until I hear your full HBO hour on Pop Tarts, gay Republicans, and the tenacity of house cats, you're no Paula. Unfortunately I'm with Luke "Everyone's Doing a Good Job" Bryan on this one: The song choice didn't move me, and I didn't get anything new from Marcio here but more fine face-acting. Though I look forward to his big debut on Wait, Wait, Don't Tell Me whenever he gets a moment.
8. Cade Foehner, "Black Magic Woman"
I seem to remember Lionel Richie criticizing early auditionees with comments like, "We're in the music BIZ, m'dear, and I just don't see how your style fits into the business" before swiveling back in his chair and mumbling three more anecdotes about the Commodores to himself. With that mind, I have a question: Do covers of "Black Magic Woman" have anything to do with pop radio right now? Do we want them to? Cade Foehner stands up there with his wild-lady haircut, like he's Judith Hoag as April O'Neil in Teenage Mutant Ninja Turtles (1990), and serviceably growls the Santana jam. For a second, Idol feels like the hippest bowling alley in Tarzana. Which is fine! But it's not an Idol mood and that's obvious to anyone. When people like Effie Passero and Shannon O'Hara are dismissed in favor of performers who seem oblivious to current tastes in pop, I get a little livid.
7. Catie Turner, "Take Me to Church"
It had to happen sometime: Catie Turner, who has spent most of the competition announcing she is either sweaty or full of feels, finally gives us a stark performance that doesn't hinge on our investment in "dorky" as a personal brand. She stands calm and postured (with some casual stomping) as she belts "Take Me to Church," that scary Hozier song about dog worshiping and knife sharpening or something. Hozier is one of the spookier new vocalists of the past few years and while Catie's voice lacks that Hot Young Bela Lugosi quality, she commands our attention with a newfound stateliness. Her look is also rich: lacy and dark, like all fine Adele red-carpet moments. Now the challenge for Catie is clear: She must find song choices that help her giddy side and her taste for fatalistic song choices to cohere.
6. Jurnee, "Bang Bang"
Jurnee's voice is so distinct and lovely, it's easy to forget we haven't nailed down her pop persona yet. This performance of "Bang Bang," complete with a Jurnee-spat rap that might've been the coolest and most exhilarating part, adds a few dimensions to her enigma: fieriness, bounce, perky stage command. If we're being honest, the song choice holds Jurnee back since its chorus is a cutesy cheerleader chant. Though she lit us up with a couple of runs, this will ultimately be remembered as a middle-tier Jurnee performance. Like Oscar and Lucinda for Cate Blanchett, it's a decadent and eye-popping affair but still lacks a proper award-worthy moment for the star herself.
5. Dennis Lorenzo, "In My Blood"
I'd call Shawn Mendes's newest post-pubescent bleat a B-plus effort, but with Dennis Lorenzo at the mic it becomes more anthemic and adult. Dennis has one of those voices that sounds Auto-Tuned, which is both impressive and a little problematic. You've got to admire technical chops, but pristine vocals aren't exciting without a fulgent personality to deliver them. Dennis isn't "bursting through" as much as the judges think, and I wonder how long he can keep up in a competition where sound-bites are often just as memorable as vocals.
4. Michael J. Woodard, "Titanium"
I keep forgetting I'm in love with Michael J. Woodard. The Catie Turners and Ada Voxes of the world keep hogging our watercooler chats, while Michael J. Woodard is a smiling rascal who makes us laugh — actual laugh, not "heh" — every single week. This show needs an Adam Rippon, the guy who can't help but present his massive talent and wicked personality with equal enthusiasm, and I think Michael is the one to take up that post. This week he slays us, bores us, and then slays us again; I can't explain it, but the beginning and ending of his "Titanium" performance are gold and the chorus is his sleepiest moment of the season. Unexplainable! In Sia's version, the chorus is fire and the rest of the song is merely boppable. I'll keep reviewing the footage to see how this happened, but it's wild that a guy who once sang "Maybe This Time" wouldn't amp up this song with a little more Broadway gusto.
3. Ada Vox, "The Show Must Go On"
I don't know why Ada hasn't called herself "Madam Lambert" yet, but maybe that's a fun comment Seacrest can make after her inevitable season-finale duet with the real Adam Lambert. This cover of a Queen classic seals it: Ada is here to blare gigantic notes that bitch-slap angels and karate-chop asteroids. She's so loud you can actually hear her over Idol's insane wall of instrumentation, which drowns out many of the other contestants. For Ada, I felt this was more a series of huge notes than a gorgeous performance, but her black-feathered robe topped with a diamond neckpiece is awe-inspiring. It looks like something Björk would wear to accept a Nobel Prize. Prediction: We will get a transcendent performance of Kesha's "Praying" out of Ada and she will hold the climactic high note for roughly one year.
2. Gabby Barrett, "The Climb"
It's no secret: "The Climb" is one of the best and most reliable choices for any singer in a reality-TV competition. Surely you remember Joe McElderry of the U.K. X Factor, who chirped it with all the wonderment of a child on Christmas morning. Gabby Barrett, fresh off her latest victory on the Chloë Grace Moretz look-alike circuit, dares to match McElderry's vocals and even Miley Cyrus's signature wail and comes up with gold. She's got the energy of someone who crosses her eyes and sticks her tongue out in her yearbook's "Best Personality" superlative photo. Here, she takes a guaranteed crowd-pleaser and gets up to some crowd-pleasing. There aren't too many tried-and-true songs like this with remaining novelty, so she'll have to be craftier in the coming weeks with her song choices. But nonetheless: Damn it, "I'm always gonna wanna make it mooooove" is still a mood!
1. Maddie Poppe, "Homeward Bound"
I've decided Maddie Poppe is here to redeem the season nine arc of one Katelyn Epperly, another Iowa native who gave us this startling rendition of "The Scientist." Like Katelyn, Maddie's taste and commitment to that taste are impeccable. This version of "Homeward Bound" took the contemplative nature of Simon & Garfunkel's original and added a twee zeal that First Aid Kit would admire. Katy compares Maddie to Joni Mitchell, which is bizarre and wrong, but like Joni, Maddie is stubbornly, rightly committed to her poetic style and makes it sound current, unlike Cade Foehner. Along with "Brand New Key," this is Maddie's second perfect performance, one that all future Idol singer-songwriters should revere as a "Best Practices" guide to writerly daintiness on the Idol mainstage. P.S. It's been killing me for weeks and I've decided that Maddie is 70 percent Elisabeth Moss and 30 percent Rachel Bloom. Discuss.
Tomorrow: The first (truly) live episode of the season. Will Luke Bryan come up with a single incisive criticism in time? Stay tuned.