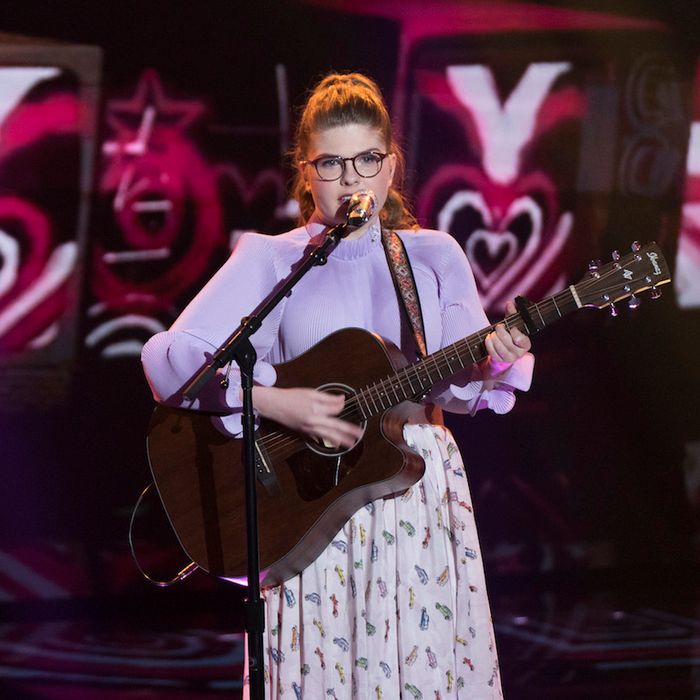 Photo: Eric McCandless/ABC
American Idol is shedding contestants like an Agatha Christie whodunit. There goes Effie Passero through a trap door. A suit of armor fell on Ron Bultongez. Amelia Hammer Harris took a hard fall off the Orient Express. And now we're at the top 14 with the shivering, terrified survivors who just want Ryan Seacrest to lower his monocle and solve this whole thing for everyone. But we've got five episodes left to deduce which contestant deserves the crown, and I have a sneaking suspicion it could be anybody. Let's roll through these 14 contenders, comment on the eliminations, and wonder if Lionel Richie knows his sparkly blazer would look smashing on Vicki Lawrence.
Maddie Poppe, "Walk Like an Egyptian"
I'm all for Maddie Poppe's calmed-down, twee'd-up renditions of songs that play as Winnie Cooper approaches the bus stop on The Wonder Years. "Homeward Bound"? Sure. "Brand New Key"? Absolutely. But after Ryan Seacrest announced she was safely in the top ten, Maddie gave her first baffling performance of the season: an undanceable take on "Walk Like an Egyptian." It's as if she wanted us to pay attention to the Bangles' lyrics, which are … well, they're stupid. Let's take a look at "Foreign types with the hookah pipes say / Ay oh whey oh, ay oh whey oh / Walk like an Egyptian." That's offensive, senseless, and then back to offensive. And she didn't even throw us the saucy Susanna Hoffs side-eye to soften the embarrassment! I'm worried now. Soon, Maddie with perform "Kokomo" as a piano ballad or add marimba to "Tears in Heaven"! Here's hoping she's back on track with an angora-warm version of "You've Got a Friend" or something next week.
Does she advance? Yes, by America's vote! America loves the Shawn Colvin community.
Michelle Sussett, "I'm a Dreamer"
Well, that was savvy: Michelle invoked the word "dreamer," called everyone in the audience dreamers, threw in some Spanish like a real Devin Velez, and basically held up a sign that said "THIS IS TOPICAL" during her make-or-break performance of an original song. And it was a pretty good track! It was a little Free Willy soundtrack in its clap-along serenity. Unfortunately, her low notes sounded a little like old Britney's attempts at "bluesy" low notes. You know the ones, where she sounds like a toddler burping into a fan.
Does she advance? Yes, saved by the judges. Interesting pick. She's flashy and talented, but is she essential?
Marcio Donaldson, "Jealous"
First, here's a list of lyrics that would be more tolerable than "It's my right to be hellish / I still get jealous": "I'm out here on the trellis / I still get jealous"; "I'd like to speak elvish / I still get jealous"; "I'm Bret Easton Ellis / I still get jealous"; Any of those is a fine substitute and I hope Nick Jonas is listening. Anyway, I was surprised to see Marcio didn't make the top ten, and I was even more surprised to hear him pick this half-bop of a radio hit. He shoehorned some soulful notes in there, but they seemed unnecessary amid this midtempo pop thump. If you're going to invoke the JoBros, you may as well throw down "Cake by the Ocean" and get everyone slithering in their seats.
Does he advance? No!
Cade Foehner, "Bright Lights"
Cade, a.k.a. Tori from Saved by the Bell, did his strummin'-out, hair-whipping thing again. Apparently, the children of America are all about it because they voted his Roger Daltrey-meets-Tiny Tim ass to the top ten. Fine! You call it "rock music," I call it "your gym teacher's iPod." It doesn't do it for me! Was this a good performance? I am not the man to ask. The Midnight Special has been canceled since 1981 and that's when I thought we were done with this.
Does he advance? Yes, by America's vote. I don't understand you, teens!
Garrett Jacobs, "Have You Ever Seen the Rain"
Phillip Phillips handbook, take two: "Have You Ever Seen the Rain" sounded swell in Phillips's gravelly grunt in 2011, and Garrett Jacobs's 2018 version was … shockingly good and current? He utilized the Dave Matthews quality in his voice to great effect, keeping this rendition chill but propulsive. The nice thing is, even if you're not into Creedence Clearwater Revival, Garrett provides the right eyebrow choreography to keep the rest of us intrigued. That eyebrow was bouncing and jutting like Josephine Baker. I appreciated Luke Bryan calling out his pitch problems at the end of the number because, well, it's the least that Judge Luke Bryan can do, but this reestablished Garrett as a winsome force.
Does he advance? No! His babyfaced Jesse Metcalfe charms are lost on millennials! Whatever. John Tucker Must Die is as timeless as City Lights.
Gabby Barrett, "Little Red Wagon"
After this past weekend where Shania Twain called Trump a rootin'-tootin' truth teller and then abruptly apologized, I don't know where I stand on country divas. Truth be told, when that story dropped, I immediately got every Shania song in my head. Then I even started making up on my own! "Hey! If You're Not My Man (Get Lost!)" is a favorite. Gabby's version of Miranda Lambert's "Little Red Wagon" was energized and rowdy, and it almost made me forget Miranda's hideous gun stilettos from a couple years ago. Gabby can't perform angst without throwing in some serious eagerness, and I like that natural effervescence shining through. She'll be hard to unseat in the coming weeks as her confidence builds and her hair color graduates from Dolly blonde to Emmylou silver. Also: The Dixie Chicks rule. Just to let you know!
Does she advance? Welp! She sure did!
Dennis Lorenzo, "This Woman's Work"
Maxwell's take on Kate Bush's gorgeous song is a definitive example of brilliant cover work. And Dennis Lorenzo, whose painstakingly nuanced vocals should be studied by musicologists, served it up well: He led with a masterfully held falsetto and veered into a charged, impassioned finale. Here's to more Kate Bush covers in the near future; I'd like to see Dennis writhing in a fog and whispering to us about waking a witch.
Does he advance? Yes, via the judges' save. That's the riiiiiight choice, just like Kate Bush moaning "HELLLLLOOOO" at the beginning of "Jig of Life."
Jonny Brenns, "Demons"
What a strange, slow version of "Demons." It started like something Burl Ives sings during a melancholy moment in Rudolph the Red-Nosed Reindeer and ramped up to … background music in a Claritin commercial? This was one of Jonny's better vocals, but he never managed to get beyond also-ran status even at his peak moments. But he is named "Jonny" the way all hot Johnnys should be spelled, and that gives me faith in his future.
Does he advance? No, but I wish his streamlined Zachery Ty Bryan looks good luck in the future.
Caleb Lee Hutchinson, "Gettin' You Home"
Here it is, the arithmetic mean of Caleb Lee Hutchinson performances. "All I can think about / is gettin' you home!" says this cute-ass hayride jam. This is not a hard competition for Caleb. He can stick to this lane and Garthify his way to victory. I only ask that he consider meeting gay fans halfway and throw us, like, a Lucinda Williams cover soon. Anything off Car Wheels on a Gravel Road. Your pick. Thanks so much.
Does he advance? Of course! Sit on your porch swing and accept it!
Mara Justine, "Love on the Brain"
I'm ashamed I didn't think to pair Mara with this song before. It has everything she does best: tearfulness, huffiness, and urgency — with plenty of room for several Linda Blair–like Exorcist freakouts. This was 500 percent better than her performance of "This Is Me" on Sunday and proved she could have a real, viable place among the KISS FM elite. We needed more Ariana Grande covers out of this one.
(UPDATE: Turns out this was Mara Justine's audition song and I totally forgot. It's possible she performed this five or six times and I don't remember any of them. I'm having a 50 First Dates relationship with Mara Justine and I don't want anyone criticizing it.)
Does she advance? No, and the judges didn't save her either! What a crazy end to an Idol arc that was seemingly accelerating at a hyperbolic rate.
Jurnee, "Never Enough"
Well, that's odd. Jurnee performed this already! We already know she identifies with Hugh Jackman circus melodramas and here she is doubling down on that assertion. "I AM Rebecca Ferguson," she insists, and I believe her. I suppose it was a clever song choice given her predicament in the competition, but I expect more ingenuity from a talent like Jurnee. Or at least a varied selection of P.T. Barnum torch songs and not just the one.
Does she advance? Yes, via the judges' save. She's gonna need a brilliant song choice next week to make the jump from the top ten to the top seven.
Michael J. Woodard, "Believe in Yourself"
Let's talk about The Wiz for a second: (1) "Ease on Down the Road" is endorphins in a can; (2) The subway scene is terrifying and cute? What else has pulled off that combination? Iain Armitage, I guess? (3) "Home" is the real showstopper of the (long-ass) movie, but "Believe in Yourself" was a gorgeous choice for Michael, whose genteel stage presence can make everything cool. He's now jumped from Liza Minnelli to Alanis Morissette to The Wiz. Can we clone him and send the clones to small-town high schools to entertain at-risk gay teens?
Does he advance? Hellllll yes. He hasn't performed all of Supposed Former Infatuation Junkie yet, as I requested. America recognizes this and wants it too.
Catie Turner, "Havana"
I wouldn't call this performance cool, per se, but it went over surprisingly well for a rendition that seems like a classic Bobbi Mohan-Culp effort. With full Spanish accent, Catie ooohed and nah-nah-nah'd through what may be the definitive earworm of the 21st century. Catie is really calming the hell down as a performer these days. She didn't giggle into her hands or turn a somersault and yell "Oops!" or whatever other shtick she usually does. It's kind of jarring. We're watching someone realize that an Idol victory requires skills, not aggressive hugs to everyone in sight."
Does she advance? Ooh-na-YES.
Ada Vox, "And I Am Telling You I'm Not Going"
I can't explain this. Ada Vox chose the definitive Ada Vox selection, the Dreamgirls classic that Jennifer Holliday famously barked into Jessica Sanchez's face (thereby melting it) during the season 11 finale, and … kind of rushed it! She hit some of the major pangs, but she devolved into Cookie Monster gurgles for at least half the song. Sometimes we lost the words and got the sound of Mo'Nique coming down with rabies. Other times, she held us like dumb little mortals inside a snowglobe and cackled as we lapped up her divinity. It was a mixed bag of fun and scares. The judges took their ray guns and zapped her right to the top ten, which we needed since America isn't fun enough to vote for Ada, it seems. Look at this dame. She's dressed like the Olympic flame going to brunch in Branson. Respect.
Does she advance? Barely! The judges shooed her on through, but I'm nervous about next week. She'll need a universal, beloved, gay thing. I'm ready for a seven-octave take on the Golden Girls theme if you are.
Next week: The field narrows from ten to seven. And Caleb Lee Hutchinson will not flinch when he makes it.